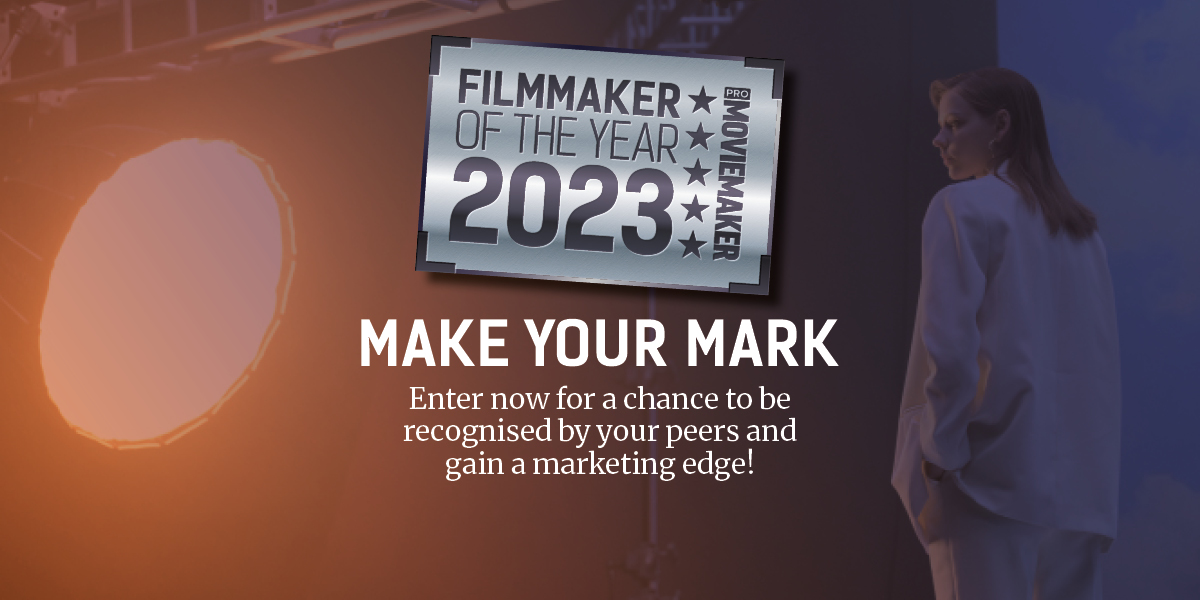 Filmmaker of the Year Awards 2023!
Posted on Mar 1, 2023 by Samara Husbands
Our new contest honours the best work from current and next-generation filmmakers
Sponsored by CVP
Top-quality video is everywhere. But it's not all about mass-market broadcasters, Hollywood movies or big-budget streaming services like Netflix or Amazon funding drama series. The vast majority is created by small, independent companies and individuals who continue to push the boundaries of creativity with much smaller budgets.
With small teams, focused creatives and problem-solving at heart, the core of professional filmmaking around the globe is in creating commercial, editorial, marketing and social media films and shorts. This is having a huge impact on the way everyone consumes content. From YouTube and Vimeo to social media, live events and lots more, these growing platforms are packed with amazing work from gifted creatives who have been largely in the background. Until now.
Pro Moviemaker magazine's inaugural Filmmaker of the Year Awards are here to shine a spotlight on unsung heroes of the filmmaking world, who create stunning work watched and enjoyed by millions. These are visionaries who don't equate low budget with anything less than original and innovative content. 
While many filmmaking contests are out there, these often focus on full-length or short-form narrative drama films and documentaries. The Pro Moviemaker Filmmaker of the Year Awards go much further than this, with awards largely focused on excellence in the creation of content – long-form or short-form – in commercial categories. This includes promotional films, music videos, documentaries, marketing films, event coverage, sports, weddings, social media and YouTube. 
Simply put, if you are an established working professional filmmaker or just starting out on the ladder of making seriously good video, these awards are for you.
Entrants – either individuals or part of a team – simply have to link to their chosen entry if it's online, or submit their work directly. That's because we want to make it as easy as possible for working filmmakers to get involved, rather than making you create and shoot bespoke content. Though there's an open category where pretty much anything goes! 
During the forthcoming year, Pro Moviemaker will have a special focus on the categories, spotlighting entries that deserve special mention and widening the exposure of the awards and its entrants.
A panel of experts will judge. So whether a film has had millions of views or not, it's the idea and final piece that win. Creativity, ingenuity, originality and excellence of execution are key. 
The time has come to honour the incredible work of filmmakers from all around the world – at any stage of their careers. Entering is simple, so for a chance to be recognised by your peers and gain a marketing edge pitching to clients, enter the Filmmaker of the Year Awards now! Choose a category – or categories – that best suits your work and let the world see what you've been up to.
"The time has come to honour the incredible work of filmmakers from all around the world – at any stage of their careers"
How to enter
Our aim is to have as little impact as possible on the lives of busy, working filmmakers. So entering is not a huge, involved process. All you have to do is email [email protected] with the subject line 'Filmmaker of the Year'.
Include a link where we can watch the video online, such as YouTube or Vimeo, plus the password if it's protected. Alternatively, send a link to a file so we can download it from a file sharing service like WeTransfer. Let us know if we have permission to link to the film on our website or social media, with any credits needed.
In the email, please tell us the category or categories you want to enter your film into, what your role was and who the client was (if it was paid-for work). Plus, please write a paragraph or two giving context to the shoot: any challenges you faced and success your film has had. This is optional, but would help us understand the background surrounding your masterpiece!  
Categories
Commercial & Corporate
This is the biggie – the main category for work commissioned by clients. From branded content to promotional videos or anything else in-between, if you shoot for paying customers then this is the one to enter.
It could be commercials, branded video, sales videos, adverts or a package of plenty of different video-led media – for a single client or campaign. It's up to you.
Just choose your best, most stunning work and let's see it! 
Music Video
This is always an area where creativity can be maximised, with seemingly no rules! So send us your weirdest and most wonderful work. 
Music videos are the place so many gifted filmmakers have cut their teeth – from Spike Jonze to David Fincher. It's a field full of possibility, and we can't wait to see what you've been involved in.
Please apply with any sort of music video – from pop to rap, rock, choral, classical or any genre at all. We are not judging the track, just how the video adds to the whole creative package. 
Aerial
Drone, UAV, polecam, helicopter… if high-angle work is where you stand out, this is your category.
Enter here if aerial camerawork is the sole content – or at least a major component – of your video. From standard drones to FPV shooting 'impossible' shots, let's see what you have! 
Action & Sports
Action and sports capture is a unique challenge. But it's much more than just quick-moving subjects – you need stories behind the competitors, equipment, organisers and lots more.
This category will focus on the very best. And we expect to see some truly attention-grabbing footage and incredible stories told visually.
Social Media
So much innovative video work is created especially for social media, whether it be marketing campaigns or simply stunning content to help grow an audience. It's a burgeoning field, but one that's already seeing stellar results – and a thriving creative community.
We want to see the pinnacle of your work. Everything from sub-one-minute vertical videos shot for Instagram Reels, Facebook, YouTube Shorts or TikTok to longer-length films for online platforms of all kinds. 
Student
If you're a current student or recent graduate from the past two years, enter in this category with anything from commercial-style work to documentary, social media or narrative.
It can be part of your coursework or a private project, shot for clients or friends – it doesn't matter. We want to see the best video made by those just starting out. 
Lighting
This award is for best use of lighting – be it natural, ambient, artificial or a mixture. Its creative application makes a massive difference to the look of any project, so this award recognises control of light that has paid dividends.
Wedding
Wedding videos are more popular than ever, so we're honouring the best and most creative entries in what can be a lucrative business if you get it right.
It doesn't matter what religion or type of ceremony. We want to see a film that shows the emotion of the day and captures a special moment in time, for a happy couple to treasure for decades to come. 
Open
For everything from narrative drama to documentaries, long or short films – whatever you like, anything goes! Whether commissioned or personal, here's where any filmmaker can showcase their proudest work.
It can be all your own, or where you worked as the lead filmmaker in a team. Show the world what you've been involved in!
Cinematography
An explosion of quality cinematography is apparent in so much content nowadays, with films and television dramas leading the way thanks to some truly breathtaking work. But it's not limited to the big crews and budgets: so many small production companies and indie filmmakers are at work creating visually stunning images.
This award shows off how cutting-edge cinematography is achieved for lower-budget productions, relying on clever technique rather than pure manpower. 
Instructional
Teaching a viewer how to do something new is an essential modern filmmaking skill. This category is for those how-to videos we've all relied upon.
Whether you were involved right from the start, writing a script through to final production for a client, or just involved in the actual filming – it doesn't matter. 
Let the whole world see just how slick and professional a how-to or instructional video can be. 
Documentary
It's the heartland of so much original filmmaking. This is where storytelling and incredible visuals combine to create something special – and raise awareness of a subject to the world.
This doesn't have to be a hard-hitting documentary that breaks new ground on a social injustice or globally important political situation. It could equally be a local issue, or tell the tale of an artisan craftsperson. 
We're looking for compelling stories, where the medium is a major contributing factor to its impact.
Event
This award is for a highlight edit of any event coverage. It could be a product launch, gala, competition or even a road trip. If you shoot events and make compelling films for watching afterwards, this is for you!
Show us your event edit and knock our socks off with your stunning imagination.
Visual Effects
From VFX and green screen tech to clever solutions in-camera or on-set, we would love to recognise the best – and most ingenious – effects used in your work.
Future Filmmaker
For aspiring professionals or those in the first two years of a career, this is a crucial category. We want to see just how creative the future really is.
This is an open class, so pretty much anything goes. It could be some creative short film you have shot as a student, newbie or aspiring professional.
It could be a self-funded documentary, a pop video for a local band or even work as part of a bigger team on commercial projects. The choice is yours.
We want to see creativity in visually stunning work from the thought leaders of tomorrow!
Livestreamed Event
The booming area of live streaming covers everything from product launches to galas, religious ceremonies, fairs, sporting events and lots more. If it went out live, here's where it belongs.
Send us a link to the whole broadcast, or if you want to make a short highlights clip then that's good, too; as long as it's a straight edit of what was broadcast rather than with any extra production added. We want to see what the viewers saw!
YouTuber
It's a massive, growing market – YouTube is taking over the planet for delivering video content. Although, if your series is on Vimeo or any other long-form sharing platform then that counts too! 
This category is for creative YouTubers producing engaging, well-shot and gorgeously produced content for their own channel – or a client's. 
Sound
Every filmmaker knows audio is vital to the success of any project. This category is for films where the soundtrack, sound design or sound recording is well-executed and adds loads to the film.
You could be a dedicated sound recordist or just have some incredible audio on a film you managed. We want to hear from you!
Editing
It's great having awesome visual footage and incredible audio, but it's in the edit that a film is turned into a true work of art. In this category, any film is welcome as long as it highlights amazing editing skills. It could be in the cut, grading or more – show us your finest hour.
For more information, see the Jan/Feb issue of Pro Moviemaker.