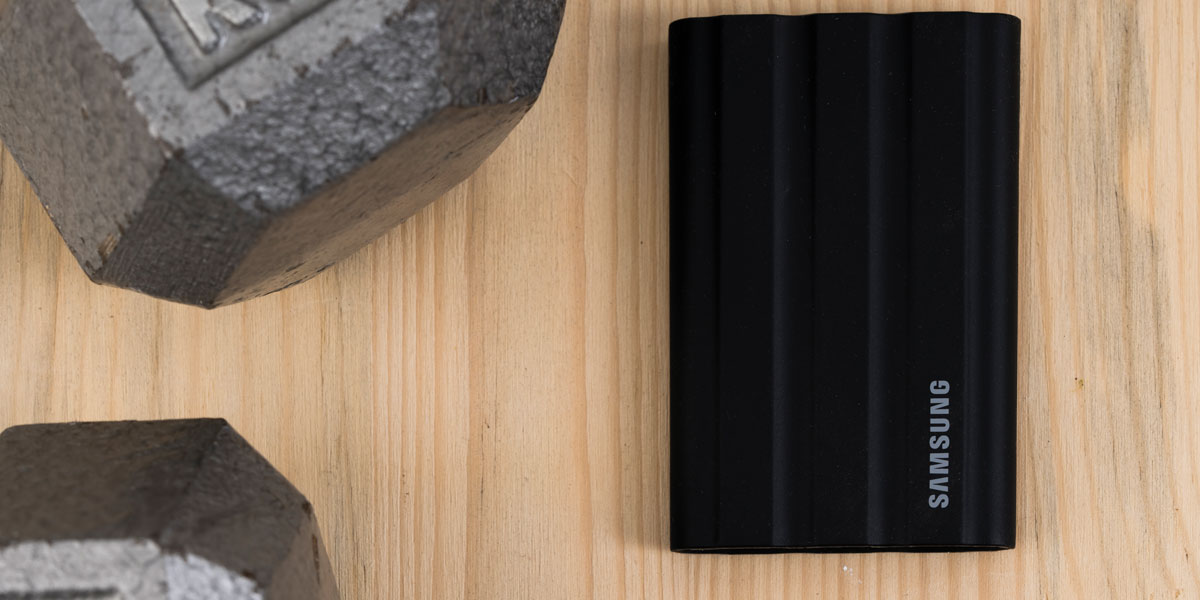 Fit for hard work: Samsung Portable SSD T7 Shield
Posted on Jul 4, 2023 by Samara Husbands
When tough storage was needed for footage from a huge fitness exhibition, the Samsung Portable SSD T7 Shield did all the heavy lifting
Advertisement feature
You don't need to be at the peak of physical fitness to spend four days running around a massive trade show with lots of camera equipment – but it does help. The annual FIBO expo in Germany's massive Cologne exhibition halls is the world's leading trade show for fitness, packed with the industry's decision makers. And lots of ripped people lifting heavy weights, of course.
The job of shooting videos at the event for UK-based Escape Fitness came down to a very small production team, who had to travel as light as possible with three full camera kits, audio gear, lighting and grip. The mission was to film eight podcasts in an interview room, then shoot talking heads around the show halls, as well as capturing stunning visual footage. None of this could be repeated, so looking after the footage and creating safe backups at speed was an essential skill.
In charge of all DIT work was Hannah Buckle, and as part of the small crew she also ended up packing and repacking the kit and helping move it around the vast exhibition. But her main role was data wrangling and protecting Raw footage, as well as finished edits and daily rushes. All of this was done from a laptop, as speed and portability were crucial.
"Around the show, we needed a robust backup system that we could use to store and make copies of the footage as we went. Everything was shot in 4K on the A and B cameras, plus some 2K cutaways and audio from a multichannel recorder," she says. "I was also involved with sending rushes back to base via online file transfer. And, of course, I was pressed into shooting some behind-the-scenes stills on my phone and sending screen grabs of the footage to the team for approval.
"It involved long days with loads of walking and moving kit – and no time for mistakes. With the speakers being recorded, we couldn't do reshoots. Everything had to be right first time, every time."
Losing footage or audio after it's been shot is the nightmare of any filmmaking team, so choosing the right portable drive is key. They need to be fast, available in large capacities and able to stand up to the rigours of a fast-paced event. Not to mention, they need to be robust in case of any small bumps and drops!  
With years of experience employing and trusting Samsung's solutions, the rugged Samsung Portable SSD T7 Shield was the obvious storage choice. This particular portable drive is not only compact and quiet, but uses a rugged aluminium body for heat dissipation. That's vital to avoid the drive overheating, even when ingesting high-bit-rate 4K 10-bit 4:2:2 All-Intra footage from mirrorless cameras. And the rubber cover not only contributes to the portable drive's drop protection up to 3m, but also water and dust resistance rated to IP65. So it's fine if a sweaty fitness model spills some water near it.
The Samsung Portable SSD T7 Shield collection provides highly sustained write performance, allowing you to record 8K or 12K video – it handled 4K footage from the show with ease. This was ingested via Buckle's laptop via Thunderbolt connection. With respective read and write speeds up to 1050MB/s and 1000MB/s, this portable drive is almost ten times faster than most external HDDs. And the vast 4TB capacity was more than enough for Buckle's needs.
For added data security, installation software allows you to set a name and a password. And the included Samsung Magician software monitors the health of the portable drive and lets you alter all the settings. It's also a space saver – much smaller and lighter than the typical smartphone, weighing 98g and measuring 88mm long and 13mm thick.
The Samsung Portable SSD T7 Shield is available in black at 4TB, while the 1 and 2TB options come in black, beige and blue. Samsung is really flexing its muscles with this portable drive.  
Head to the Samsung website for more.
Origianlly published in the July/August issue of Pro Moviemaker.