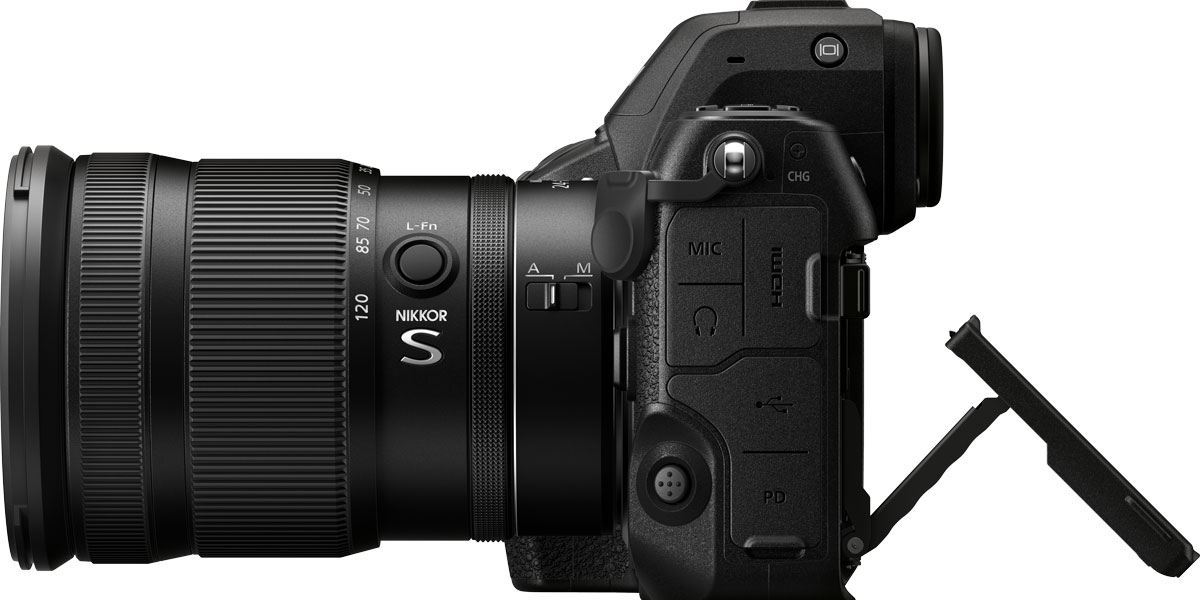 Nikon's great Z 8!
Posted on Jul 4, 2023 by Samara Husbands
Nikon's Z 8 is lighter and cheaper than the Z 9, and uses a smaller body. It also includes most of the Z 9's features including the same sensor, codecs and intelligent AF
When Nikon launched its full-frame flagship mirrorless Z 9 camera, it offered incredible stills and video spec thanks to its stacked sensor and huge range of internal codecs – including Raw. While it has been a smash hit with professional stills shooters, its large pro DSLR-style body won very few fans with filmmakers, who are used to smaller-bodied cameras for fitting on rigs and gimbals.
It's taken more than a year, but Nikon has now revealed its new Z 8, which is not only lighter and cheaper than the Z 9, but uses a smaller body without an integrated vertical grip. It also includes most of the Z 9's features including the same sensor, codecs and intelligent AF. 
At 910g/2lb and £3995/$3997, the Z 8 body is 30% smaller than the Z 9 and 15% smaller than the D850 DSLR. It will now balance on any rig and most gimbals.
The Z 8 has a 45.7-megapixel full-frame sensor that gives an 8.3K native video resolution, with the same stacked CMOS sensor and Expeed 7 processor as the Z 9. Video can be recorded in-camera 12-bit Raw up to 8.3K/60p or 4.1K/120p, as well as 10-bit HLG video for HDR and 8K/60p internally for up to 90 minutes.
The body still has pro-grade weather sealing and the same cold tolerance as Nikon's flagship D6 and Z 9 cameras. It's also the first Nikon mirrorless camera to feature two USB-C ports, which makes it possible to transfer files while charging. However, unlike the Z 9 which has two CFexpress Type B slots, the Z 8 only has one plus an SD slot.
Its video spec tops out at 8K or 4K and it can shoot 12-bit Raw footage in-camera and in Nikon's NRAW files, half the size of a ProRes Raw HQ file. In-camera Full HD proxy files are created when shooting internal 8.3K NRAW or 4.1K ProRes Raw HQ. It can record 10-bit ProRes 422 HQ internally, too. 
The choice of ProRes, H.265 4:2:2 10-bit, ProRes Raw and NRAW is unique to Nikon after the company settled a dispute with rivals Red, which claimed the internal compressed Raw violated its patent. In ProRes, there is the option of SDR or N-Log gamma, where the base ISO is 800. 
Nikon's new camera can record every resolution and frame rate in 10-bit 4:2:2, but it's limited to 120fps, as there are no 240fps options even in 1080p HD. There are no variable frame rate or anamorphic options though, and no way of loading or using LUTs – there's no timecode either.
The stacked CMOS sensor is claimed to be designed by Nikon, but uses technology pioneered by Sony. Nikon says it has the world's fastest scanning speed, which combines with the electronic shutter to virtually eliminate rolling shutter distortion. The sensor offers a native ISO range of 64-25,600 (expandable to 32-102,400) and combines with the quick processor to give lightning-fast focusing, smooth video and high burst speeds. The processor handles AF and AE calculations at high speed, and separately processes dual-streamed data from the sensor. One stream will record images to the memory card, while the other is for uninterrupted viewing with a real-time, blackout-free viewfinder. There's also a four-axis tilting touchscreen monitor, separate display interfaces for video and stills, and the menus rotate if shooting vertically.
The stacked sensor also allows phase detection AF to offer tracking for people, dogs, cats, birds, cars, motorcycles, bicycles, trains and aeroplanes. Subject detection and AF work down to -9 EV for video and stills. 
For shooting stills – burst speeds go up to 120fps with full AF/AE and no viewfinder blackout. There is an optional vertical battery grip with Nikon's new Power Battery Pack MB-N12, which can be used as a grip for vertical shooting or to counterbalance telephoto lenses.
Originally featured in the July/August issue of Pro Moviemaker.