Mini Test: Mobile Pixels Duex Plus Monitor
Posted on Sep 2, 2021 by Alex Fice
£338/$319
There's never enough space on a laptop screen to edit video on the move, especially if you are used to a dual-monitor set-up in the edit suite. That's where the Mobile Pixels Duex Plus monitor comes in, as it attaches to your laptop via magnets and works as a second monitor.
With a screen size of 13.3in, chances are it won't be exactly the same size as your laptop screen. It certainly wasn't when used on our 15in MacBook Pro, but it does give you vital screen real estate – making a big difference
when using a laptop.
It comes with four circular magnetic plates that you stick on to the cover of your laptop, which do jut out by 3mm. If your machine has a plastic case, you could stick them to that. The Duex Plus monitor has magnets on its own plastic cover, which clamp on to the four plates. You can then slide the screen out to the left or right of your laptop screen, depending which side you want it on. It plugs in using the combined USB-C/ USB-A cable and takes power from your laptop.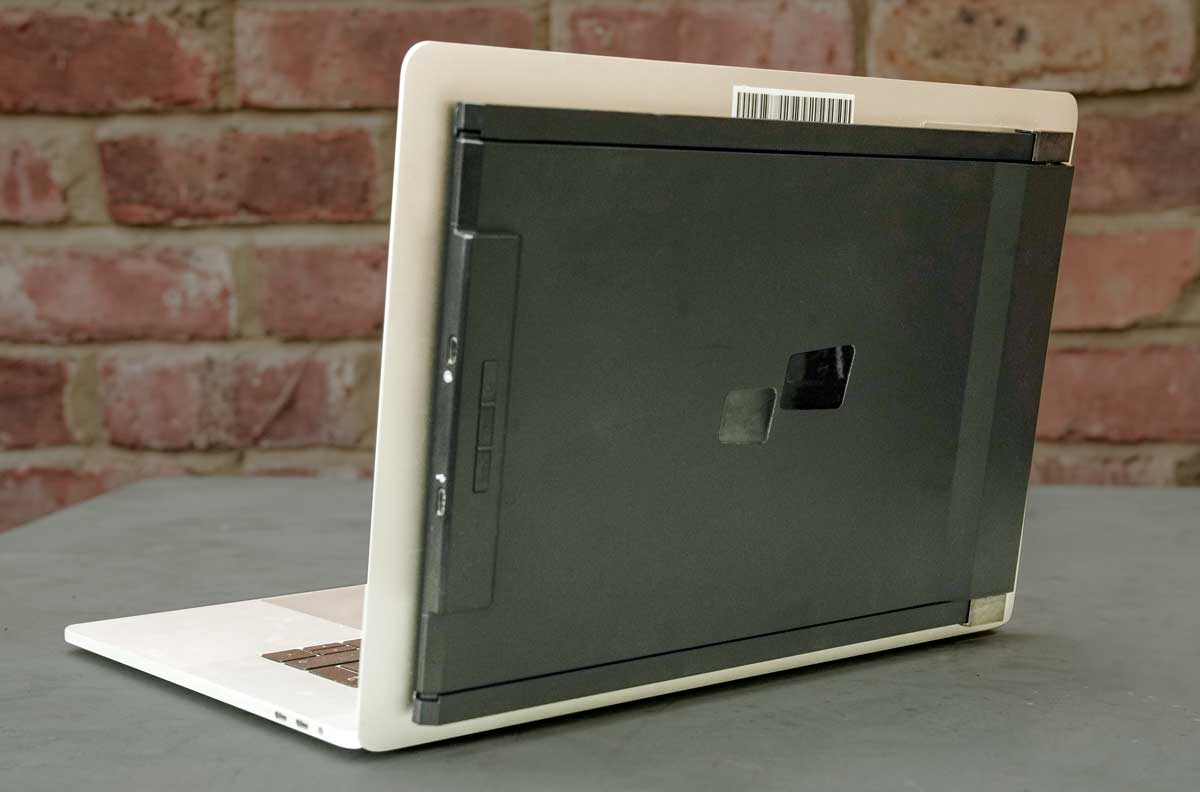 On our MacBook Pro, the Duex Plus screen was instantly working, as we'd previously set up the laptop to use a second monitor. Some computers need driver software downloading from the Mobile Pixels website.
The screen has buttons to adjust brightness and is relatively sharp. At 726g/1.56lb, it's not too overbearing, but does make the laptop a bit top-heavy – and also uses battery power significantly faster. It's best to leave your computer plugged into the mains. The Duex Plus is only 6.4mm/0.25in wide, so doesn't add too much bulk.
The screen can also be turned around completely – useful if you want to use your laptop to allow people to see what you're working on. Detach from the screen and use as a standalone second monitor, in horizontal or vertical mode.
Specifications
Screen: 13.3in IPS
Aspect ratio: 16:9
Brightness: 300 nits
Connection: 2x USB-C, Mac OS or Windows, Android
Resolution: FHD 1080p
Power consumption: 4.5W
Dimensions (wxhxd): 31.1×21.5×0.64cm/ 12.25×8.46×0.25in
Weight: 590g/1.3lb
Pro Moviemaker Rating: 7/10
Quickly turns your laptop into a real dual-screen display
Pros: Effective, simple laptop boost
Cons: Magnetic plates aren't ideal
To find out more, visit Mobile Pixels's website.