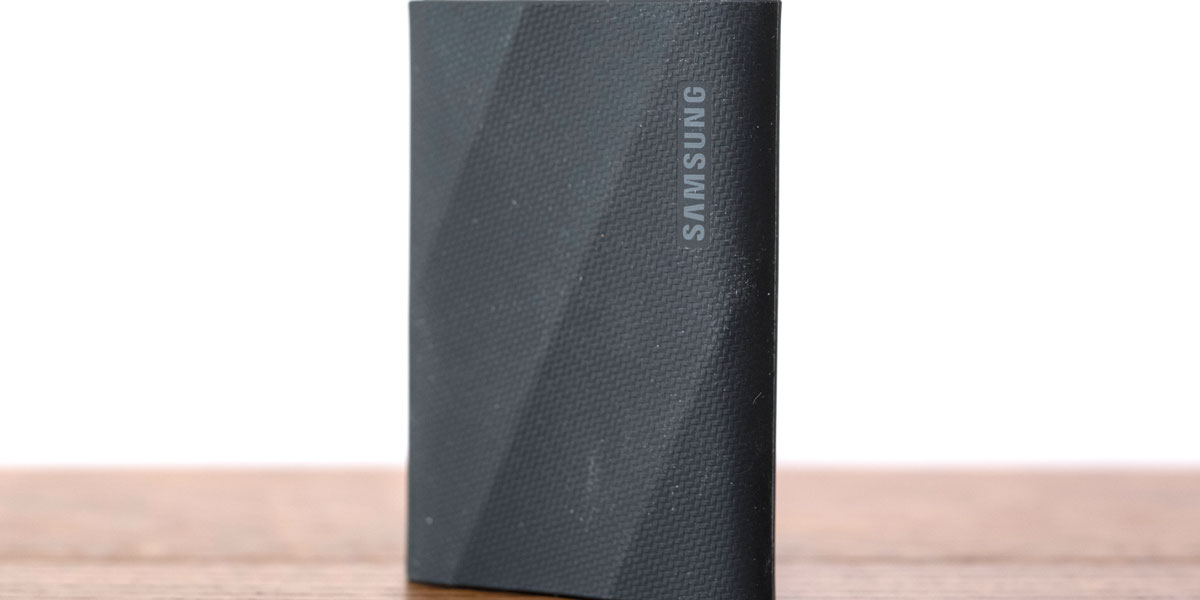 Your time is precious
Posted on Oct 30, 2023 by Samara Husbands
When security is crucial and time is of the essence, the Samsung Portable SSD T9 is the speedy solution to all your data needs
Advertisement feature
You know security is a real concern when the precious products to be filmed are escorted to the location by their own minders. 
So when a high-quality stills and video shoot of jewellery required chaperones, image maker John Owen knew it was essential all the footage and images were as safe as could be.
As a regular user of Samsung portable drives on location and in the studio for many years, Owen jumped at the chance to be one of the first to use the very latest Samsung Portable SSD T9 – as it is not only speedy, but incredibly rugged.
"I switched to Samsung portable drives and they have never once let me down," he says. "I buy a lot of them and even use them to deliver files to clients, as well as backups on location or to keep extra copies of vital shoots off-site so there is no chance of any data loss. So with such precious things as the brand-new designs I had to shoot for a jewellery manufacturer, I was always going to the brand I trust."
Filming on location brings its own challenges, such as working via a laptop to check the 10-bit 4:2:2 4K video footage is perfect, as well as tethering when shooting stills for the high-end beauty retouching that would be required afterwards.
"All the video footage was backed up to the new Samsung Portable SSD T9 and all the still files were saved to it through the shoot, too. It works for everything, which is especially important for hybrid image makers like me who are providing stills and moving content."
The portable drive comes with a USB-C connection and a choice of two cables, one to connect to a USB-C or Thunderbolt drive and a second for legacy USB-A devices. Its connection is the latest USB 3.2 Gen 2×2 interface, which delivers up to 2000MB/s transfer speeds – both read and write. And the increased TurboWrite buffer size of up to 180GB ensures maximum performance for a longer amount of time when transferring large files or encoding and decoding video. For video shooting, file transmission, video editing and backup, the Samsung Portable SSD T9 is the optimal device to help at each stage of work.
"I plugged the USB-C cable into my laptop and it was recognised instantly, so I could start work straight away," reveals Owen. "It was the first time I'd used it and I just got going without fuss.
"It was incredibly quick. I was never waiting for files to download and even used the portable drive to host my project library on the shoot, which sped up the editing process compared to using the SSD inside my laptop – especially in 4K. I'm more than impressed with the speed, and look forward to experimenting with the software."
The portable drive comes pre-installed with Samsung Magician software, which offers performance benchmark, security functions, firmware updates and a health status check in real time. Version 8.0 offers data migration, PSSD software and a card authentication tool.
To make sure it's compatible with lots of popular products, this rapid portable drive has been verified in 64 devices including PCs, mobile phones, TVs and cameras – with perfect results. This is partly because it has been developed as a dedicated PCB design rather than an M.2 SSD. 
Since both the hardware and firmware have been developed exclusively for the Samsung Portable SSD T9, power usage is optimised and much lower than many rival products. It consumes 0.67W idle power and peak power up to 7.3W when connected by the USB-C, ideal for safe compatibility.
In tests, when using the portable drive on the same host device and left to idle, battery life is extended by more than 30 minutes compared to competitors.* This is an important factor because, normally, portable SSDs complete commands quickly then drop back to idle status.
"I never considered that a portable drive could cut the battery life of a laptop, even when not being used," says Owen. "But this is a real benefit, especially on location." 
Heat management is also an important factor especially when using large video and stills files. These workloads cause a lot of heat, which can lead to performance drops or even device failure. As well as low power consumption, the Samsung Portable SSD T9 is built with thermal materials including silicon and aluminium to keep things cool even in the most intense sessions. So there is no problem with heat causing data loss. 
With no worries around speed, heat-related issues or maximum capacity due to the huge 4TB size, the Samsung Portable SSD T9 delivered the goods with ease in Owen's high-pressure shoot.
"The stylish rubber cover adds an air of luxury. Drop protection up to 3m and a five-year limited warranty give me real peace of mind. Samsung's portable drives fend off knocks and keep delivering time after time," he concludes.
Owen has become such a fan of the Samsung Portable SSD T9 in his workflow, it's bound to become something he'll guard and cherish for years to come. 
Samsung on top!
The Samsung Portable SSD T7 Shield 4TB has been named the best external hard drive in the Pro Moviemaker Gear of the Year Awards. These recognise the best equipment, voted for by filmmaking pros.
Originally featured in the November/December issue of Pro Moviemaker.