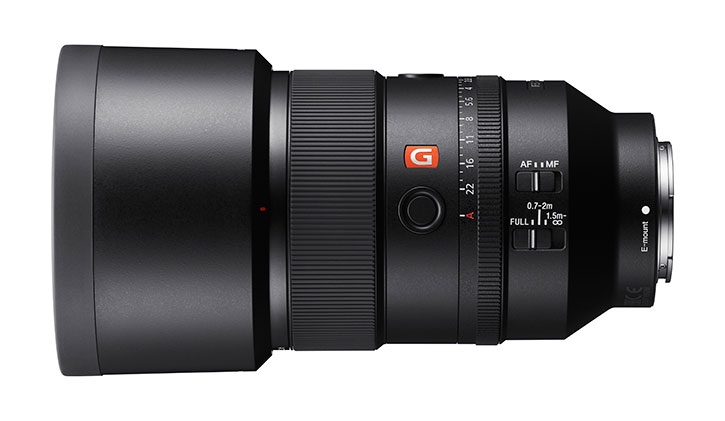 Sony to Release Full-frame G Master Prime Lens
Sony are releasing a new Full-frame 135mm F1.8 G Master Prime Lens with impressive resolution.
Sony have introduced an addition to their G Master series. The lens is fitted with Sony's most advanced optical technologies.
The new FE 135mm F1.8 GM lens provides high resolution and impressive bokeh, which are the two qualities that are associated with Sony's flagship G Master brand. 
The lens is lightweight and portable with a rapid auto focus acquisition. A variety of professional functions are included, making it a versatile, high-performance tool for professional portrait photographers, wedding photographers, sports photographers and a wide variety of imaging enthusiasts.
The FE 135mm F1.8 GM possesses an innovative optical design that places XA (extreme aspherical) and Super ED (Extra-low Dispersion) glass elements in the front group to effectively suppress all common telephoto lens aberrations. Furthermore, the Super ED element plus one ED glass element are strategically positioned to compensate for axial chromatic aberration, minimize colour fringing and maximise overall resolution, ensuring outstanding image quality. For impressive clarity, Sony's unique Nano AR Coating is applied to reduce flare and ghosting that can occur when shooting backlit portraits. The new lens has been equipped with a total of four of Sony's proprietary XD linear motors that achieve rapid, reliable and speedy AF tracking and performance, which is suitable for focusing on fast moving objects.
The FE 135mm F1.8 GM will ship in Europe in April 2019, priced at approximately €2,000/£1,750
The prices of the filters are estimated at:
49mm (model VF-49CPAM2) – €110/£95
55mm (model VF-55CPAM2) – €120/£103
62mm (model VF-62CPAM2) – €150/£129
67mm (model VF-67CPAM2) – €170/£145
72mm (model VF-72CPAM2) – €180/£154
77mm (model VF-77CPAM2) – €200/£171
82mm (model VF-82CPAM2) – €260/£222
For more information visit the Sony website.