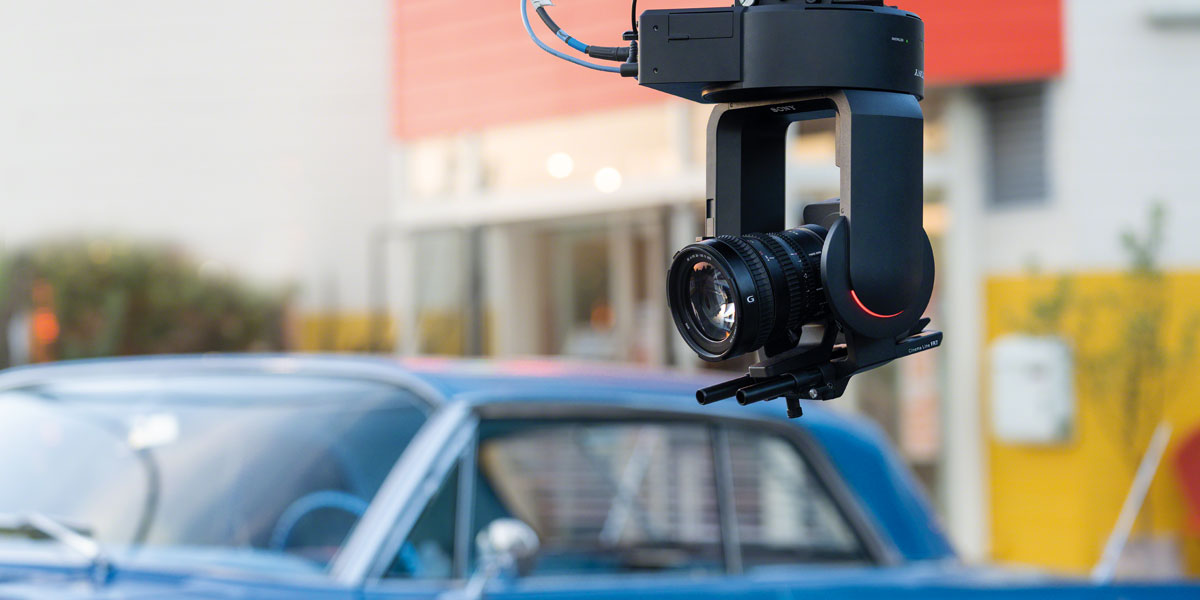 Take remote control with PTZ
Posted on Apr 19, 2023 by Pro Moviemaker
The real growth for professional cameras is in pan-tilt-zoom (PTZ) models operated via the net
Words ADAM DUCKWORTH
Cinema cameras and high-end mirrorless might hog the limelight, but the remote-control PTZ market has some big movers. Fuelled by remote working forced upon us by the pandemic, PTZs have gone from strength to strength as the world wants live streaming and the unique angles only a small, unmanned camera can give.
Everything – from sport to music gigs, courtrooms to reality shows and houses of worship to kitchen sink dramas – has shifted this way. As they have become more mainstream and viewers demand a more cinematic, high-end experience, manufacturers have followed suit. Log shooting, large sensors and speedy lenses for shallow depth-of-field, plus high frame rates for near-instant slow motion have become the norm for these classy, but often pricey cameras.
If you think PTZs are nothing more than dressed-up security cameras of dubious quality – with no real use for filmmaking – it's time to think again.
We take a look at some of the models you should investigate to see where innovation is taking place.
Sony's cinema-style solution
Sony has taken the wraps off the FR7, the world's first PTZ camera to combine a full-frame image sensor with interchangeable E-mount lenses – for a truly cinematic look. This £9456/$9699 camera has a back-side illuminated 35mm full-frame CMOS sensor with 10.3 megapixels and dynamic range of more than 15 stops. 
The FR7 is designed for low noise thanks to the Exmor R sensor that can reach as high as ISO 409,600. Recording is possible up to 4K/120p for super slow-motion.
Inside are gamma options including S-Cinetone for natural skin tones straight out of camera, just like the A7S III, A1 and Sony's pro cinema cameras. In Cine mode, base sensitivity can be set to either ISO 800 or 12,800 and allows the use of S-Log3 gamma, wide S-Gamut3 and S-Gamut3.Cine colour spaces. 
A new Sony web application allows remote control of pan, tilt, zoom, focus, record, playback and all camera settings from a tablet or computer web browser. 
Multicamera monitoring is also enabled, allowing several cameras to be viewed remotely on one device. And multiple devices can view the output from a single camera at once.
It is compatible with Sony's RM-IP500 remote controller, can remotely control up to 100 PTZ cameras and provide joystick pan, tilt, and zoom operation. 
Pan and tilt speed can be continuously varied from 0.02°/s to 60°/s, so it can definitely keep up with the action. The FR7 may also memorise up to 100 camera position presets, so you can pre-programme it for lots of different moves during recording – and it supports S700 protocol via Ethernet. 
The fast hybrid AF and pan-tilt-zoom functions combine to focus on static or fast-moving subjects over a wide area, even with a shallow depth-of-field. Touch focus initiates focusing with real-time tracking on the desired subject when using the FR7's web application – with eye AF if an eye is detected.
There is a built-in electronic variable ND filter and an auto ND function to keep exposure constant to match changing light. Remote control of ND is also possible.
The FR7 is capable of internal XAVC recording and external Raw output. There are dual media slots that support CFexpress Type A and SDXC memory cards. The SDI output can deliver a 16-bit Raw signal to an external recorder. There are HDMI Type A and 12G-SDI connectors as well as an XLR mic input.
Camera control, video and audio transfer, plus power supply may also be carried out via a single LAN cable. This connector supports streaming protocols including RTSP, SRT and NDI HX for working in an IP-based workflow. The FR7 can be powered from an external PoE++ device via a standard network cable, eliminating the need for separate power supply cabling. Timecode and genlock both feature, plus red/green tally lights.
This flagship camera gives the quality, look and control of Sony's flagship cinema and mirrorless cameras, so the footage can be mixed between all three.
Sony's head of Connected Content Acquisition, Claus Pfeiffer, told Pro Moviemaker: "It's like the insides of an FX6 in a PTZ camera body. But it can go in places the FX6 can't, as that needs a camera operator. So it can be onstage with artists or filming reality shows, all in the same cinematic quality modern audiences expect from their shows now."
Sony also recently unveiled two fixed-lens PTZ cameras powered by built-in AI analytics. The SRG-A40 and SRG-A12 automatically and consistently track – and naturally frame – subjects regardless of their movement or posture, for seamless content creation and control. This is all achieved in-camera. 
Sony's new Creators' Cloud, Networked Live and Connected Content Acquisition programs form its blueprint for the future of media.
Creators' Cloud is a forthcoming platform for creation, sharing and distribution all based in the cloud, from any network to any device. Networked Live is a project with Sony and Nevion to accelerate the transformation of workflows to fully remote production. And Connected Content Acquisition is Sony's plan to reinforce the connectivity and capabilities of its cameras, allowing users to do more with their content at the point of acquisition. The new FR7 PTZ camera is the first major launch as part of this project.
Panasonic's in-phase flagship
Nine years after starting to make PTZ cameras, Panasonic now has a huge range – and a brand-new flagship in the shape of the AW-UE160W/K, a next-generation 4K camera that is claimed to offer the functionality of a broadcast system camera. Along with high sensitivity and high-bandwidth NDI capability, the AW-UE160 is the first compact PTZ to support SMPTE ST 2110, available through software.
The AW-UE160 features the latest Panasonic image processing engine, plus newly developed phase detection AF that enables high-speed focusing for quick-moving subjects. It also has a 20x optical zoom – and hybrid image stabilisation.
It offers wireless transmission with a 5G mobile router via USB tethering, supports return input and is equipped with a cropping zoom function that outputs multiple-angle video with one camera, plus 2x high-speed output in HD via SDI/HDMI.
There is also support for scene files and colour matrix control, while the remote operation panel allows for batch management of multiple cameras, making mixed operation with system cameras even easier. Waveform display is included, too.
Below this is the AW-UE150. At launch, it was the first 4K/60p PTZ from a major manufacturer. The £9534/$9699 cam has a one-inch sensor, 12G-SDI, optical fibre and IP connections for control, and an optical 20x zoom.
Another rung below is the AW-UE100, priced at £6600/$7295. This also outputs 4K/60p via its 12G-SDI connection and has a high bandwidth – so transmits 4K at up to 250Mbps or FHD at 100Mbps for low-latency live video via a single LAN cable. 
The AW-RP60 is the perfect controller, managing up to 200 cameras over IP for £2273/$2295.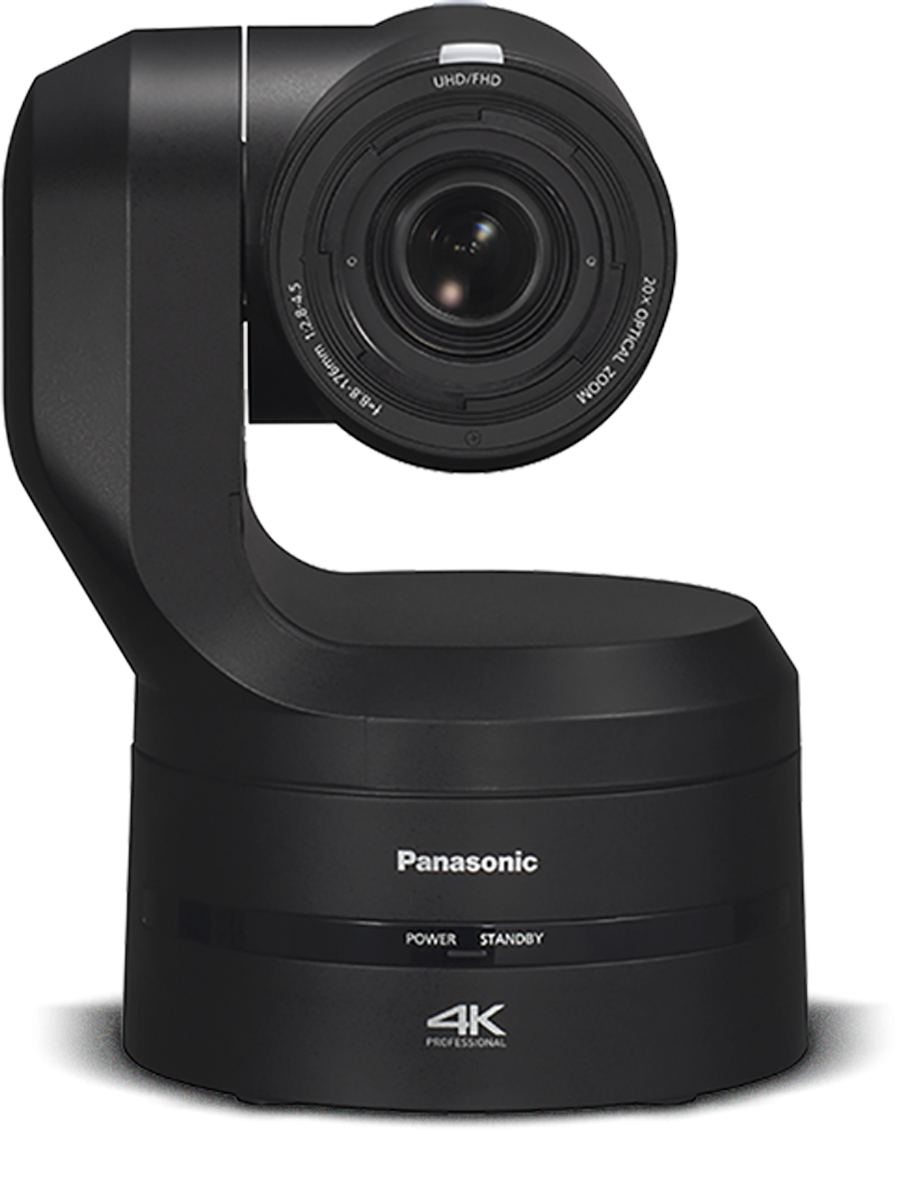 Marshalling high performance
Marshall's high-performance NDI HX3 PTZ records in UHD 4K at 60fps. The £3848/$4495 CV730-ND3 uses new NDI HX3 codecs, which significantly enhance NDI performance over a network, with improvements in lossless video quality, latency and bandwidth. The CV730-ND3 achieves near Full NDI delivery at almost 250Mbps with a bandwidth requirement of around 80Mbps for NDI HX3.  
For fast action without any rolling shutter wobbles, you need a camera with a speedy global shutter inside. Marshall has two new miniature remote units up to the task. They aren't PTZ, but remote cam units ideal for motorised heads. The CV568 and compact CV368 global shutter cameras have genlock and are ideal for sports, news, esports or remote production.
At under a grand, both the CV568 and CV368 POVs use a 1/1.8-inch global shutter sensor with 25% larger pixel size for ultra-fast, low-latency capture even in low-light environments. Global shutter sensors are useful for capturing fast action without the skewed vertical lines experienced by conventional shutter sensors.
The CV568 miniature HD cam is built into the same body as Marshall CV503 and CV506 cameras with rear panel protection, interchangeable M12 lenses, secure locking connections and remote adjust/match. 
The CV368 compact HD camera, meanwhile, follows the same body design as the CV344 and CV346 cameras, but a slightly larger CS-mount lens type with a wide variety of variable and fixed-lens options available. 
CV568 and CV368's tri-level sync allows multiple cameras to be plugged into HD workflows already in sync (genlock), enabling seamless transitions between cameras with minimal delay. Tri-level sync runs at a higher frequency, making the signal sync more accurate.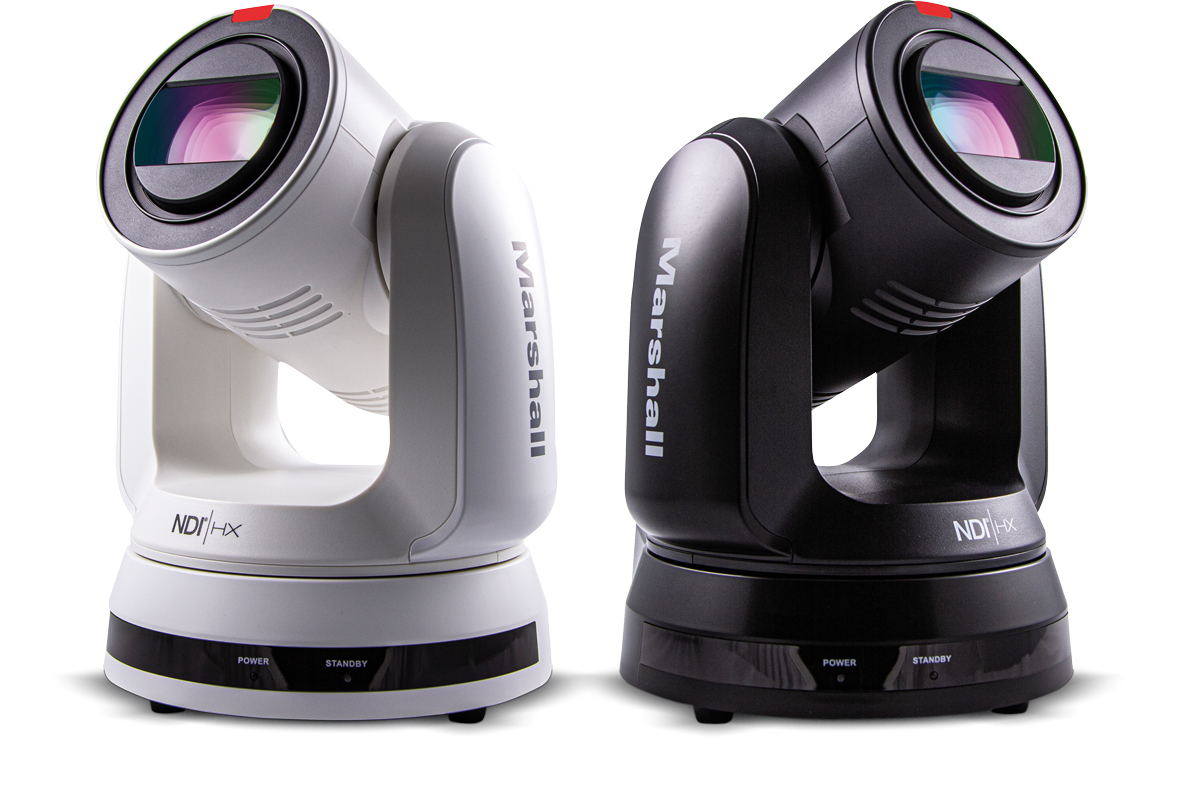 Canon goes for intelligent AF
The latest CR-N700 from Canon is a 4K/60p 4:2:2 10-bit PTZ camera with 12G-SDI connectivity designed for professional broadcast, studio and live event productions. It uses intelligent Dual Pixel CMOS AF from the EOS C70 and XF605. 
Featuring a 1.0-type CMOS sensor and Digic DV7 processor to stream 4K/60p, the camera also has a 15x optical zoom and 30x digital zoom when shooting in Full HD. The CR-N700 has image stabilisation and features night mode thanks to an in-built IR cut filter. Find support for HDR formats in PQ or HLG, too.
This is the first Canon PTZ camera to use Dual Pixel CMOS AF with advanced EOS iTR AF X. Deep-learning AF locks onto a subject's head and tracks them even when their face is turned away. There is also eye detection AF, while face priority AF allows prioritisation of a specific individual. 
The CR-N700 supports protocols including SRT and NDI HX for 4K streams, while FreeD enables integration with virtual productions. Canon's XC protocol allows integration of the CR-N700 alongside other Canon Cinema EOS cameras such as the EOS C500 Mark II, EOS C300 Mark III or XF605. It matches other Canon cameras' looks with Canon Log 3 and Wide Dynamic Range settings.
Connections include 12G-SDI and 3G-SDI, HDMI or IP (PoE++), dual XLR audio inputs and genlock.
The advanced drive mechanism enables movements as precise as 0.1°/s, ideal for cinematic shots. 
With the CR-N700's crop function, two separate feeds may be taken from a single camera. A cropped-in part of the 4K frame can then be outputted as a separate feed in Full HD to allow switching between the wide and tight shot.
Canon's flagship is the CR-X500, which costs £23,759/$22,000 and is a fully waterproof, remote-control, high-end large-chip camcorder that even has a built-in wiper to ensure rain doesn't stop play.
It has Dual Digic DV6 processors to capture 4K/60p in 4:2:2 10-bit from its 1.0-type CMOS sensor – thanks to Canon's Dual Pixel CMOS AF focusing system and a 15x optical zoom – and can shoot in Canon Log 3 and Wide Dynamic Range. 
Canon's indoor line-up includes the £5399/$5399 CR-N500 and £2699/$2699 CR-N300. There is also the £10,799/£11,999 CR-X300 4K, which is an all-weather version of the CR-N300.
All have IP protocols like RTMP/RTMPS, NDI HX and RTP/RTSP, including the newly developed XC Protocol for a simple workflow. To go with the cameras, Canon has the £2049/$1999 RC-IP100 hardware controller and Remote Camera Control app. The new XC Protocol enables other compatible Canon video cameras to be used in the same production system.
The CR-N500 also has Canon Log 3 and Wide Dynamic Range to get HDR results for livestreamed or recorded content ready for post-production, a 1.0-type CMOS sensor and Dual Pixel CMOS AF. 
Both the CR-N500 and CR-N300 are compatible with Power over Ethernet (PoE+), HDMI and 3G-SDI. The latter even offers an additional USB port. It also houses the slightly smaller 1/2.3-inch CMOS sensor as well as the less advanced hybrid autofocus system.
Both 500-class models use a 15x optical zoom, while the flagship model extends to 30x in HD. The CR-N300 has a 20x optical zoom, and image stabilisation in all lenses.
Every camera is compatible with both Canon's RC-IP100 controller and Remote Camera Control app controllers, as well as selected third-party devices.
The RC-IP100 can control 100 PTZ cameras at once from a single operator, controlling focus, white-balance and shutter speed, as well as pan, tilt and zoom.
Both the RC-IP100 and Remote Camera Control app can command up to 100 preset positions, plus the trace function setting. Ten camera movements can be predetermined in a rehearsal, with the sequence initiated at the touch of a button.
The free application is software for computers and tablets capable of controlling up to 20 Canon PTZ cameras with up to nine shown as a preview on the user interface. This software control allows the image settings of the camera such as iris, white-balance and gain to be fine-tuned from a laptop keyboard.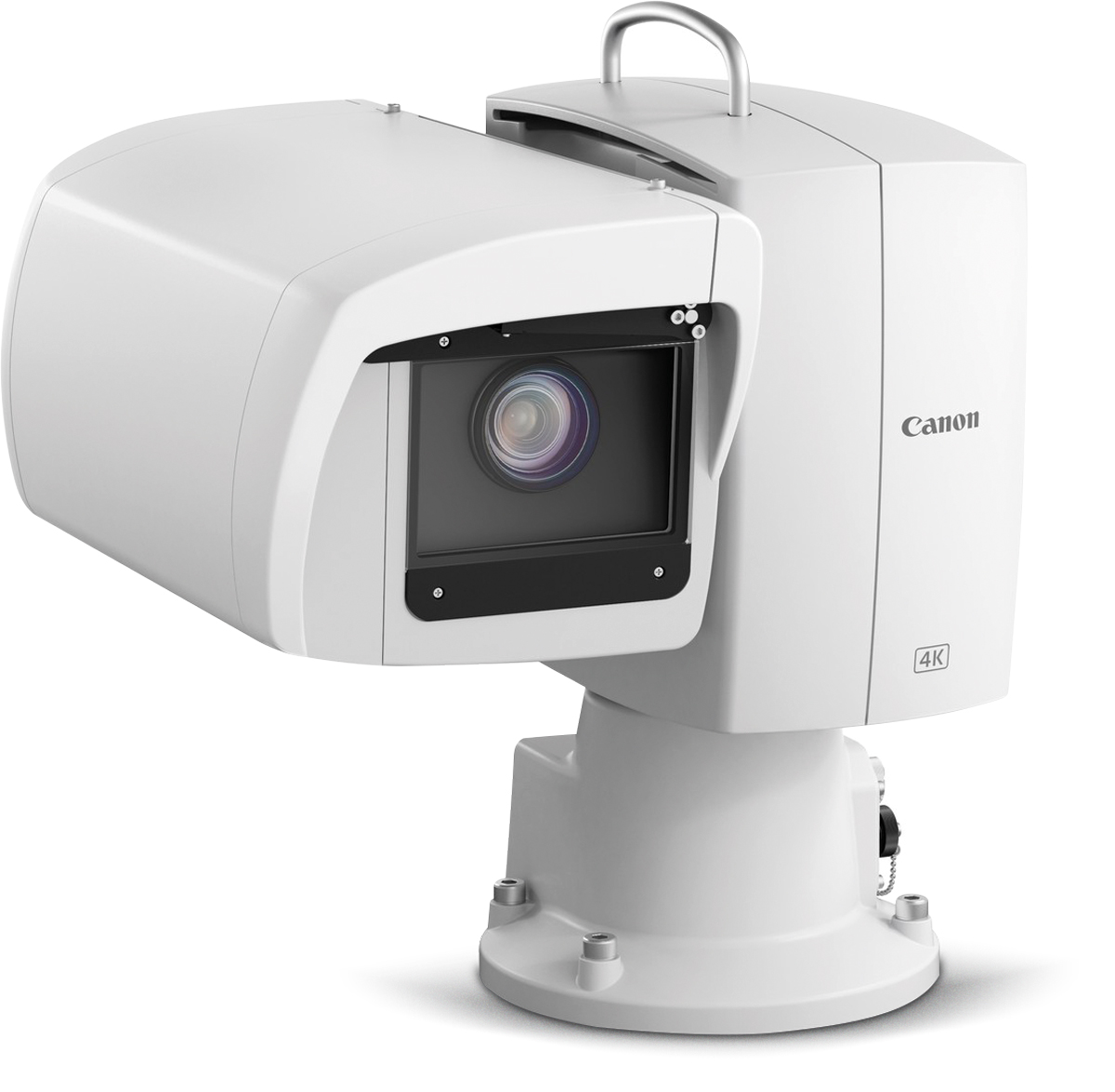 JVC's journey into live production
JVC's latest PTZ cameras are designed for remote IP production in live events and sport, as well as education and corporate. The 4K KY-PZ400N and HD KY-PZ200N cameras are equipped with NDI HX and SRT streaming, H.265/H.264/MJPEG encoding and VITC camera synchronisation. A third, the HD KY-PZ200, is a more economical solution as it doesn't offer NDI HX. 
All these include SRT, HTTP, RTSP, RTMP/RTMPS plus standard protocols. With SRT open-source tech in JVCs, PTZ owners get continual firmware updates. Advanced streaming SRT adds automatic repeat request (ARQ) and forward error correction (FEC) to stop signal loss, plus stream encryption for content protection. 
Full remote control capabilities are via JVC's RM-LP100 controller, KM-IP6000 or 4000 live IP production suites – or options from vMix, OBS Studio and Newtek.
Equipped with a 4K 1/2.5-inch progressive scanning CMOS image sensor, the £2234/$2299 KY-PZ400N has a wide angle of view equivalent to 26.4mm, 0.5 lux minimum illumination and 16x digital or 12x optical zoom. 
The £1729/$1399 KY-PZ200 includes an HD 1/2.8-inch progressive CMOS image sensor, as well as 20x optical zoom reaching out to 606.9mm equivalent. Both cameras have HDMI and 3G-SDI, RJ45 with PoE, RS232 and RS485 interfaces as standard.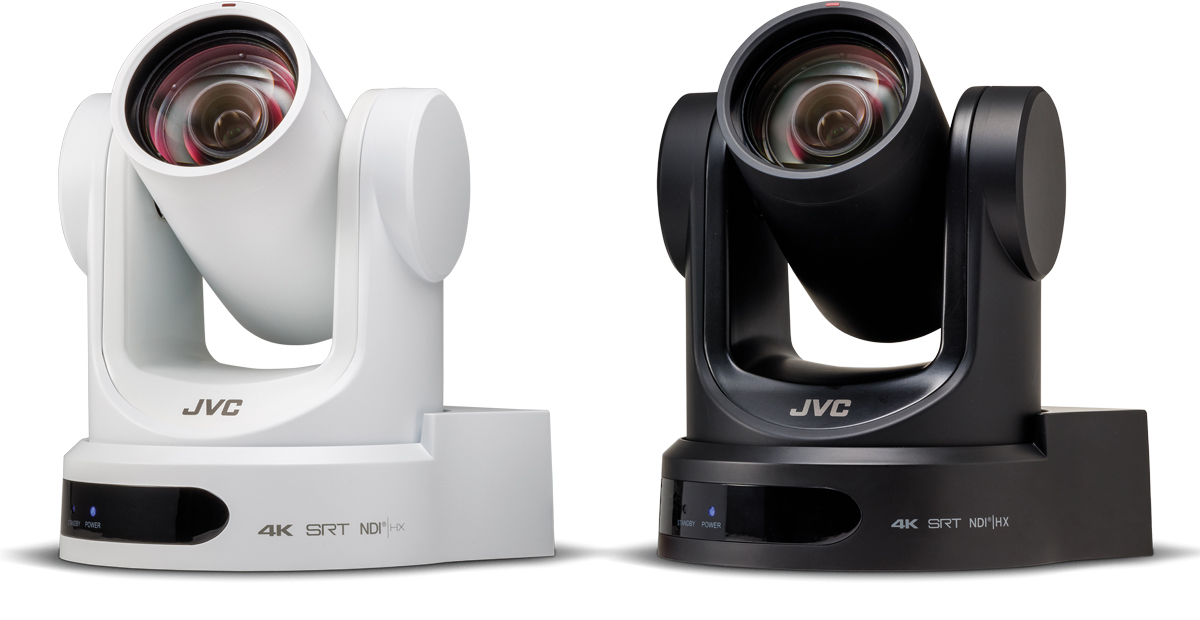 It's a BirdDog's life!
Birddog is one of the premier PTZ makers – and all its models support video transmission over a local network using Newtek's Network Device Interface (NDI). There are two flavours of NDI. Full NDI is a variable-bit-rate, intra-frame codec that is visually lossless and of broadcast-quality standard. NDI HX uses a compressed Long GOP H.264 codec and NDI a purpose-built NDI codec, while NDI HX is using repurposed MPEG-4. NDI has an integrated alpha channel, NDI HX does not. Typically, a 1080/60p feed with NDI would have a data rate of around 140Mbps, but NDI HX drops this down to around 12Mbps. 
Birddog's own NDI chip has been developed with a focus on delivering low-latency signal, which also makes it incredibly easy to route video signals across a local network. 
All can be powered remotely by the local network when using a switch that provides Power over Ethernet (PoE). This also carries control, tally, audio and video transmission. 
The cameras employ Sony CMOS backlit sensors. A full colour matrix allows individual saturation and hue control with 64 levels of control per channel, 72 levels of gamma positions to really dial in those blacks, highlight compensation and edge enhancement. Image quality is fantastic.
There's a range to choose from, but the £4374/$4195 Eyes P400 is a winner. It is a 4K NDI camera with a 1/2.5in CMOS sensor outputting 10-bit 4:2:2, a 20x optical zoom, Wide Dynamic Range, built-in ND and IS. 
Or take a look at the broadcast-level P4K with a 1.0-type BSI Exmor R CMOS sensor for even higher-quality 10-bit images, a 12x Zeiss zoom lens and the same 6G-SDI connections as the P400. All this tech costs £9278/$8395.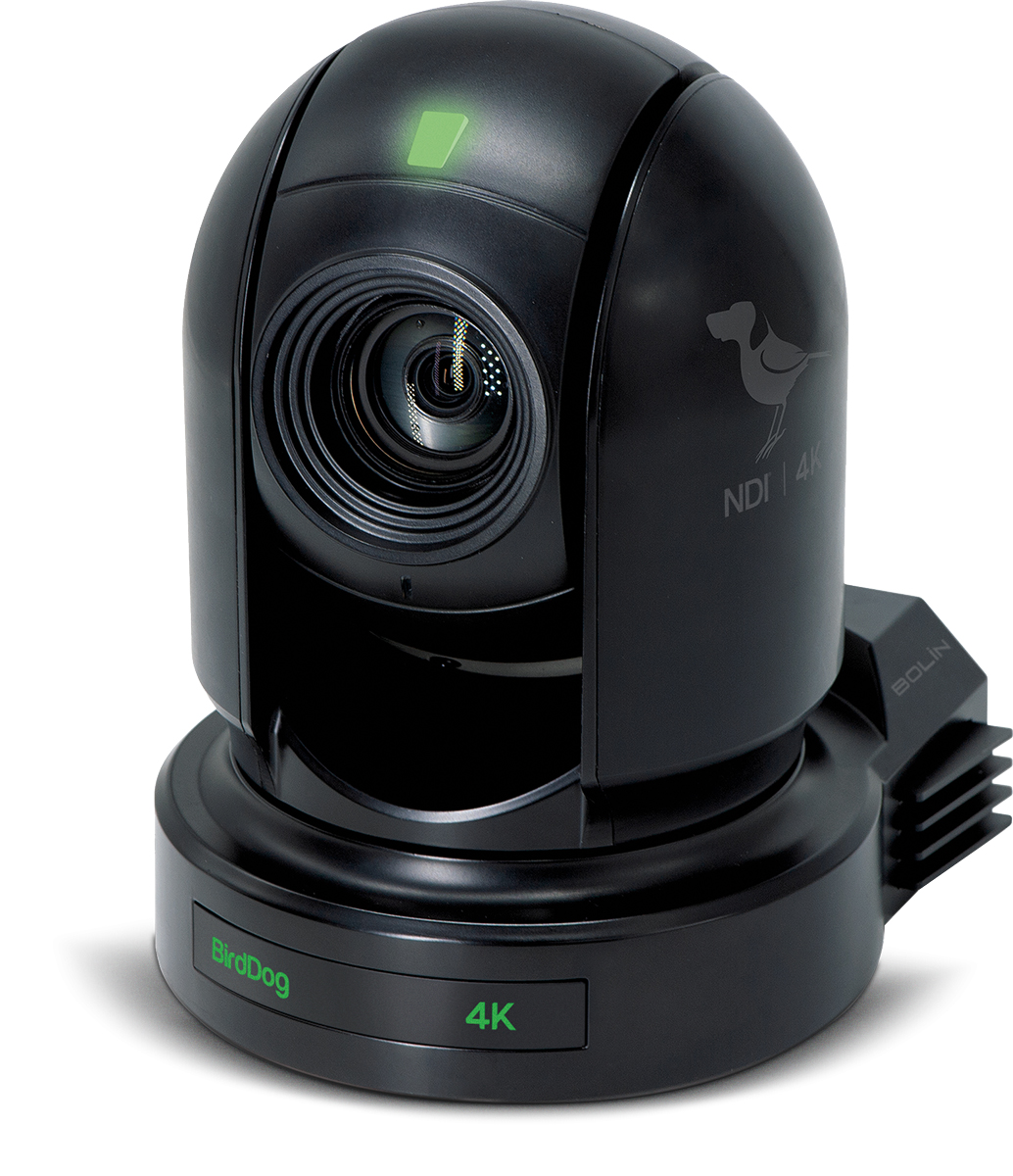 Sony sensors for Lumens
Two new 20x HD PTZ cameras with high-speed motors – making use of next-generation Sony video sensors and new processors – have recently been unveiled by Lumens.
The £2334/$2195 VC-A51P has secure IP streaming, and the VC-A51PN unit adds NDI HX for network production. Both machines feature high-sensitivity 1/2.8-inch, 2.16-megapixel Sony CMOS sensors with Wide Dynamic Range and 3D noise reduction.
With advanced autofocus and auto white-balance algorithms, the duo are ideal for low light. The cameras have a new motorised mechanism for fluid, three-axis motion, which can pan and tilt the camera at speeds 2.5x faster than the previous generation. 
Both models have 3G-SDI and HDMI ports and multiple IP control and streaming protocols, including RTMPS and RTMP, to work with popular streaming services such
as YouTube and Facebook.
Lumens also has the VC-R30 IP PTZ camera with a new-generation 1/2.8-inch Sony sensor. It shoots in Full HD at 60p to deliver broadcast- quality pictures.
Offering simultaneous 3G-SDI, HDMI, USB 3.0 and Ethernet, this camera is simply perfect for live event streaming over the internet – or more traditional multicamera broadcast via SDI or HDMI.
The VC-R30 also has a 12x optical zoom lens with a wide 72.5° horizontal field of view and intelligent autofocus system.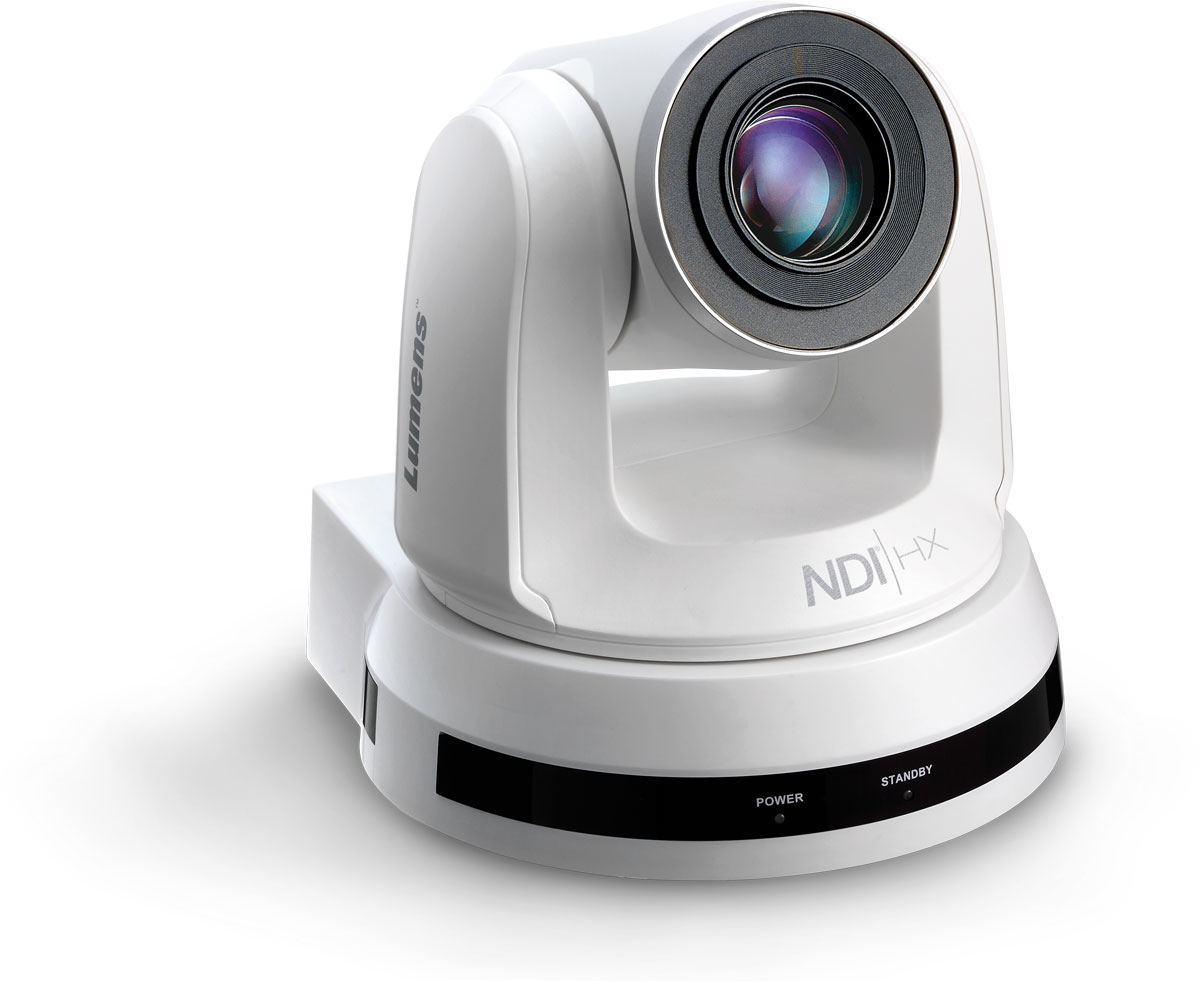 DJI flexes its muscles
And now for something completely different! The new DJI Ronin 4D Flex is not strictly a PTZ, but can be used as a remotely controlled cinema camera, albeit one linked
to its main body via a cable.
It's a new version of DJI's radical Ronin 4D professional cinema camera platform, which now allows the Zenmuse X9 gimbal camera to be separated from the main body, reducing handheld weight and size.
Compatibility with the 4D Hand Grips and Main Monitor effectively transforms a camera operator into a one-man cinema unit. 
The 4D Flex also makes the X9 gimbal camera compatible with a variety of rigs, letting crews shoot footage that was previously extremely difficult, such as cinema-quality through-shots and dynamic camera interiors.
Connecting the Ronin 4D Flex to the main body is a 2m/79in ultra-thin coaxial cable, supporting lossless transmission of up to 8K. This allows high-speed signals from the camera sensor to reach the main body instantly, and also control and monitoring signals to be delivered in real time. This solid cable connection lends unprecedented flexibility of camera positions, no matter how limited the space. It also allows the Zenmuse X9 gimbal camera to be used as an ultra-small, cinema-grade remote head.
Native compatibility with Ronin 4D's Hand Grips and the Main Monitor provides three-axis stabilisation, LiDAR focusing and professional monitoring and control. Switching between Flex and the conventional integrated configuration on-set is fast and no tools are required. For static shots, the standard Pan Axis Quick-Lock with accessories pushes the limits of the gimbal's payload, supporting telephoto, cinema zoom and anamorphic glass. Turning a Ronin 4D into a Flex system will cost £829.
DJI just launched the DL PZ 17-28mm T3.0 lens, the brand's first cinema-grade zoom for Ronin 4D. Zooming this £1539 lens does not require rebalancing of the system.
An activation licence key for Apple ProRes Raw on the Ronin 4D is available for £999. A three-channel follow focus and expansion plate with SDI, XLR and TC inputs will be released soon. 
Article originally published in the March/April 2023 issue of Pro Moviemaker.