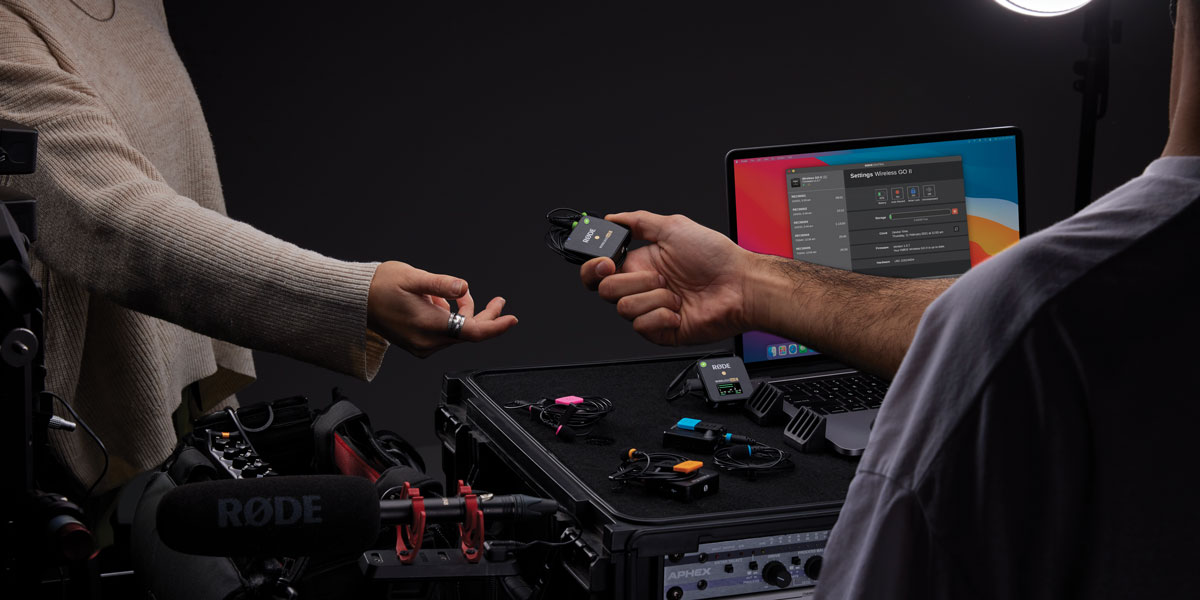 The Go II audio solution
Posted on Nov 8, 2023 by Samara Husbands
Rode's Wireless Go II doubles up with a second win in a row in the Pro Moviemaker Gear of the Year Awards
Advertisement feature
Some products are just so good that they not only win a Pro Moviemaker Gear of the Year award, but do it twice on the run. That's the case with down under sound specialist Rode, which turned the audio world on its head with the small but powerful Wireless Go II system.
For the second time, the dual-channel Wireless Go II has come out on top in the wireless audio class thanks to its ease of use and professional sound quality, as voted for by professional filmmakers around the globe.
The Wireless Go II is the ideal solution for a compact audio system that transmits two separate sound sources to one receiver. Of course, it works just as well if you need a single sound source. Mono and stereo recording means you can send each signal to individual channels, or you can mute each channel individually from the receiver. The transmitters have integrated broadcast-quality lav mics built in, as well the capacity to plug in an external lav if you want. And the camera-top receiver has an LCD display that shows levels and peaks for both mic channels. 
Designed for professional-quality sound while being extremely simple to use, the transmitters and receiver come auto-paired for a fast set-up every time – a crucial feature for busy filmmakers. 
For an instant backup, there is on-board recording, as each transmitter can record seven hours of uncompressed audio to its internal memory. This is activated via the Rode Central app, which also gives access to firmware updates. You can also activate a safety channel, which records at -20dB in case the main channel clips. The Series IV 2.4GHz digital transmission with 128-bit encryption delivers a range of up to 200m/650ft with clear line of sight. And redesigned internal antennae ensure stable connection. 
The compact Wireless Go II is not only for digital cameras – it can be used with mobile devices and computers. The units' lithium-ion batteries are charged by USB in two hours and will last up to seven, but you can use the power-saver mode if needed – so you should never run out of juice on an important shoot.
Impressive sound from the Wireless Go II's transmitters is thanks to built-in omnidirectional condenser capsules, while a twist-and-lock furry windshield cuts wind noise effectively.
With the transmitters and receivers weighing under 32g/0.07lb, they are light as well as small. It comes with its own carry case and a unique clip makes it easy to mount on clothing or any coldshoe. A whole range of compatible accessories will work with the system, including the Interview Go, Lavalier Go and MagClip Go.
It's compatible with Rode Connect, the free podcasting and streaming software that makes it easy to record and stream pro audio straight from a computer. The Rode Wireless Go II is a compact audio solution for anything from vlogging to high-end filmmaking. That's why it's a winner again! 
Originally published in the November/December 2023 issue of Pro Moviemaker.