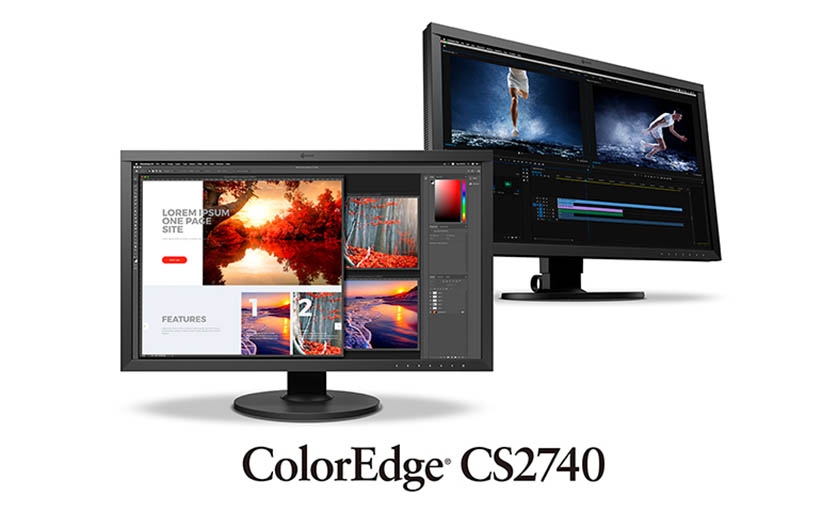 The new Eizo ColorEdge: a 27″ hardware calibration 4K UHD monitor
Today Eizo limited announced the new ColorEdge CS2740 which displays images, videos and graphics in ultra-sharp, rich detail 
Offering 4K UHD resolution, the ColorEdge provides videographers and photographers with sharpness and precision with rich colours. It features a USB-C port which forms the visual core of any digital, colour-accurate workflow and guarantees consistent results.
4K resolution
From photographers who make films to videographers who take photographs, right through to time-lapse photography and cinemographs – the borders between visual content are becoming visibly blurred, while also growing ever closer at the same time. Videographers want to see their material in the full 4K UHD resolution, while photographers wish to preview the full sharpness of their printed images on the monitor.
An ultra-sharp monitor display is guaranteed with the ColorEdge, with 3840 x 2160 pixels, which corresponds to a detail resolution of 164 ppi.
Wide gamut, precision and fast calibration
A graphics monitor's most important task is to display exactly what the camera has saved. That's why each ColorEdge is individually measured and optimally configured in the factory.
Inhomogeneities like differences in brightness and partial unnecessary colours are identified and permanently removed. The ColorEdge is hardware-calibratable in just 90 seconds without losses, which means that it consistently retains its factory-set precision across its entire service life.
A processor developed by Eizo (ASIC) computes the necessary colour commands in the monitor with a 16-bit colour depth. The CS2740 covers all conventional gamuts (e.g., 99% Adobe RGB) for differentiated reproduction, even for saturated colours. This allows further steps in the digital workflow like printing (in the soft-proofing view) to be simulated reliably.
USB-C
A growing number of creative professionals are using their laptops not just while they're on the go. A powerful laptop is often their only computer, which is why more and more of them want to integrate their portable computer into their office at home or at work.
Eizo is supporting this trend with the new ColorEdge CS2740 graphics monitor. Thanks to its four downstream ports and its USB-C upstream port, hard disks, mice, keyboards and other peripheral devices such as memory card readers can be connected directly to the monitor.
The user then only needs to connect the laptop to the CS2740 using just the one USB-C cable to integrate their portable computer into the entire workflow and to supply up to 60 watts of power. The need for a separate docking station or additional power supply unit is a thing of the past. Plus, the CS2740 also has HDMI and Display Port inputs.
Calibration
The EIZO ColorNavigator 7 calibration software can be downloaded free of charge from the Eizo website. When combined with the Eizo EX4 calibration sensor, the ColorEdge CS2740 is capable of calibrating in approx. 90 seconds.
The CH2700 light protection shield is available as an optional extra and can be simply attached and held in place magnetically without the need for adhesive or screws.
Other features:
• IPS wide gamut panel with 3840 x 2160 pixels (4K-UHD)
• LED technology
• Contrast 1000:1
• Brightness of 350 cd/m2
• USB C, DisplayPort and HDMI ports
• Four USB downstream ports (2x USB 3.1, 2x USB 2)
• EIZO ColorNavigator calibration software available for free download
• Handle for simple transport
• Light protection shield with simple magnetic attachment available as an optional extra
• Five-year warranty with an on-site exchange service
Plans had been in place to unveil the new Eizo ColorEdge CS2740 at this weekends The Photography Show at the NEC in Birmingham. Since the shows cancellation, Eizo can confirm it will be on their stand at the rescheduled event held in September.
Click here to visit the Eizo website.