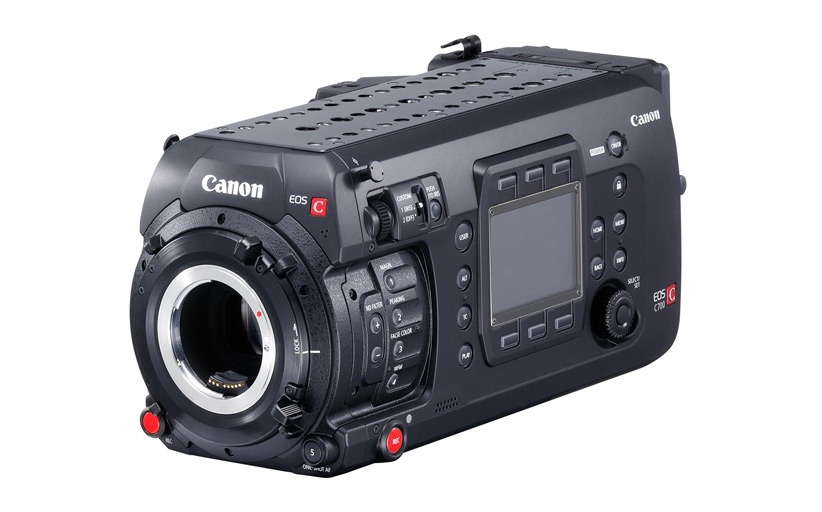 The new Canon 4K Cinema System: the EOS C700 and EOS C700 GS PL
Canon has announced the release of two new flagship models in the Cinema EOS system – the EOS C700 (EF/PL) and EOS C700 GS PL. Both models capture creative slow motion 4K video footage internally with high frame rates of up to 59.94P/50P and 2K up to 200p/240p (sensor crop mode), or 4K RAW up to 100P/120P, to the optional dockable Codex RAW recorder. The EOS C700 (EF/PL) is available from December 2016 with the RRP $35,000 / £28,839 inc VAT, and the EOS C700 GS PL is available from Q1 2017 with an RRP of $38,000 / £30,789 inc VAT. For more information read the official press release below:
Building on the Cinema EOS System range, the powerful video cameras are modular in design to adapt to all shooting requirements and include support for the Apple ProRes format for the first time. Designed for fast-moving subjects and action scenes, the EOS C700 GS PL is also the first Cinema EOS camera with a global shutter.
Quality and versatility for every production
Created with cinematographers and high-end broadcast production professionals in mind, both models deliver the versatility that the industry demands using a Canon Super 35mm CMOS sensor with a maximum pixel count of 4.5K  (EOS C700 GS PL at 4.2K). 4K DCI or 4K UHD can be recorded up to an incredible 810Mbps. Combining the sensor with triple DIGIC DV5 processors, documentary makers can capture natural history and compelling stories in incredible detail, delivering spectacular high-resolution videos with low-noise and shallow depth of field. Together, with a high ISO of up to 102,400 and built-in ND filters, with up to 10-stops of control, both models offer enhanced flexibility and stunning cinematic detail, in even the most challenging of lighting conditions.
The EOS C700 EF's Dual Pixel CMOS AF is incredibly effective at locking onto and tracking a subject allowing the camera operator to concentrate on framing the shot, making it easier for news reporters to film accurately on the move. Operators on drama productions will appreciate the acclaimed Dual Pixel Focus Guide feature, which is ideal for greater control and accuracy. Supporting Canon Log 3, Log 2 and Log Gammas, the EOS C700 (EF/PL) is capable of recording up to an incredible 15-stops of Dynamic Range (14-stops with the EOS C700 GS PL), where footage can be graded with greater confidence and flexibility in HDR post-production workflows.
Professional workflow integration
The EOS C700 (EF/PL) provides a wide range of colour space options, including the Canon Cinema Gamut, BT.2020, and DCI-P3, as well as support for ACES 1.0 workflow. The camera also supports HDR monitoring with SMPTE ST.2084. For a truly integrated, efficient and reliable HDR workflow, all versions of the EOS C700 can connect directly to the new DP-V2420, Canon's 4K high luminance reference monitor that is able to support the new ITU-R BT.2100 standard for HDR output.
Offering universal appeal for high-resolution production, the EOS C700 is capable of recording high bitrate 4K files internally to dual CFast 2.0™, supporting both XF-AVC and ProRes formats, while simultaneously recording 4K RAW files to an external recorder. Equipped with an Ethernet (RJ45) terminal, the EOS C700 allows broadcasters to live stream Full HD footage via the internet, and also can be connected to a wireless network using the optional wireless file transmitter (WFT-E6B/WFT-E8).
To complement this powerful new camera, Canon has worked with Codex to provide a fully-integrated recording and workflow solution. The combination of the dockable Codex RAW recorder (CDX-36150) with the Canon EOS C700 allows for high-speed 4K RAW recording at up to 120 frames per second (fps). Future firmware upgrades will include 4.5K RAW recording at up to 100 fps, 4K Apple ProRes at up to 60 fps, and Apple 2K ProRes at up to120 fps. Codex's production-proven recording media – Codex Capture Drives – are used for both RAW and higher-speed ProRes recording. Along with the images, frame-accurate metadata such as lens information can also be captured, streamlining production and post-production processes and delivering time and money savings.
Build the camera your own way
The camera can be adapted to suit the needs of the individual as well as for each filming scene. For full customisation, there is an extensive range of optional accessories including a new 0.7''OLED viewfinder system, the EVF-V70, which offers Full HD resolution (1920 x 1080) with a wide colour gamut. The optional Remote Operational Unit OU-700 can also be used to control the camera when shooting with a multi-member team. For newsgatherers and high-end documentary makers, a bespoke Shoulder Support Unit, the SU-15, and new Shoulder Style Grip Unit, the SG-1, will be available for on-the-move shooting.
For complete creative freedom and choice, anamorphic lenses are supported, along with a huge range of EF and PL lenses, plus the ability to use compatible Canon broadcast lenses with the optional B4 mount adapters (in Full HD mode). The EOS C700 with EF mount with Cinema Lock and EOS C700 PL with Cook/i support can even swap mounts by Canon service, if user requirements change.
EOS C700 key features: 
·        4K (4,096 x 2,160) video recording at up to 810Mbps
·        Internal 10/12-bit XF-AVC or ProRes recording
·        4K recording at up 59.94P/50P internally or 100P/120P with optional Codex recorder
·        Up to 15 stops dynamic range
·        Dual Pixel CMOS AF (EOS C700 only) or Global Shutter model options
Pricing and Availability
·        The EOS C700 (EF/PL) is available from December 2016 with the RRP $35,000 / £28,839 inc VAT
·        The EOS C700 GS PL is available from Q1 2017 with an RRP of $38,000 / £30,789 inc VAT
For more information visit: