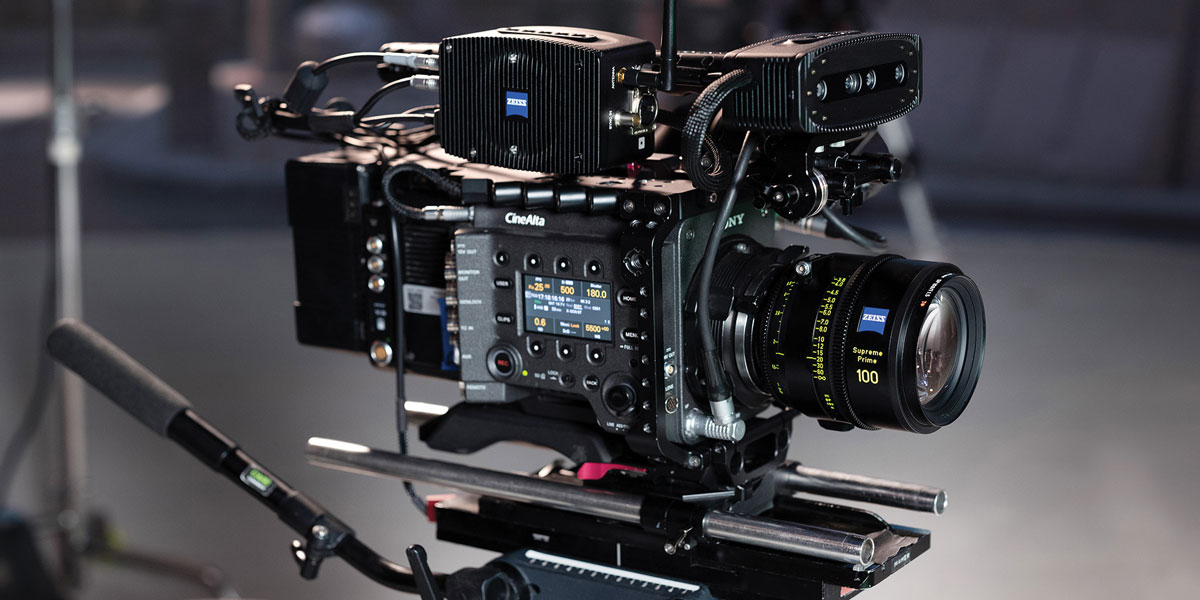 The right track
Posted on Oct 21, 2023 by Samara Husbands
Lens giant ZEISS – with Ncam Technologies knowhow – has a simpler and speedier way to take your high-end productions to the next level
Advertisement feature
Camera tracking opens up a wide world of creative effects that help take a production to the highest levels of cinematic excellence. But it can often prove pricey, complex, time consuming to set up and limited in a studio set-up where reflective markers are in predetermined positions. 
But that is about to change with CinCraft Scenario, a powerful yet flexible system that democratises camera tracking technology and opens it up to a whole new audience. It's for use in real-time rendering engines for virtual production or live compositing. And it can be done on location, without the need for full-time support crews going through extensive set up and calibration or being on-set for instant support. 
So while virtual production and VFX studios could benefit from the system, CinCraft Scenario will also work as rental equipment for any production involving VFX – not just big-budget, high-end projects that utilise LED volume walls. 
Legendary lens maker ZEISS has recently acquired Ncam Technologies, a pioneer of real-time visual effects solutions with its award-winning and patented camera tracking technology. The Ncam system is unique since it uses computer vision-based tracking to not only record industry-standard reflective markers, but also track features from the surroundings, like object edges. 
Together with ZEISS's expertise in lens data capture, the system can work just about anywhere. Being able to record and export information from the camera and lens for use in post-production is now easier than ever, more accessible to a greater number of projects – and significantly reduces time and effort in post-production.
While matchmoving is currently an essential part of the VFX process, using CinCraft Scenario will allow the recording and export of tracking data. So the whole process can be removed in its entirety.
Need for speed
CinCraft Scenario is a plug-and-play system when used with ZEISS lenses, an innovation which truly is a game changer. In the past, lens mapping and calibration has been a cumbersome and incredibly time-consuming process. But now virtual lens packages (VLPs) enable this process to be skipped entirely, providing all necessary lens characteristics for accurate tracking.
VLPs will be available free for ZEISS Supreme Prime, Supreme Prime Radiance  and CP.3 XD lenses. A paid software licence opens it up to CP.3, CP.2, Cinema Zooms, Ultra Prime and Master Prime optics. As with all software licences relating to CinCraft Scenario, these can be purchased for a week, month or year at a time, giving complete flexibility to ensure productions  only pay when they need it.
Before going to set, CinCraft Scenario allows the crew to simultaneously set up and pair the camera-lens combination, instead of requiring a dedicated camera tracking specialist. Integration of CinCraft's lens characteristics database has led to a redesigned user interface enhanced with wizards that guide users through the process. It's quick and easy, and much more accessible for all VFX productions. The ability to record and export tracking data ensures it's an ideal solution to traditional VFX.
Modular models
Designed to work with off-the-shelf equipment, CinCraft Scenario is natively compatible with most major camera and lens encoder systems to provide all the data the system needs to track accurately and reliably. And it is built from several hardware and software components that can be individually configured to match each user's needs on particular shoots. 
Scenario is the subscription-based software that operates the system, with the most intuitive user interface on the market, which can be accessed locally or from a smartphone, tablet or remote PC using web browser via CinCraft Link. It requires little set-up time and is plug-and-play when used with CinCraft VLP.
The CinCraft CamBar module captures raw data from the camera and IR emitter, and sends it to CinCraft Origin. This runs the main Scenario software, which aggregates data to compute position and movement in real time. Wrangler records real-time tracking data and camera and lens metadata on the CinCraft Origin internal drive. Data is recorded with a proprietary herd file format that can be extracted using CinCraft Export.
Export is a separate software running on VFX artists' workstations. It translates recorded herd files into formats readable by most common post-production VFX software such as Nuke and Blender.
The software components allow for computing position and movement and recording the data, exporting the recorded data to industry-standard file formats and real-time inclusion in Unreal Engine.
CinCraft Scenario camera tracking systems may be ordered in the near future, either in four preset bundles or individually configured. The solution will be available via select dealers as well as the ZEISS CinCraft website. 
Originally published in the September/October 2023 issue of Pro Moviemaker.