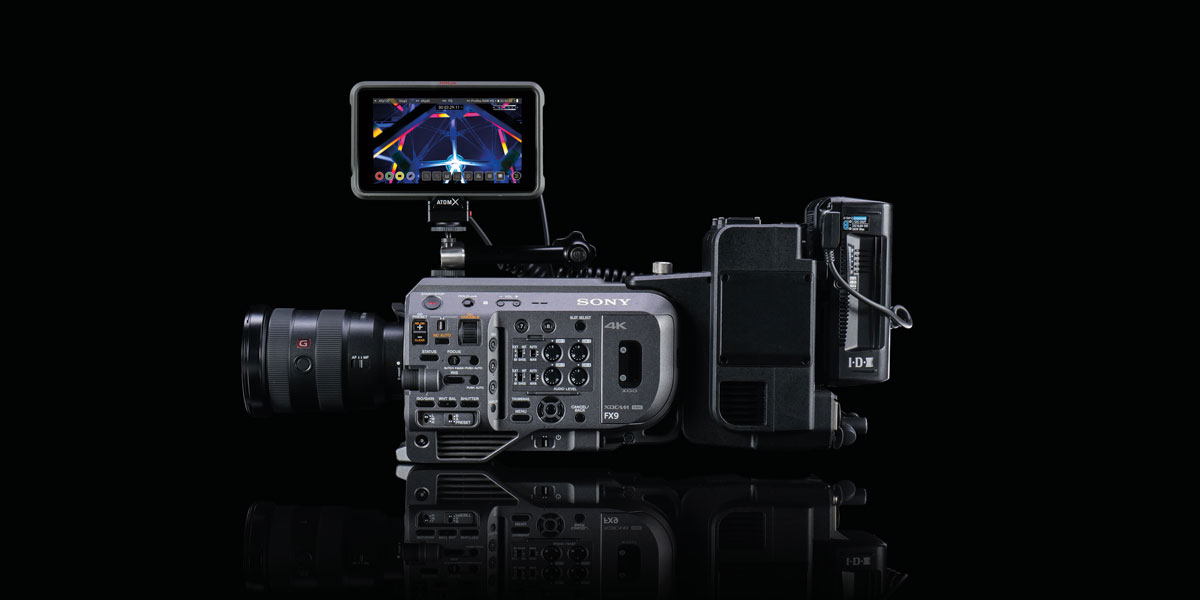 More than monitors
Posted on Oct 23, 2023 by Samara Husbands
The Atomos range forms a crucial part of a connected workflow 
Advertisement feature 
For the latest crop of cameras offering incredible resolution, an external monitor makes sense. It's the accessory every filmmaker should own. The larger view, bright screen, monitoring tools such as waveforms, false colour and anamorphic options give professionals all the extras many cameras don't have. 
Historically, Atomos has led the way with its award-winning range – especially as cutting-edge tech such as the Atomos Ninja V+ makes it possible to record 8K ProRes RAW and superfast 4K/120p footage from compatible cameras. With HDR monitoring and RAW recording, this five-inch monitor allows cameras to output over HDMI, which unlocks 10-bit performance and extends recording times. 
Atomos' modular ecosystem enables users of select cameras to extend the Ninja's functionality by adding the AtomX Cast module. This turns the device into a flexible HDMI switcher, multiview monitor and high-quality recorder.
The Ninja V+ is part of a whole family of network-connected monitors and monitor/recorders, bringing cloud-based workflows to everyone. Adding the Atomos Connect unit will transform any camera into an integrated device for cloud-based production work, giving you a 12G-SDI interface, AirGlu wireless timecode, multiple power options, plus Wi-Fi 6, Ethernet and Bluetooth LE. 
It's not alone in the connected Atomos family – the Shogun Connect has a larger, brighter screen, with 12G-SDI, Ethernet and Wi-Fi built-in.
The most accessible option is the Zato Connect, which can make virtually any HDMI camera or webcam compatible with Camera to Cloud. All three Atomos products – the Ninja V+, Shogun Connect and Zato Connect – are shortlisted in the Pro Moviemaker Gear of the Year Awards. 
At the heart of this latest technology is Atomos Cloud Studio, a suite of services that includes cloud and live streaming. It offers live video production over the internet to allow real-time collaboration and is perfect alongside Camera to Cloud, which uploads files from Atomos Connect devices to platforms such as Frame.io from Adobe.
Such a streamlined system means filmmakers don't need to offload cards during production, as a low-resolution version of the footage instantly uploads to the cloud. 
Atomos' Connected devices record two files with matching filenames, timecode and metadata simultaneously. The full-resolution version is recorded to the SSD in the unit and a low-bandwidth proxy version is uploaded to the cloud via Wi-Fi or Ethernet. These files can be edited remotely and the low-res versions replaced by high-res for final outputting. 
The Zato uploads a copy of the fixed-bit-rate H.264 file recorded to an SD card directly to Frame.io – which is ideal for getting edited content to social media platforms sharpish. And since the Zato doesn't record ProRes or DNx, there is no hero file relinking in the workflow.
Any Atomos network-enabled device can also livestream with free support to deliver content directly to Facebook Live, Twitch, YouTube and more. 
Some clever recent innovations include a cloud-based editing system, Atomos Edit, integration with Sony's Ci Media Cloud, support for Apple ProRes RAW plug-ins plus wireless or wired NDI transmission.
Atomos now offers a device and workflow solution for filmmakers at all levels. With the latest cloud services, the ecosystem makes it easy to share media, collaborate with remote team members or increase production value. 
Originally published in the September/October 2023 issue of Pro Moviemaker.