The Switch List!
Posted on Apr 19, 2022 by Samara Husbands
Itching to fall in with multicam live broadcasters? Try one of these savvy switchers
Words Adam Duckworth
Anyone with a smartphone can livestream via Vimeo, Periscope, YouTube and Facebook Live these days. Many clients experiment with a social media intern waving an iPhone around for a Facebook Live broadcast. But most realise that this doesn't represent a brand in a professional manner – and instead search for quality live streaming.
If you have cameras and Wi-Fi or a reliable 4G connection, then it's possible to stream right now from a desktop or laptop, with not a huge amount of extra cost. It's not quite as simple as plugging camera into laptop and setting off, as the camera will output a high-resolution signal. Streaming requires a low-data-rate 720p HD.
So, you will need an internet broadcasting device/encoder – or a more basic HDMI capture card – to turn your camera signal into something a computer can use to stream from. Blackmagic offers the £654/$695 Web Presenter 4K, which takes input from HDMI or SDI cameras. This has a simple, single live camera input and a second input, like a slide show or pre-prepared video on a computer linked via HDMI. Then, switch between them – complete with built-in dissolves. 
For a professional production, though, you should run multiple cameras – and there are many TV broadcast units built for this that end up being pretty expensive. For more affordable options that let you switch between multiple cameras, Blackmagic has you covered with a whole selection of products.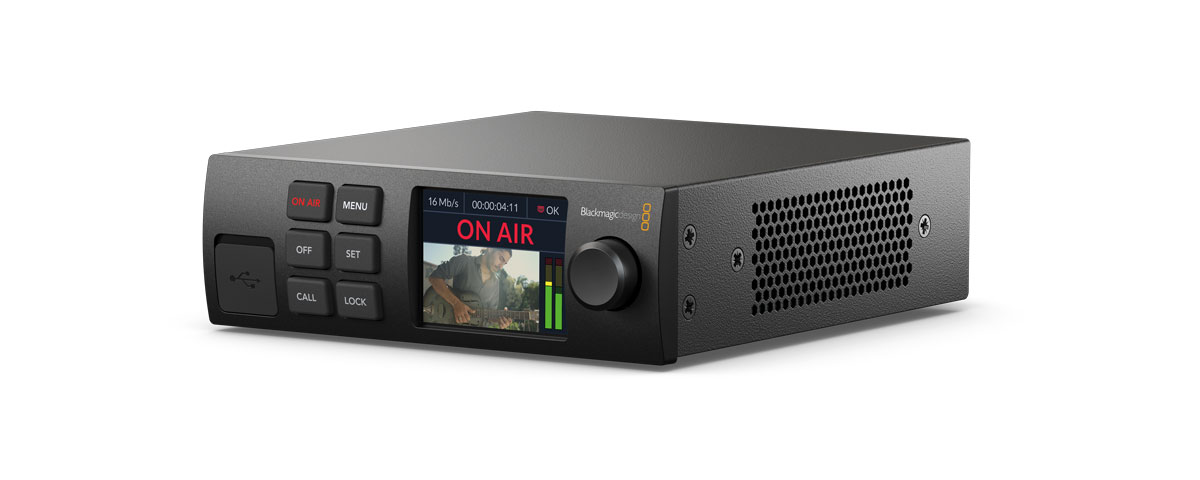 Blackmagic's Atem range is a popular choice, and the affordable £245/$295 Atem Mini handles up to four HDMI inputs and includes a two-channel audio mixer. It goes straight into your computer for streaming via a 'webcam out' socket, so essentially your computer sees it as a webcam.
The £409/$495 Atem Mini Pro has even more features, such as recording of streaming data to USB flash drives, multicam viewing to see all angles on a single monitor, and direct streaming output via Ethernet and HDMI. The £666/$795 Atem Mini Pro ISO adds five record streams to this package – and a DaVinci project is saved, for editing and relinking Blackmagic Raw files to be edited afterwards.
More powerful recent Atem Mini switchers now include eight inputs, four chroma keyers, 16-way multiview, two downstream keyers, two media players and even more.
The £749/$995 Atem Mini Extreme and £1050/$1295 Atem Mini Extreme ISO have a total of six independent DVEs, two USB connections and HDMI outputs.
This latter Blackmagic product has the power to record all eight inputs, plus the program stream, for a total of nine streams of data. A DaVinci Resolve project file is also saved, thus allowing the project to be edited later.
Simply connect your computer to the Atem with an Ethernet cable or Wi-Fi, and use the Atem software as the switching software. Bigger Atem units are very sensitive to frame rates and resolutions, so all input cameras must be set identically. You may have to use a separate format converter device if you employ different cameras that can't be set to match.
The Mini automatically scales video inputs to make things easier, but doesn't have multiple camera viewing outputs. You can't have a screen with all outputs and select the desired one as the live broadcast. Each camera may be previewed before switching individually, though. For a multicam view, you will need the bigger, pricier units.
The Atem Mini range also lets you store up to 20 preset images for switching to, such as holding pages or titles. For graphics like lower thirds, this may be achieved in streaming software like OBS. But you can also upload them to the Atem Mini as PNG files with a transparent background.
The Atem Mini Extreme ISO has the power to record all eight inputs, plus the program stream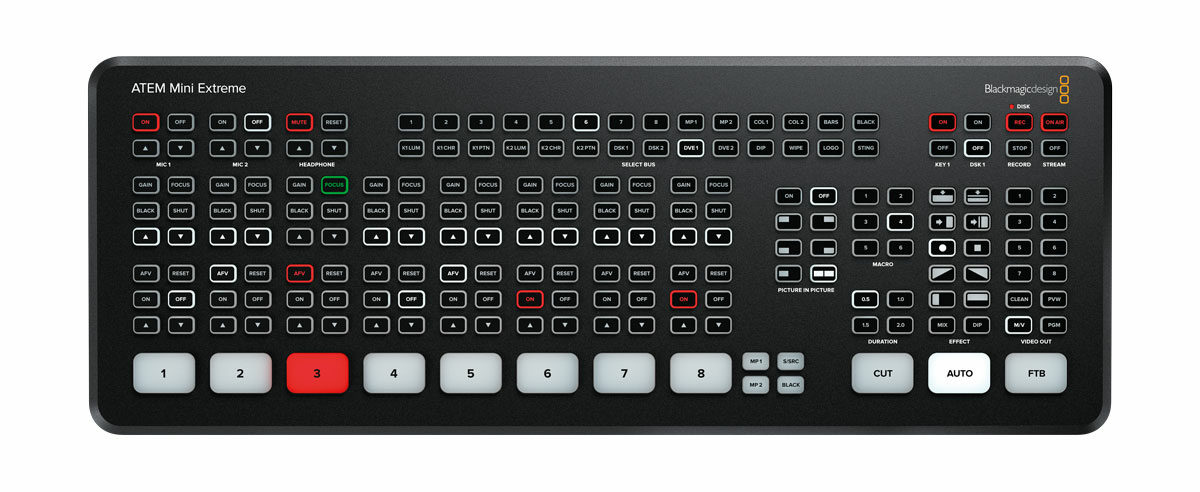 Roland has an array of switcher models at various specs and prices: the latest V-02HD MK II Streaming Video Mixer is a decent £417/$395 unit. It allows the connection and switching of two HDMI camera outputs, sending them directly to a streaming platform over USB-C. It's possible to mix in audio sources via dedicated inputs and HDMI, apply video effects, transitions and more.
With intuitive control layout and T-bar fader, the V-02HD MK II also includes a ten-channel digital audio mixer. There are two audio inputs with 3.5mm jacks, and each supports a microphone – including lavalier mics that require plug-in power – or stereo audio from a smartphone, mixer or other device.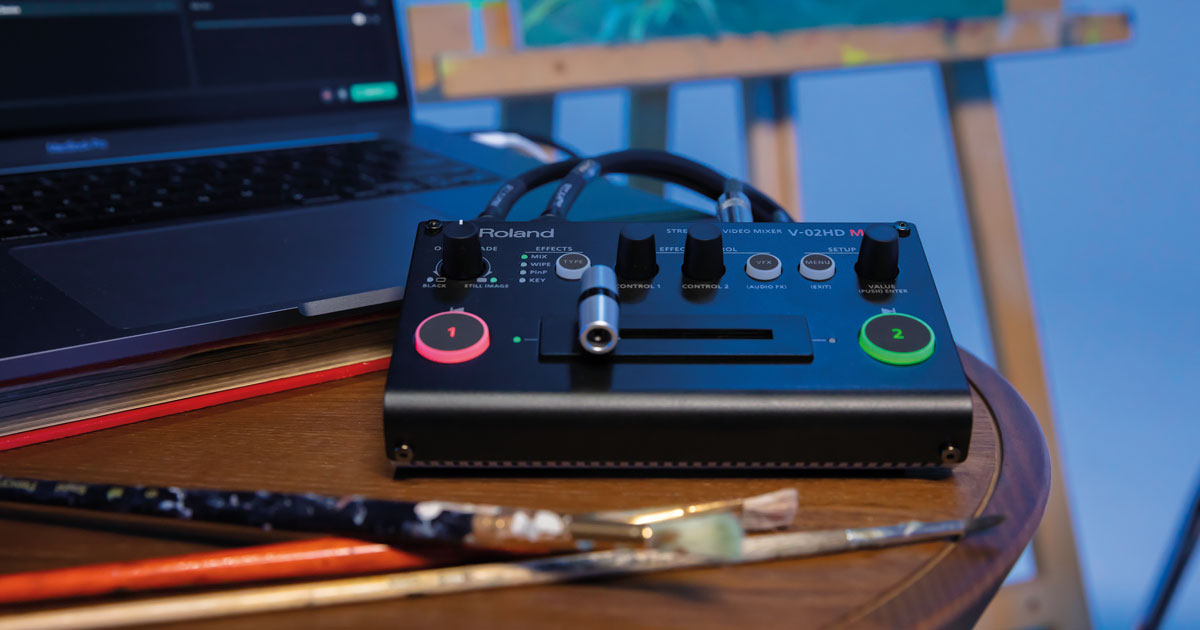 Australian monitor/recorder giant Atomos provides a unique way of switching, as many of its products can be used as multi-channel recorders and switchers. The £1194/$1299 Shogun 7 and £1899/$1995 Sumo 19 can record up to four SDI camera inputs, and act as a touch-screen switching unit.
These Atomos tools output the switched signal so you may use it as a live stream, but also record that output signal as a fifth stream, with fades and cuts included. Take this edit to Final Cut Pro or DaVinci Resolve, and all five streams are there, so you could re-edit the programme by changing cuts.
The beauty of the Atomos Shogun 7 is that it's not extraneous kit, but something that many filmmakers will have already – or could find plenty of value for otherwise. Wield it as an external camera monitor or recorder, to convert output to ProRes Raw or ProRes. Of course, it's for SDI cameras only, like camcorders.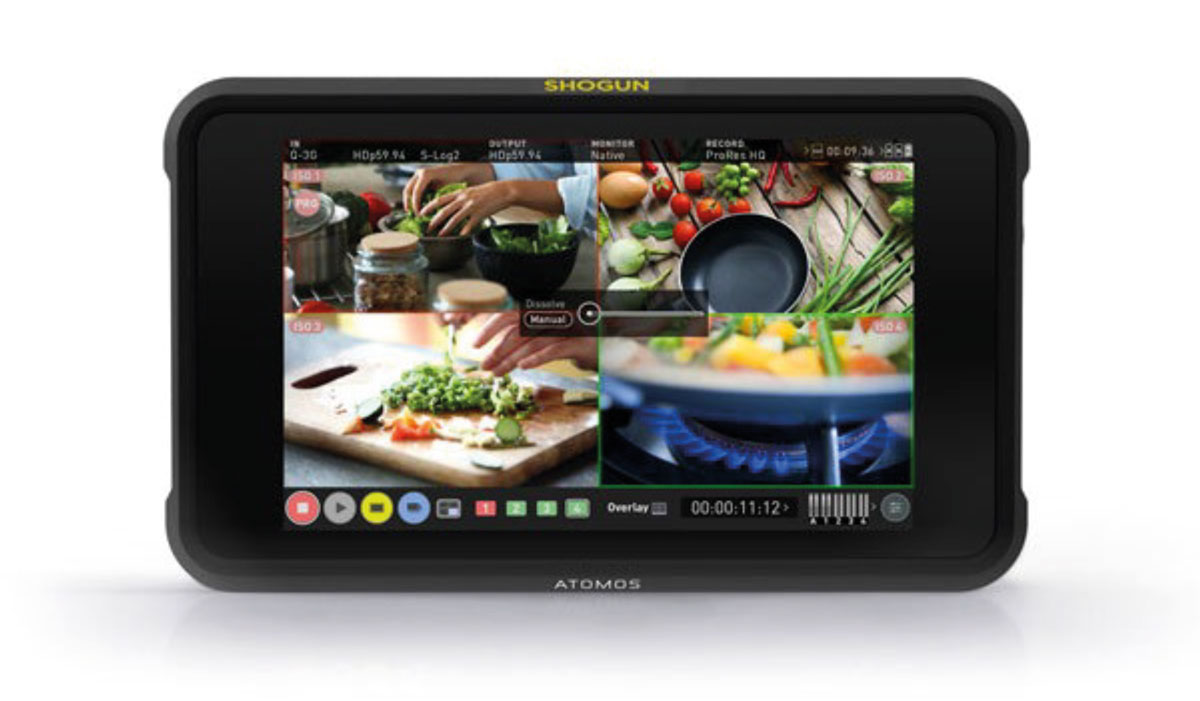 Perhaps the best solution is the AtomX Cast – a modular plug-in for the hugely popular five-inch Ninja V touch-screen monitor and recorder – which adds four HDMI inputs and physical buttons. This allows you to connect cameras, computers, consoles, pre-recorded content or any 1920×1080 video source, and use the touchscreen or buttons for switching between sources – and selecting which should be on-screen for broadcast.
All this means you're left with a multi-view monitor and broadcast-quality recorder that allows you to see incoming signals – as well as indicators for 'program and preview out' – without having to connect an additional monitor.
The AtomX Cast is available as a separate module for Ninja V owners, reasonably priced at £395/$399. Meanwhile, the Ninja Cast bundle comes with the Ninja V and AtomX Cast for £990/$949.