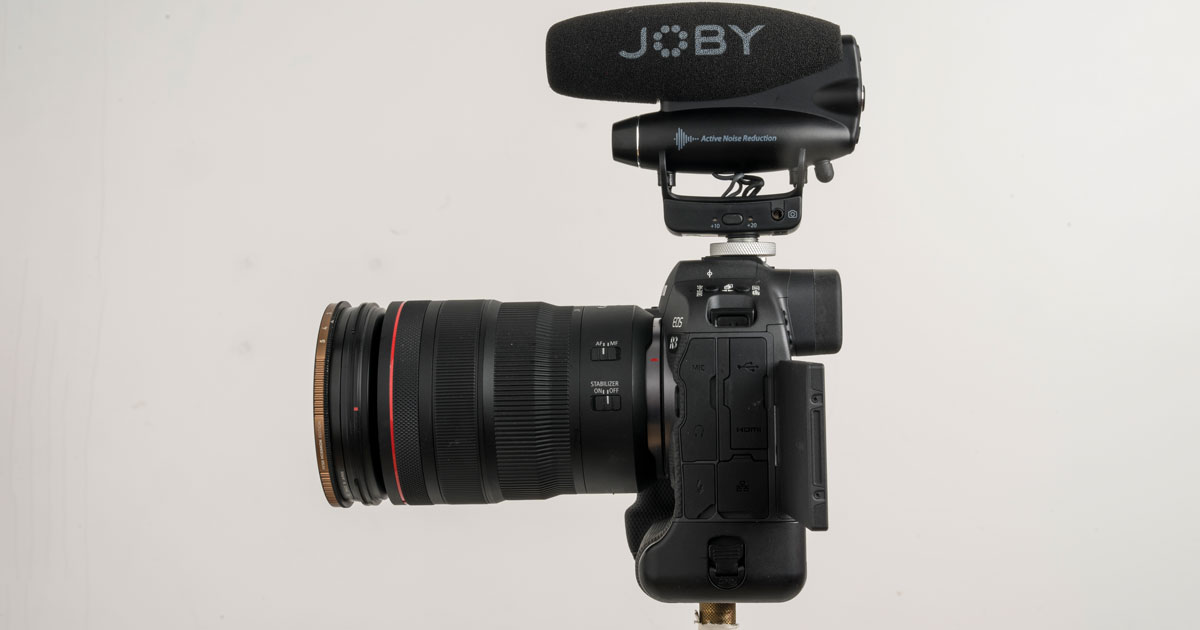 Mirrorless EOS Grows Up
Posted on Apr 19, 2022 by Samara Husbands
The latest full-frame camera from Canon is the first mirrorless to use a larger, pro DSLR form factor
Words Adam Duckworth
Professional-style DSLR types with a deep body and integrated vertical grip have never been that popular with filmmakers. Despite offering higher battery capacity, rugged build and spec that lesser cameras can't match, they just don't scream 'video'. They are harder to set up on gimbals, tripods or even camera rigs, and of course the second set of control buttons for vertical shooting has largely been redundant for filming. Although, vertical social media video may be changing all that.
When Canon's new EOS R3 was unveiled in a pro DSLR-style body, it might have escaped your notice. Many may write it off as a stills-only camera, but it isn't. It has great video spec, shooting up to 6K Raw internally – something rival full-frame flagship mirrorless cameras like the Sony A1, Nikon Z 9 or Panasonic S1H don't. At 'just' 24.1 megapixels, similar to the S1H, its modest resolution makes it a stunning performer at low-light, too. Video AF, colours and codec options are very impressive. It might be Canon's best mirrorless video camera, unless you are in need of 8K. But, to be honest, there are very few occasions when 6K Raw won't cut it.
However, the EOS R3 really comes into its own as a camera for hybrid shooters, who need uncompromising stills and video performance – especially when it comes to getting fast-moving subjects like sports or wildlife. That's where the rugged build and handling of a pro DSLR-style  prospers. Thanks to its stacked sensor, there is no viewfinder blackout or lag at all.
Sony has licenced its stacked sensor technology to Canon and Nikon, meaning they can now build cameras good enough for professional sports, wildlife, news and event shooters.
The superfast sensor readout allows quicker AF, better frame rates in stills and video, and zero latency when shooting. Just like the Sony A9 series, the EOS R3 offers unobscured viewing at all times, which is something no DSLR is able to do when shooting stills.
The EOS gets images at 30fps, performing 60 AF and AE calculations per second – and the viewfinder refreshes at 120Hz for a clear view. The new viewfinder and EVF are bright and detailed, too.
Its 30fps stills rate is only when using the electronic shutter, while the maximum is 12fps in mechanical shutter mode. Stills shooters have often switched to mechanical panning shots to avoid vertical lines being skewed, due to the way the sensor reads information. But the readout is so fast, there is virtually no rolling shutter in stills or video. Mechanical is there if you need it, though.
Compared to the 50-megapixel Sony A1 or 45.7-megapixel Nikon Z 9, the biggest potential issue with the Canon EOS R3 is that it only packs 24.1 megapixels – less than half of both its equally speedy rivals. If you shoot Canon and need higher resolution, the 45-megapixel EOS R5 is what you need. It shoots 8K video, too, and can even grab 35-megapixel stills from 8K video footage. But it has overheating problems and eats through memory.
The 24.1 megapixels of the EOS R3 produce detailed, low-noise stills and video images with lots of dynamic range, including typically excellent Canon colours.
There's a variety of video codec choices - and results are impressive for all of them
To shoot video, a simple button on the rear changes modes and you can set two different types of setting. Video is aided by the in-body image stabilisation, which gives a very steady picture – one of the best on a full-frame camera. For use on a tripod, it's best to turn IBIS off, as the image will occasionally jump a little.
Shooting 6K Raw files in video at 60fps creates a massive amount of data and heat: this is why so few cameras record Raw video internally. The Sony A1 and Nikon Z 9 certainly don't, although it may be due to a patent issue, rather than inherent tech. The EOS R3 captures full-size Raw or a compressed Canon Raw Light version.
File sizes of full Raw are huge, while Raw Light is much more manageable, offering quality pretty much on par with full-fat files. The R3 records Raw video up to 60fps in 6K; these files can be opened natively in many NLEs once you upload a free Canon plug-in. This gives maximum flexibility in changing settings and is the way to go for top quality.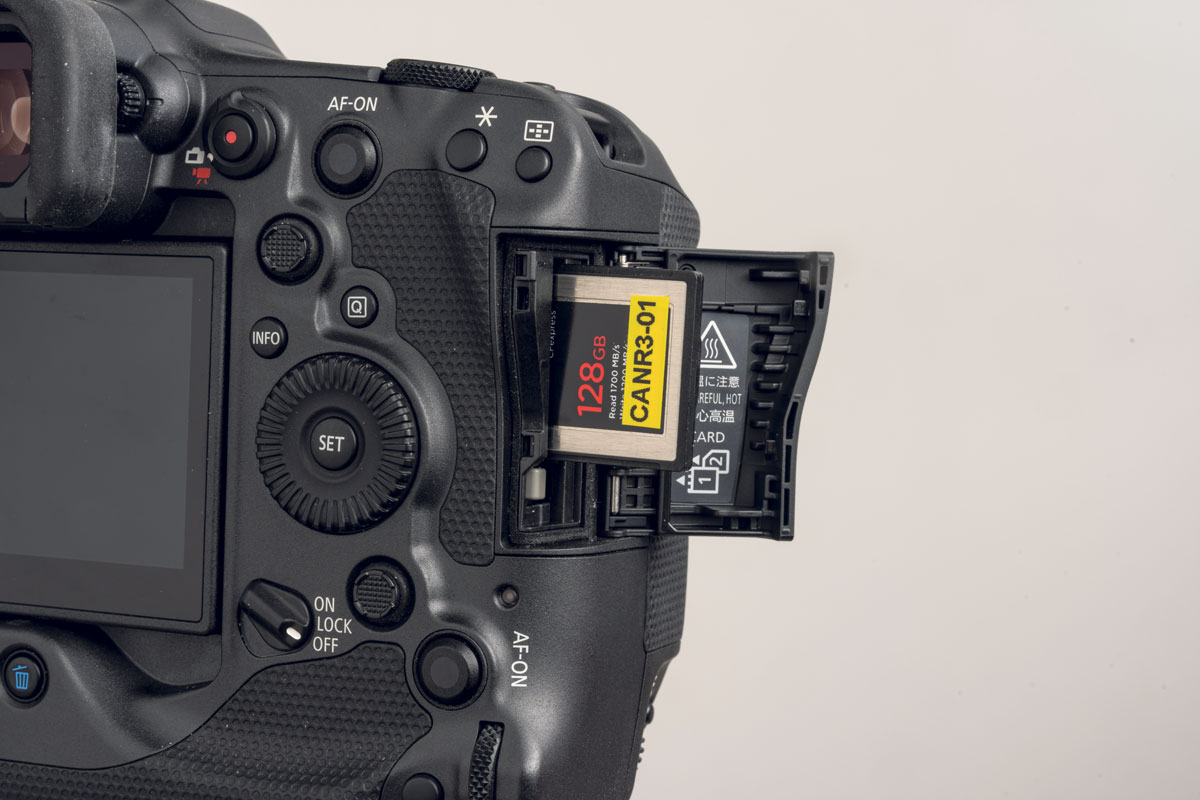 For faster workflow, the camera also shoots in more conventional codecs, including 4:2:2 10-bit MP4, which it oversamples from 6K to full-frame DCI 4K. The frame rate can go as high as 120fps for super slow-motion, but the image is then subsampled from the full width of the sensor to deliver the same angle of view. There is no 240fps option, though, even in HD. With APS-C crop versions, Canon Log 3 for maximum dynamic range and HDR PQ modes, there's a variety of video codec choices – and results are very impressive for all of them.
The EOS R3 is a simply stunning performer as a workhorse camera, helped by its next-generation Dual Pixel AF system. And it also marks Canon's return to eye control. Once you have calibrated it to your own eye – whether wearing spectacles or not – you can select the initial area for autofocus tracking by looking directly at the viewfinder location. With both eye control and servo AF activated, the camera will focus on, and track, moving subjects at that location in the frame. But, it's only for stills.
It worked well, but wasn't flawless, so we ended up turning off eye control and used one of the other focus modes, where you select and move the AF point with the touchscreen or joystick.
For stills or video, features like face detection and tracking are great – the camera continues to follow moving subjects around the entire active AF area. When set to eye detection, it finds eyes and locks on them; if the subject turns away, it snaps to the head. And, if there's more than one person, select the subject using the touchscreen.
The camera offers subject-based AF for animals and motor sport, but only for stills
AF tracks moving subjects well, holds focus, and is customisable for speed and transition stickiness. Use the touchscreen for smooth focus pulls by tapping the subject you want to centre on.
The camera offers subject-based AF for animals and motor sport, as an example, but only for stills.
For manual, the focus guide works well. It uses the AF system to give a visual indication of which way to turn the focusing ring. By using focus peaking and focus guide, this is a great system with AF lenses.
The fully articulating screen is also ideal for video, as is the new multi-interface hotshoe with a line of contact points at the front. Add an XLR mic accessory adapter, like the new model from Tascam, and it communicates with the camera without need for cables.
This also features on the new Canon XF605 camcorder and is next-generation Canon technology, which includes the AF 'smart controller' built into the AF-ON button, alongside the conventional three-dial control system Canon users are used to.
If you're a video shooter and create still images of fast-moving subjects, the Canon EOS R3 certainly will not disappoint.
Find out more about the EOS R3 on Canon's website here.