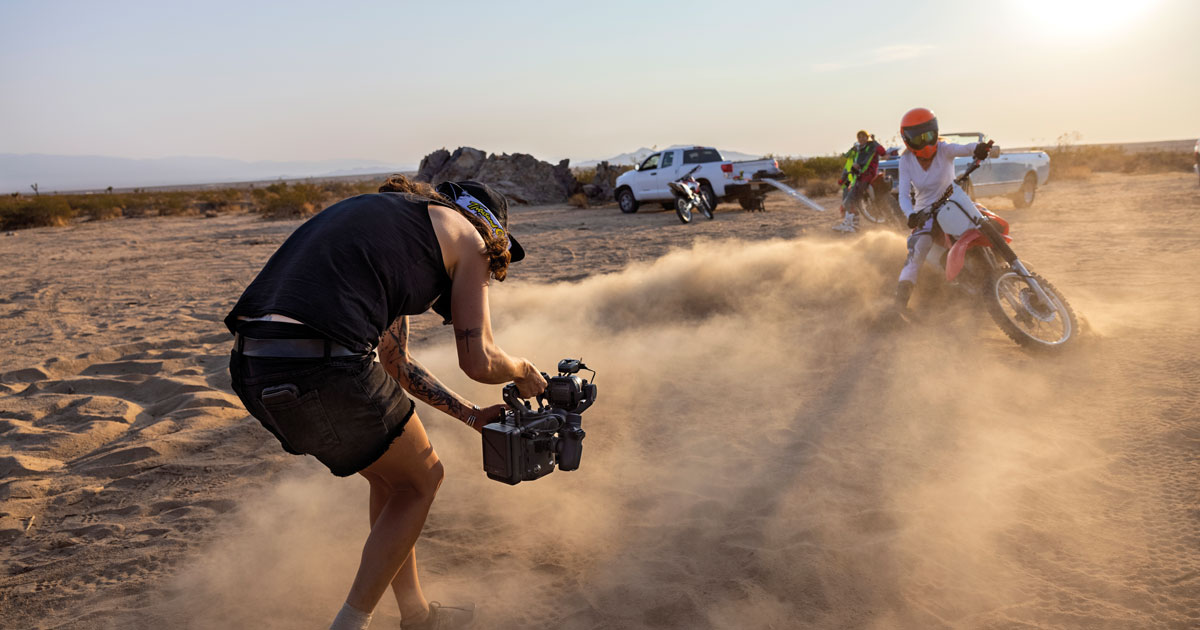 World In Motion
Posted on Apr 19, 2022 by Samara Husbands
How smooth camera movements will boost your production values
Words Adam Duckworth
Pans, tilts, crane shots, slides, aerial shots, dolly moves and motion-lapse are vital techniques to master if you want buttery-smooth shots for a professional and cinematic edge. While the ubiquitous, three-axis motorised gimbal can quickly add movement, there is nothing quite like the full control that modern motion-controlled sliders, jibs, cranes, tripods or a drone give you.
Of course, not every scene needs movement to work. But take the time to plan out your shot list and set up the right kit, and it will pay off. Think about establishing from a drone, for example; or an FPV drone closely following your hero, perhaps going through an interior location. Maybe a whip pan to add some fast pace; a low-angle that rises up to celebrate a vista; or the camera appearing from behind some foreground to reveal the scene and give a new perspective. All these work wonders if done right – and you have the right kit.
At the heart of everything is the humble tripod – but what's more important is the quality of the head. Ideally, you want adjustable counterbalance to stop the payload from making the head droop, plus highly adjustable pan and tilt managed by a fluid-damped system. Look for one that doesn't bounce back when you stop moving, as this looks amateurish. 
Lots of tripod brands make great heads, but some of the best are found in Sachtler's Aktiv8 range or the Manfrotto Nitrotech series. The Sachtler's quick-release allows camera operators to mount, level and lock the head in seconds – and switch quickly from tripod, slider or handheld shots. Manfrotto's Move system is a modular quick-release that allows similarly speedy change. And SmallRig makes top-quality, super-compact heads if you want
to keep your kit as tiny as possible.
For linear motion, there are remote-controlled sliders and cable cams of all kinds. Many high-spec systems are for big productions – but for more affordable options, Syrp offers a range of hardware.
The heart of the Syrp system is the useful £433/$482 Genie One device, which can create measured movements on a slider or tripod, ideal for time-lapse as well as motion control. On a tripod, it makes for some strong panning shots, while fitting it to a slider allows for great control. 
The larger Genie II costs £1440/$1713, but includes a motorised pan-and-tilt head function. Add on the £749/$963 Genie II Linear and you get full three-axis remote control. The £129/$160 Syrp Genie Micro is a Wi-Fi and Bluetooth camera remote that gives full command through the Syrp App. On top of this, ISO, shutter speed and aperture can
be adjusted remotely – and time-lapses with custom exposure times may also be set. 
Syrp offers its own dedicated slider, as well as cable cam systems that can go as long as 100m/333ft. The £899/$1092 Slingshot joins with the Genie One or Genie II Linear to offer a fully controlled camera movement system. Kits
are available from £2950/£2740.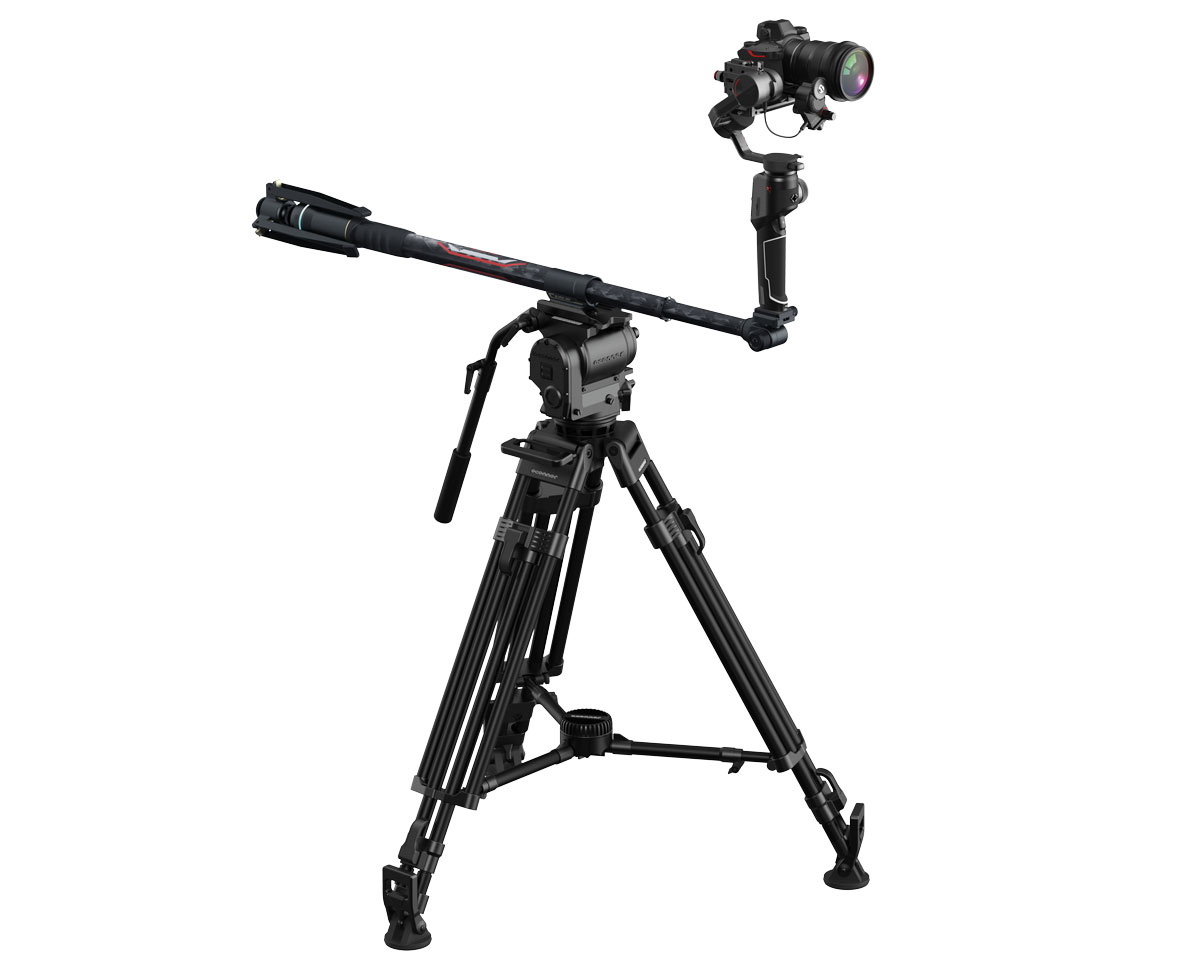 A different and novel option to a slider could be the £599/$599 Gudsen Moza Slypod Pro. It looks like a monopod, but is actually an app-controlled motorised device that's employed as a slider, jib or extending monopod.
The Slypod Pro is a motorised, tri-foot monopod, and horizontal or angled slider when fitted to a sturdy tripod. It's basically three parts, comprising the extending monopod, pan-and-tilt head and detachable feet.
Motion can be controlled in terms of distance, acceleration and speed, providing different looks to footage, depending on your needs. This could be vertical rise or fall if the monopod is held upright, or horizontally like a slider – and even at an angle. It also allows for time-lapse shoots. Manage movement via two buttons on the Slypod; this is easier with the companion app.
However, the most versatile bit of kit for motion remains the affordable three-axis gimbal. Ideal for handholding, these can also be mounted to a tripod, and remotely controlled to offer pan-and-tilt motion. And if you get the right kit, you can even manually focus the lens remotely, too.
DJI's £839/$999 Ronin RS 2 Pro Combo kit comes with a follow focus motor and rig that marries up to a cine or manual focus lens, using an included toothed ring adapter. Accurately control focus using a knob that's linked to the focus motor. This kit also comes with the RavenEye image transmission system, which relays a 1080p live view to a smartphone from up to 200m. The set-up uses DJI's ActiveTrack 3.0 focusing system, so you can touch the screen to focus on the desired subject. Like most modern gimbals, it can be programmed in both time-lapse and hyperlapse.
Zhiyun has an ever-increasing range of motorised gimbals to suit all sorts of payloads – from fully rigged up cameras, to lightweight compacts. The new, pint-sized £369/$369 gimbal comes with a built-in 800 lumen light and microphone. This Crane M3 is the size of a 550ml water bottle and compatible with over 90% of mirrorless cameras. Its built-in receiver can be paired with the transmitter module, for wireless control of cameras via Bluetooth.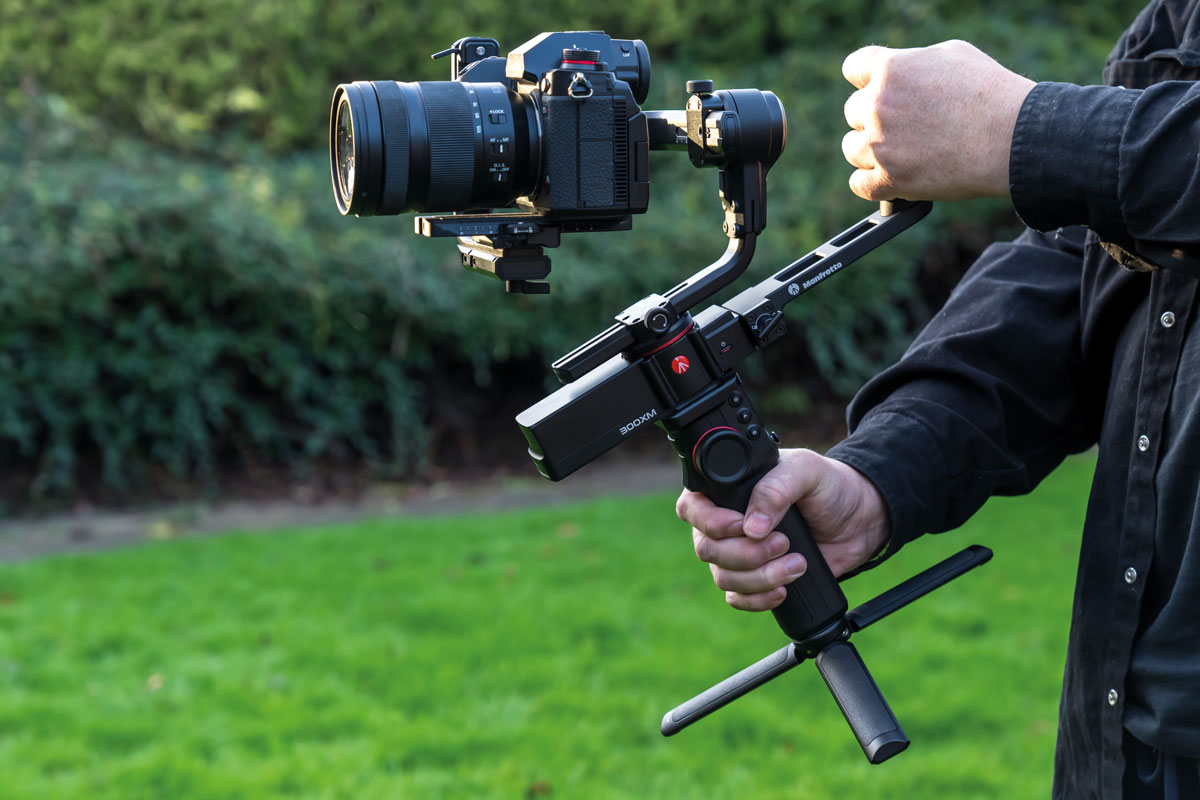 Taking a different approach altogether is the £612/$670 Manfrotto MVG300XM, that essentially works as a conventional motorised gimbal, but also splits in half. The bottom handle and controls separate from the main gimbal by a lever, meaning the handle can be employed as a fully featured remote control unit – from a distance of up to around 180cm/71in.
This split-in-half function offers  synergy with the Manfrotto Move quick-release connection, and also the £149/$190 GimBoom. This is a carbon-fibre boom pole suited to any gimbal. But is ideal for the 300XM, since you can put the gimbal part on one end and the control grip at the other. Great for starting with a low-angle shot, then transitioning the camera up smoothly, like a crane or jib shot for a slow reveal.
Having any gimbal on the end of a pole gives more freedom for push-in shots – or even reveal shots, moving past something in the foreground to uncover the subject. One of the most popular uses for a gimbal is tracking, where you travel along at the same speed as your subject. This could involve walking backwards while someone walks towards you, for example. Lots of accessories help to mount monitors, mics and more to your gimbal. Check out SmallRig for a vast and affordable range of options.
The biggest issue with gimbals is that they correct for movement in pan, tilt and roll, but not vertical motion, like when going up and down steps. Filmmakers need to perfect the art of walking while keeping legs bent, focusing on preventing an up-and-down action whenever possible.
DJI has exploited its advanced drone technology in order to keep things stable in every possible direction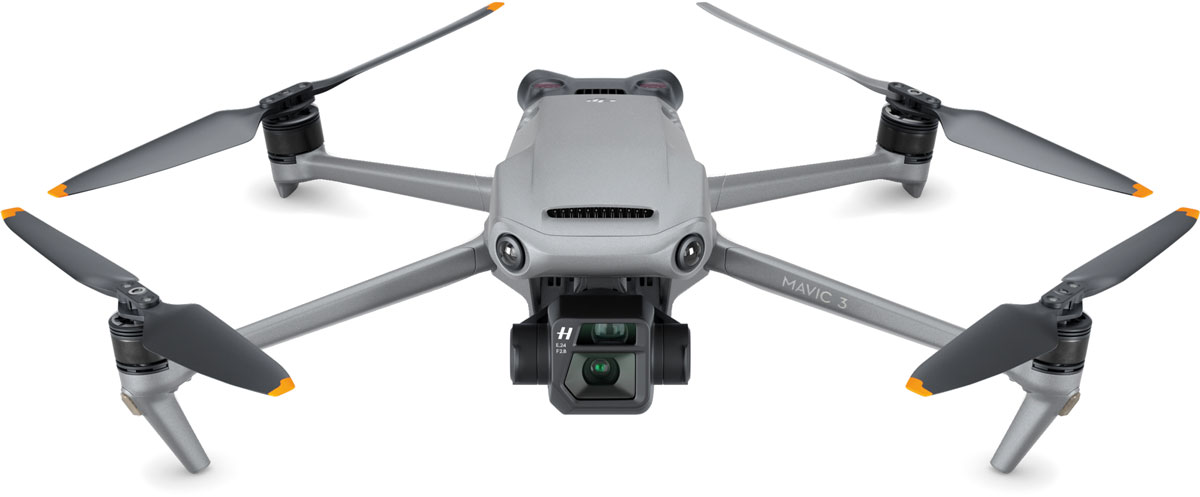 The best cure for this is the DJI Ronin 4D. It combines an all-new, full-frame cinema camera with a four-axis stabilisation, LiDAR focusing and video transmission and control system in a single unit. Accepting full-frame lenses, two versions of the camera are out there. The 6K combo is £5659/$6799, while the 8K version comes in at £9499/$11,499.
DJI has exploited its advanced drone technology in order to keep things stable in every possible direction. There are downward and forward sensors, a built-in sensor to measure movement all around, and a barometer to monitor air pressure changes as the camera is moving.
On the subject of drones, nothing gives unique angles like a UAV, and they aren't too expensive. The latest DJI Mavic 3 costs from £1729/$2049, and permissions to use them commercially are now cheaper and easier to qualify for. Every creator should have one!