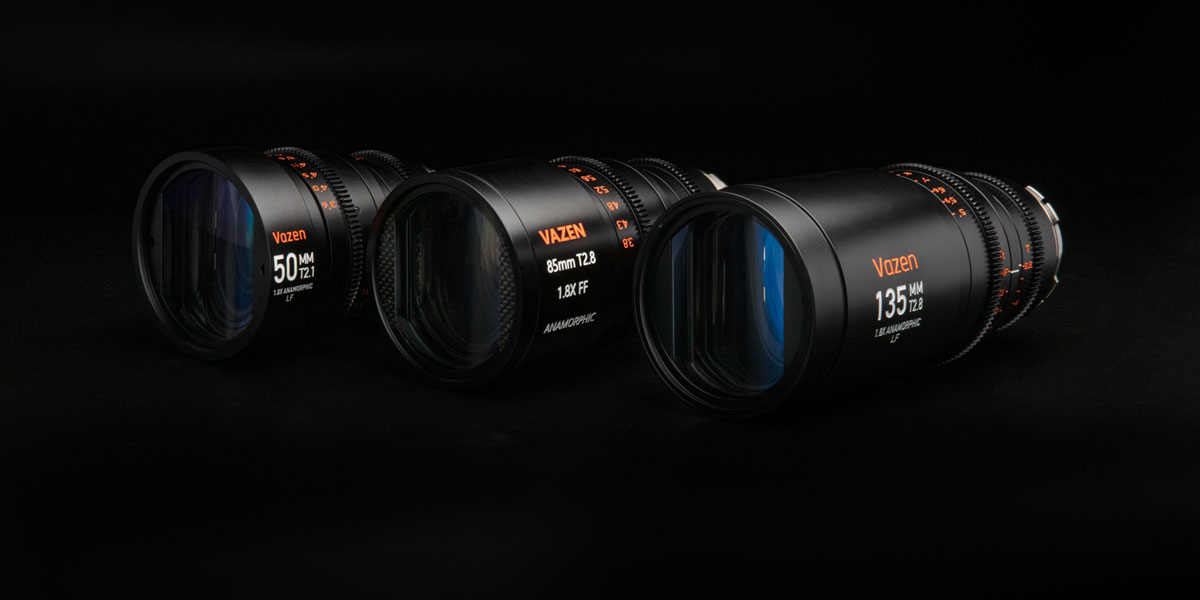 VAZEN GO ANAMORPHIC
Posted on May 17, 2022 by Samara Husbands
Vazen have completed their 3-lens set with the 135mm T2.8 1.8x Anamorphic Lens for large format cameras
Adding to its 50mm and 85mm lenses, Vazen have pushed the boundaries with a more compact and lightweight design. Featuring the same focus and aperture position as the 85mm (for easy lens switching on set), and consistent 86mm from filter thread, they can be easily installed with ND filters and dioptres.
Vazen made the decision to adopt a 1.8x squeeze design to balance the anamorphic characters and the image resolution. This produces a cinematic widescreen 2.39:1 aspect when paired up with 4:3 sensors. Users will experience extremely creamy depth of field from the 5' (1.52m) close focus distance, and outstanding sharpness, even at full aperture! This is unheard-of from other PL/EF anamorphic lenses with similar squeeze ratio. When paired up with 16:9 sensors, much less data (than 2X anamorphic lens) is needed to be cropped away to create the desired 2.39:1 ratio.
Already standing out from the crowd, buttery-smooth oval bokeh and signature blue (but not over-saturated) horizontal flare really emphasise appeal. The entire the lens is built up of aluminium and the independent aperture and focus rings are incorporated with 0.8 mod cine gears. It is available in handy interchangeable PL and EF mount versions, with a front diameter of 95mm for matte box mounting.
This is currently one of the cheapest 3-lens full-frame anamorphic lens set available on the market and has been designed to fully cover large format cinema cameras like Red Monstro, Red V-Raptor, Alexa LFm Kinefinity Mavo LF and Z-CAM E2-F8.
Now that Vazen has completed its 3-lens set, it is currently developing a wider lens to complement the set.
See the outline of prices below:
50mm T2.1 – $8,000
85mm T2.8 – $8,000
135mm T2.8 – $8,000
Hard Case – $300
3-Lens Set with Hard Case – $19,999
The lens and the set are currently available to order from authorised resellers and from Vazen website. It is available to ship immediately with free FedEx Priority shipping provided.