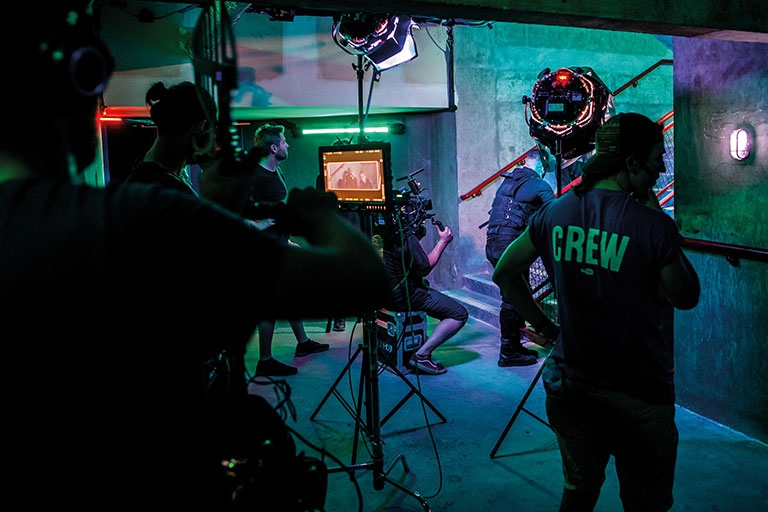 Booze Cruises to Movies!
In just over a decade, self-taught filmmaker Tom Paton has gone from holiday videos to award-winning feature films.
Case Study – Booze Cruises to Movies!
FOCUSED FILMMAKER: Tom Paton
Words Adam Duckworth Images Adam Duckworth and Ross Day
Making the big leap from shooting events, commercials and corporate films into feature films on show in cinemas is just a pipe dream for many filmmakers. Just one look at the huge money, big teams, scriptwriting, management of actors and complicated finance and distribution that go into feature films and it's easy to think it's the sort of opportunity that only happens to other people.
But Tom Paton is not one of those people. He wasn't going to listen to anyone who told him there was only one way of making movies, so he just went ahead and did it himself. Now aged 32, he's just finishing his fourth feature film, having invested his own money and time in getting to where he really wants to be.
"I'm a totally self-taught filmmaker and never went to university," he says. "I was 20 years old, from Walsall in the West Midlands but living in Cyprus, and filmmaking was what I wanted to do. I had to take a different route into it.
"I came up with this great scheme to film bar crawls and booze cruises for Thomas Cook. So I taught myself how to operate a camera, how to edit and I was doing all my own lighting at first. A real one-man band. I was passionate about being a filmmaker – it was the dream."
With a thirst for filmmaking knowledge, a can-do attitude and a love of problem-solving on set, Tom quickly made a name for himself and his business flourished. He built a team around him as his reputation grew.
"I eventually started working with George Burt, now my DOP. We've worked together for about ten years. It was just me and him for a while but the team grew as we went from event videos to music videos, to TV commercials and shows." 
High-profile pop videos for the likes of Disclosure, Artful Dodger and The Prodigy, as well as corporate clients such as Huawei, USA Pro and Clarks shoes, meant Tom was getting more ambitious and building up the experience to make the leap into full-length features.
 IMAGE: Tom has worked with DOP George Burt for about ten years and they find that their skills complement each other's.
"In 2015 I decided we could make a movie. I was 29, making great money in the commercial world but movies is where I felt I belonged," he says. "I knew I'd take a pay cut. For the first movie I didn't take any money, I put it all into the film. So you have to anticipate life is going to get a bit harder for a while."
"I never made short films, just music videos. If you can make a music video and a commercial, then you can make a feature film. It's just stamina! You'll come into day one fresh-faced and ready to go. But come in to day 13 and 500 slates later, and you'll be asking yourself why you're doing it. You have to have the stamina to see it through to the end." And, of course, you need the money to fund a major project as well as the script itself, which are two of the biggest stumbling blocks for any commercial filmmaker often used to getting paid for filming someone else's ideas. Tom decided to risk everything he had into seeing through his dream, and convince the bank to lend him enough to make it really happen. With years of working under tight budgets for clients and doing lots of work himself, he figured out a way of making the feature film dream a reality. 
"The best advice is stop listening to anyone else. I had so many people saying this is how you have to make films.
I wrote the script for a film called Pandorica and my movie broke all the rules. I borrowed 50 grand from the bank, had 25 grand in savings and we shot this thing at 20,000 ISO on a Sony A7S prosumer camera at night with two LED Rotolights. It should have been a disaster but we got a theatrical release. 
"If I'd have listened to what others were saying, I'd never had the balls to do it. You have to have faith in your own ability. If you think you're ready for it, you probably are.
"I'm quite business savvy, I treat everything as a business. Film is the only art form where you can't really just go and do it. It has been democratised to some extent but you need to go and borrow money from an investor. So you have to treat it like a business. 
IMAGE: Tom Paton on set
"I was passionate about being a filmmaker – it was the dream"
IMAGE: Singer and actor Shayne Ward stars in Tom Paton's latest film, Stairs. 
"I'm a problem solver. Every day on a shoot, from the minute I wake up to when I go to bed"
IMAGE: Rotolights proved their worth time and again when making the films.
"I never made films that weren't about making money. So now I'm making movies creatively, it makes me consider where that return will be coming from. I don't make kitchen sink dramas but genre films that people buy into."
Pandorica did well, got a theatrical release in the UK and Tom's career as a director took off from there. Next came a film called Redwood which won a National Film Award, and his third film, Black Sight, just closed the FrightFest film festival and should be on general release next year. And now Tom has been filming his fourth feature film, Stairs, which stars former X-Factor winner and Coronation Street actor Shayne Ward. That's a high output in a very short time, and comes from Tom's background as a commercial filmmaker, used to juggling everything, reacting to changing circumstances and with a great all-round knowledge of the whole process.
"You have to be pragmatic about being a director," he says. "There are two kinds of director. One doesn't know how to do anything themselves. They need a whole unit behind them. Ultimately, they head into a brick wall as they need huge amounts of money to get anything done, and they can't think outside of the box when something breaks or the weather changes on them.
"Then there's the kind of director I am which is where everything has a solution. Whether I'm on my own shooting something or have a team of 50 people and nine actors, to me it's the same craft. I'm a problem solver. Every day on a shoot, from the minute I wake up to when I go to bed, is a consecutive list of problems that I have to solve. It's my own fault as I said I wanted to make a movie! I don't get angry about it or irritated, I just get it done as quick as I can. 
"I act as if I'm just one of the crew. I don't sit in a chair and have a media village. I tend to operate as my own Assistant Director to a degree. And that mentally doesn't matter if you're doing pop videos or a feature film – it's the can-do attitude that gets you over the finish line. Especially this type of movie as intense as it is, with the budget it's on. You couldn't make it any other way."
As well as the logistics and funding, actually having a good story to tell is the biggest difference from shooting commercial work. The story itself, the plot twists, the dialogue and how the actors interact are all new territory for jobbing filmmakers. But it's something Tom relishes.
"I always saw myself as a writer first and foremost. It was what I was passionate about. As a kid I wanted to be a comic book writer then I started dabbling with the idea of film scripts. I was very good at it, I feel," he says. 
"But now I'm entering the zone where I've signed to direct bigger budget projects that I haven't written, which is weird for me. I have the ability to write, direct and edit. I even did the CGI on Black Sight myself. So I like the ability to take a project from beginning to end and have that control. It's going to be weird being told I can't change a line on a film because the script writer didn't say so. It's part of growing and being a filmmaker. The next stage for me.
"But I love writing, and it's even better when you get on set and actors start saying the words you've written. As a director on set, you can change it to make the scene even better. Or throw things in that weren't there and tweak them up.
"When writing, as long as you concentrate on the theme of the movie, you'll be OK. Like the theme of Stairs is why people fight. So I wrote that on some gaffer tape and stuck it on my Mac. If I'm writing and the conversation or the movement or scene isn't saying something about that theme, I leave it out as it's not going to service the story."
With a script, actors, a team assembled and a modest budget, there's still the issue of capturing the story you want in camera. And despite Tom being a skilled editor and SFX master, he's clear that it's far better to get things right in camera as it makes things quicker on set and in post.
"I use my special effects knowledge when things go wrong on set – which does happen. I'm practical at heart so try to get it in camera," he says.
"In Stairs, this was this gunshot scene. In every other movie I've worked on, the gun wouldn't fire so we'd do it in post by adding a muzzle flash. Of course, you don't just get a muzzle flash but all this light fall-off as well. So, a very intense spot on the target then fall-off all around it. That's a big job, doing 12 different masks and Rotoscoping them into each other.
Understanding The Tech
When it came to shooting Stairs, Tom faced a series of difficult technical problems as it was filmed in just 17 days in real locations, rather than expensive custom-built sets in a huge studio. A crack team including Exec Producers Steve Mosley and Kirsty Bell at Goldfinch Studios helped pull the project together. But with a tight schedule, choosing the right kit proved essential to get the job done right, on time and on budget.
"Stairs is about eight mercenaries ordered to kill everyone at a base camp but there's a civilian prisoner chained up and they argue about whether to kill her," says Tom. "Eventually they do. When they get back to HQ and get on the stairwell, the stairs become a Lazarus trap, Escheresque nightmare which they can't get off. There's lots of time-looping. It's a complex, out-there movie which I think people will dig."
As well as shooting different versions of each scene to get a mix of wide, mid and close-ups, a lot of the action was indoors in a stairwell or outside in a wide open space. So there are tripods, as well as a slider and jib. But many of the fight scenes are handheld.
"We're making a war film so let's make it very moving," says Tom. "But shooting anything on stairs is crazy difficult as you have nine actors in a narrow space. You have to hide lights and consider the heat, especially as we were thinking of using HMIs and were shooting in the hottest British summer for ages. We chose LED Rotolights  – no heat and easy to mount."
DOP George adds: "The lights were amazing on the staircase as we did so much in camera. We tried an HMI but had no power as it was a broken down stairwell so we had to hide power leads. We switched to battery Rotolights and couldn't have done the movie without them.
"DMX4s controlled the lights when going for flicker, switched off at certain points. You can do it in post but the lighting changes with reflections off the walls. It adds to the horror. 
"The practical lights on the walls were gelled and diffused with masking tape to reduce the power. Then we used a blue-green and some red gels on the Rotolights, plus their own kits, to create the look we wanted in camera."
All the war zone action was supposed to be at night, but the crew had to shoot during the day. Tom says: "It's impossible to light a war zone, there's so much of it. So we shoot in daylight, using lights to create a moonlight effect to the highlights. Then we convert it in post to give a Mad Max: Fury Road style look. 
"Skies will be replaced, there's a lot of fog and mist going in. On set you're looking at the ugliest footage ever! I have to believe in myself when I see the panic on everyone's faces."
"We shot everything two stops over then sorted it in post, where the usual way of shooting day-for-night is two stops under, then pull it down even further. But then you lose detail in the shadows on the actors' faces." 
"The ARRI Alexa was the only option to pull it off as you have to overexpose but you can't clip in the whites. REDs and Sonys – and I have always been a Sony guy – clip really hard when you go anywhere near the highlights. The Alexa doesn't, it's smooth and has a nice fall-off. "
George adds: "It's difficult shooting outside at the speed we move, with the light changing. But all the film needs to be graded to look the same so continuity of light has to be the same. Luckily, we did a lot of tests with the Alexa to see how it grades. Shooting in sunlight looks brilliant as you grade it so it looks like the moon!"
As well as renting the Alexa, which is definitely dream kit for many, Tom also managed to try out some lenses he'd always wanted for their unique look and trademark long flare streaks.
"We're using anamorphics, rehoused in Poland and shipped over. Sadly, they're not mine – I'd die for those! They have an incredible look," says Tom. "I've always cheated the anamorphic look as I love cinema and cinemascope but never been able to afford it. 
"I've used everything from After Effects plug-ins, to fishing line on lenses, but here it's legit! And the LED lights cause a very precise streak. Normally you can't control it, but the Rotolights are very precise. As long as the camera move is the same, the streak is the same."
The film is now being edited and goes to test audiences in March 2019. After any tweaks "maybe Stairs can debut at FrightFest 2019," says Tom. Perhaps he'll take a holiday and go on a booze cruise himself to celebrate if it does.
Instead, Tom used the Rotolight with its built-in special effects like gunshot. "Although we still put the muzzle flash in post, the Rotolight created the hot point and the fall-off. It's cost efficient and if you're not spending lots of money on post, you can spend it on set.
"Having the knowledge of how you can paint some things out helps, especially for low-budget stuff. But it's about getting the story on screen and most viewers don't care about the technical stuff and effects that I'm passionate about. It's about telling a good story and the audience engaging with it."
It's clear one of the biggest changes in use of lighting for scripted drama is that it's more about creating a look and feel to help tell the story you're aiming to get over to the viewer. 
"George has a hard job as he'll do something and then I'll obsess over the lighting. Again, it's all about the theme and how you're trying to say something," asserts Tom.
"Like in a heroic scene, we read left to right. So it feels natural and good if something moves left to right. If it's right to left, it makes you feel uneasy. That's something to think about in lighting. If you're doing a heroic shot – trying to really show somebody off and panning, you would want to go left to right and light it for that.
"If you're doing a villain, then it's best have the camera move from right to left as it makes the viewer uneasy. It's the same with fight scenes, it's part of the tone of the story. So movements and the lighting have to be right. 
"I'm very involved as George does huge lighting plans then I get him to change things. But it's a collaboration – he has an excellent eye and knows exactly where to put stuff. I know how to put smaller, story-related finishing touches to the lighting."
"So I like the ability to take a project from beginning to end and have that control"

 
Tom is hoping Stairs will make its debut at FrightFest 2019. 
For more information about Tom and his films visit his website.