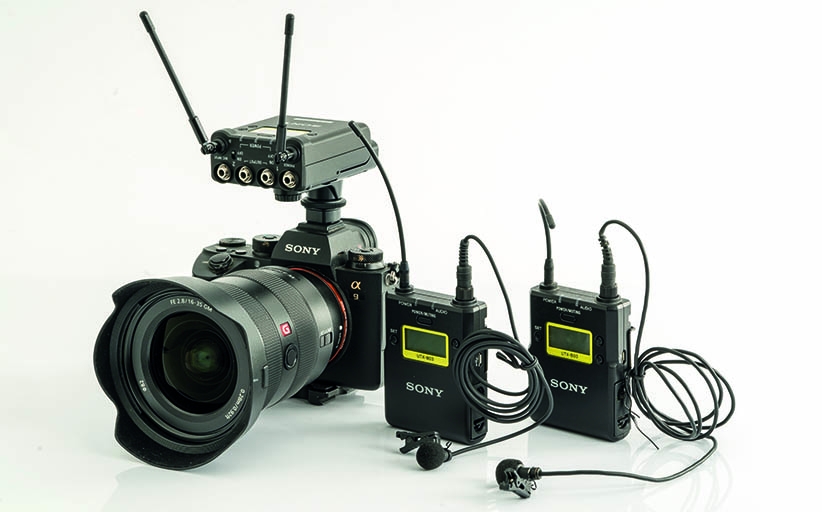 Buyers' guide: great gear for audio excellence
We take a look at some ideal kit for professional filmmakers to get sound spot-on every time
Words Adam Duckworth
The black art of audio is often something that strikes fear into the hearts of many filmmakers, as it has a crucial effect on the finished film. Most know the best way is to get your mic as close to the subject as possible, protect it from wind noise and ensure the levels are right. But your choice of kit will also affect how your movie sounds.
Just as with all aspects of moviemaking, there isn't a one-size-fits-all audio solution. Sometimes you need a highly directional shotgun mic with an XLR fitting for your cinema camera, other times a stereo mic for a DSLR. Perhaps you need to record lots of inputs and a multichannel recorder is essential. Or you may need a lavalier mic to hide on your subject's lapel.
We take a look at some of the best kit you can buy at a variety of price points.
XLR microphones
1) Rode NTG-1 (£215/$234) 
Australian company Rode is one of the biggest and best-known microphone manufacturers as it makes top-quality kit at affordable prices. The Rode NTG-1 is one of the best and most popular XLR shotgun mics. It's great quality, delivers brilliant audio and is not too expensive.
It needs phantom power from your camera, and at just 105g/3.7oz, it's very light and can be used on a boom. It also has a selectable high-pass filter to counter background noise. It's a workhorse that will last for years.
If you want a mic with its own power, then the Rode NTG4+ at £259/$265 has an internal lithium battery that supplies over 150 hours of use, and can be charged in under two hours via USB. This supercardiod mic picks up sound from the front and sides and its all-new condenser capsule has high sensitivity and low noise. It also has on-board equalisation and level controls.
2) Sennheiser MKH-70 (£1915/$1749)
Not all shotgun mics are created equal. For the ultimate in cutting out extraneous noise, the Sennheiser MKH-70 mic is just about the best you can buy. Its price may look high compared to many of its rivals, but the technology and materials it uses makes it worth the money for a serious filmmaker.
The long interference tube has a lobar pick-up pattern, which makes it highly directional, and the MKH-70 is made to outperform other mics in difficult audio conditions.
Although it's weatherproof and built to last, it only weighs 180g/0.4lb and has switchable pre-attenuation, roll-off filter and treble emphasis settings. 
DSLR microphones
1) Azden SMX-30 (£219/$249)
Azden might not be the first name many filmmakers think of when it comes to audio, but the company makes good kit with decent spec. The SMX-30 is a DSLR-style mic that transforms the sound recording of mirrorless or DSLR cameras.
It goes right on the hotshoe and can record in stereo or mono, unlike many of its rivals. It has a conventional short shotgun mic tube and two wider, cardioid-pattern mics to record a broader signal. There's a shock mount to reduce handling noise, too. 

2) Sennheiser MKE 400 (£169/$200)
Sennheiser's MKE 400 has always been very popular as it's so compact, with an all-metal housing. It runs for up to 300 hours from a single AAA battery. The MKE400 is ideal for action filmmaking on smaller cameras and comes with its own foam wind jammer.
And the audio quality is good, too. It has a decent frequency response of 40-20,000Hz and, being a shotgun design, is good at eliminating side noise. Its low-cut filter drastically lowers the amount of frequencies it picks up, while also helping to reduce wind noise. The MKE 400 also has a sensitivity setting to help adjust to different environments and subject distances, and an integral shock-mount to limit handling noise. 

3) Rode Videomic Go (£40/$69)
A basic mic like the Rode Videomic Go only costs £40/ $69 and weighs in at just 73g. It sits on your camera's hotshoe and plugs into the mic socket – and that's it. There is nothing to adjust, and it doesn't even take batteries. Unfortunately that means it isn't suitable for all cameras, but works perfectly with the majority of modern DSLR and mirrorless cameras. 
It comes with a shock mounting, which reduces vibrations from the camera or surroundings, and even has a foam rubber windshield to cut down on wind noise. Compared to the internal mic, it gives a far more crisp sound that's significantly better. 

4) Sennheiser MKE M440 (£289/$349)
Most microphones output two mono channels, which is ideal for recording speech. For capturing ambient sounds, or things like live music, then a stereo mic is a better solution. Sennheiser's MKE 440 has two condenser capsules to give the stereo effect, set in a V-formation that's obvious to see. 
It is also more sensitive to a wider range of volume levels, adjustable for everything from quiet recitals to very loud rock music or motor racing. It's a great addition to every filmmaker's kit bag.
Wireless systems
1) Saramonic SR-WM (£95/$99)
For professional talking-head interviews, a wireless radio mic system is invaluable. Some cost hundreds as they offer lots of advanced features, but as a bargain option, the Saramonic wireless kit works and is incredible value for money.
It comes with a lavalier mic and transmitter unit that beams its signal wirelessly to the receiver, which plugs directly into the camera.
It's a four-channel unit with flexible antennas that can beam a signal for up to 60m/65 yards. It also runs on AA batteries and volume is controlled by
a simple wheel. It's not the most high-tech system, but works surprisingly well for the price.
The Audio Technica ATW-1701/P1 wireless microphone system comes with a cardioid condenser lavalier mic and a compact receiver that has multiple mounting options for a wide range of uses.
It provides balanced and unbalanced output jacks with the option to control the levels, and independent volume control and headphone jack, as well as a multi-coupling function. The channel selection, timing and instant set-up makes the ATW-1701 easy to use. Light at only 105g/ 0.23lb, this kit is affordable and good quality.
3) Sony UWP-D dual wireless receiver (£649/$579)
Sony's UWP-D portable two-channel receiver is an ideal solution to recording two people in conversation, as it can accept signals from two separate transmitters, which it records on separate channels. It then can output them both separately to your camera, via a pair of XLR leads that come with the pack, or the included two-into-one cable. You can also set it to mix the audio from both channels so that combined signal is outputted to two channels. 
It works an all cameras, but is ideal for Sony users whose cameras have the Multi Interface shoe, as you just put the UWP-D on the camera and there are no cables needed.
The receiver has a third input for another mic, which typically could be another lav mic or a small stereo mic for ambient sounds. It opens the door to much more creative audio.
Recorders
Zoom recorders are a mainstay in video production and the H6 is the beefiest version yet. It's not particularly small or light, but that means the layout and options aren't compromised.
One of the H6's most obvious features is that you can swap the capsule mics for others. It comes with the X/Y capsule fitted as standard, but there's a 'mid-side' capsule in the included case, and optional units like a shotgun mic and a dual XLR input. Added to the four XLR ports on the unit, it gives a fantastic number of mic options – though only the body XLRs offer phantom power. 
Sound quality is very high, with a maximum 96kHz 24-bit recorded as lossless WAVs. You get up to six tracks of simultaneous capture, each with independent gain, and results are extremely clean, with additional low-cut options that can be applied to individual tracks at varying levels. You can also record a backup track at lower dB, and the H6 takes SDXC cards.
It uses four AA batteries for over 20 hours of use, depending on the settings, but you can run it off USB, too. 

2) Olympus LS-P4 (£149/$179)
If you want to keep size and weight to a minimum, then Olympus's LS-P4 recorder is worth considering. At just 75g/0.17lb, despite having a metal body, it's scarcely noticeable when hotshoe mounted. Size-wise, it's tiny and truly pocket friendly. 
The LS-P4 is an all-in-one recorder that's pitched for music and interview recording as well as video, and the sound quality is high. Recording is in a variety of formats – the highest quality of which is Linear PCM 96kHZ at 24-bit – which can be exported as versatile FLAC files as well as PCM, WAV or MP3 formats. Instead of the usual built-in stereo microphone, the
LS-P4 has three, and with all three running it gives a frequency response of 20Hz to 20kHz. Plug in an external mic and this rises to 20Hz to 44kHz. The built-in mics don't physically swivel like some other models to change the modelling, but you can alter their 'zoom' settings digitally. 
There's also a single mini jack port to plug in an external mic, but no power output for it, so you'll need choose your mics accordingly. There's a headphone output. The LS-P4 has an 8GB internal memory for five hours of recording at the maximum quality, but you can also record to a microSD card. 
If you want the lightest recording option, it's a great choice and produces high-quality sound, but mounting and mic options are limited.
3) Tascam DR 100 MK III (£329/$299)
The Tascam DR-100MKIII has simple rotary controls, and the top of the unit houses two sets of microphones – a stereo pair of unidirectional mics and an omnidirectional stereo pair. 
The base has a couple of  XLR jacks for mic/line input with phantom power. It also has an S/PDIF digital input – there's a phono-to-jack adapter included in the box – and a 3.5mm stereo jack for a secondary, unbalanced mic or line-level input. The Tascam can only record two tracks at a time to SDHC, but can record WAV and MP3 simultaneously, and it can be set to record a second WAV file at a gain of -12dB from the master gain.
The unit can run on two AA batteries, but also includes a replaceable Li-ion rechargeable battery. You can hot-swap between these, for uninterrupted recording. You can also power the unit over USB or optional AC adapter.
The slightly fiddly dual input level control of the DR-100MKII has been replaced by a single one, with a switch to control either channel separately. 
The Tascam DR-100MKIII is a high-quality, feature-packed field recorder.
Sound Devices makes field recorders and mixers for every kind of production, from small documentaries to Hollywood blockbusters. The MixPre-6 has a metal frame that packs in four hybrid XLR/jack balanced inputs and two auxiliary unbalanced line inputs on a 3.5mm jack. 
All six analogue inputs can be recorded individually, while simultaneously recording a stereo mix, making the MixPre-6 an eight-track recorder. The right side of the unit has the hybrid mic or line XLR for channels 1 and 2, a 3.5mm jack for stereo out, the power switch and a couple of USBs. The MixPre-6 can be used to stream the four inputs to a computer over USB.
The left side has the other two hybrid XLRs for channels 3 and 4, the 3.5mm jack for the two AUX inputs, a micro HDMI, which can receive both timecode and record/stop commands from a camera, and a 3.5mm headphone jack. The headphone level is controlled by a rotary encoder below it, and this can also be used to navigate menus, while pressing on it selects menu items.
The rear features the battery sled for four AAs. There are options for eight AAs, and two hot-swappable Sony L-Series Li-ion batteries. Beneath this is the SD card slot, and a hex key, which is used to push up and engage the 3/8-inch tripod screw embedded in the top panel, allowing the MixPre-6 to be mounted to the bottom of a camera.
It's a more affordable version of the field recorders that have made Sound Devices' reputation.
Mics for mobiles
1) Rode SC6-L mobile interview kit
If you're a run-and-gun shooter, then even using the camera's built-in mic for a quick interview or person in the street for a vox pop is a no-go. And it's a situation that Rode's Mobile Interview Kit is designed to avoid, since it uses your iPhone to record decent audio. 
It's a simple set-up, with a small box that plugs into an Apple iPhone's Lightning socket that contains outputs for two tiny wired SmartLav+ lapel microphones and a further socket into which a set of headphones can be plugged.
Power is supplied from the phone and you can set up audio for an interview in a matter of seconds, as both you and your interviewee have a dedicated mic to ensure that your voices are independently recorded loud and clear. 
To control this device, you need to download the free Rode Reporter app, which will then give you the ability to do such things as configure the record mode, turn direct monitoring on and off, and adjust the mic pre gain. 
The biggest issue is that the wire supplied with each lav mic isn't especially long, so you do have to be sitting quite close to your subject, which can be a bit of a restriction. But for kit that can slip easily into a pocket and uses your phone, it's a great solution.
2) Sennheiser memory mic (£169/$200)
The innovative Sennheiser Memory Mic is a plastic clip-on box that can fit on to a lapel or pocket, and it features an omnidirectional condenser capsule mic that's designed to record the subject's voice and pretty much all the sound around them as well. It's designed to communicate with a smartphone via Bluetooth, but it comes with the ability to internally store up to four hours of audio. 
Once you've used the app to start recording video on your smartphone and audio on the Memory Mic, you don't need to maintain the Bluetooth connection between the mic and the phone. What this means is that your subject could literally be way off in the distance while you're filming them, and yet the mic would still be picking up their voice. When paired up with the smartphone, the Memory Mic downloads its audio.
The Memory Mic is internally powered and so will need to be charged up, and this is done via a USB cable. The device records 48 kHz/16-bit audio and, despite its diminutive size, it features up to four hours of battery life. 
It's a strange little accessory for sure, but it does work. You just need to think a little out of the box to get the most from it.
Windshields
1) Rode WS6 Deluxe Windshield (£45/$45)
Wind noise is a huge headache when working on location, so you need an effective sound deadening device. Rode's Deluxe Windshield is designed for the NTG-1 or any similarly  sized shotgun mic.
The Rode Deluxe windshield has a rubber base to stop wind from entering the rear of the microphone pickup area and has open-cell foam around the outside of the mic as well as fur to keep wind noise at bay.
2) Rycote Overcovers (£11/$13)
Rycote's Overcovers have been specifically designed to mount over lapel microphones in windy outdoor conditions, as well as reducing contact noise between the mic and clothing.
The kit comes with six black furry disc windshields to use on most standard lavalier microphones, and 30 black sticky pads to fix them. Replacement sticky pads are available.