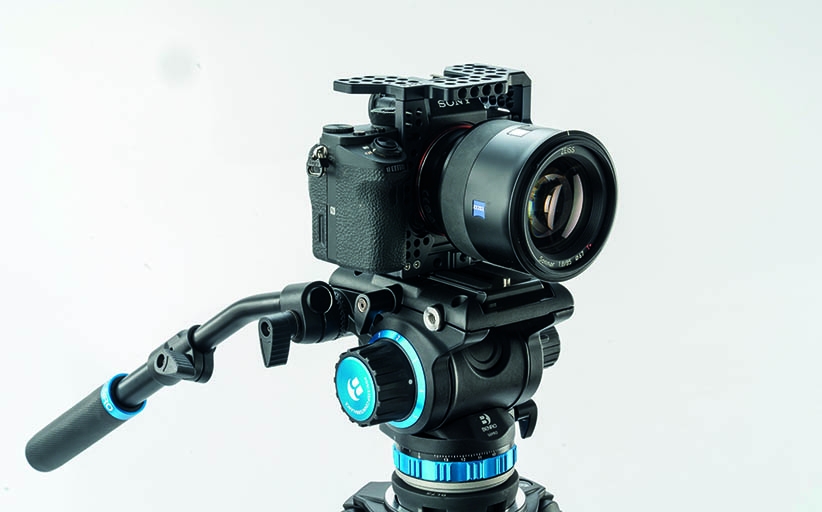 Group test: Middleweight Tripods
We take a look at a range of tripods suitable for mirrorless, DSLR or small cinema cameras
Words Adam Duckworth
 A steady tripod is obviously an essential buy for all filmmakers. There's nothing worse than a wobbly, hand-held shot when what's needed is a rock-solid, locked down camera. And a juddery pan or tilt can make any camera movement look amateurish and really ruin your production.
But there is so much more to buying the right tripod than just whether it can be locked down steady or do smooth moves. You have to consider size and portability, how quick it is to set up and use, how solid the locks are and, of course, how much it costs. As there's a vast difference between the most expensive and the cheapest on the market.
While you can drop five grand on a tripod, we take a look at a range of tripods that are all relatively affordable and offer decent spec for the money.
Manfrotto MVK502C-1 Pro Video Carbon System – £616/$944
Manfrotto has a huge range of tripods in different materials, lengths, leg designs and spreaders. Add on one of the Italian company's range of heads, and you have myriad combinations to suit lots of different users. This is the Manfrotto MVK502C-1 Pro Video Carbon System, which mates up the MVH502A fluid with the MPRO 535 Carbon Fibre tripod in a decent padded carrying bag.
Starting with the head – it's not the latest Nitrotech system with super-adjustable counterbalance but a more basic head, designed for use with DSLR, mirrorless cameras and camcorders as well as lighter cinema cameras. The 502 head has a pre-set counterbalance of 4kg/ 8.8lb but is able to support equipment up to 7kg/15.4lbs. This pretty much includes most kit that independent filmmakers might use as it's designed to match the weight of the most popular cameras and accessories, like external monitors, lights or microphones. 
Above The large red aluminium ring is the adjuster for the pan drag, and is easy to use
There is a long 140mm/5.5in plate to allow you to move your camera body around to get the counterbalance right. The plate slides in from the back, rather than a quick-release style that drops in from above.
The head uses the new-style Manfrotto Bridging design, where lots of the middle of the head has been removed to save weight, and there's a 75mm bowl fitting. The beauty of the head is in the smooth, variable fluid movements in pan and tilt. The pan control is adjusted via a huge and obvious big red aluminium ring, and the tilt by a large knob on the left.
These features are easy to use and offer precise control for the movements, which are silky smooth and well damped. 
The head has two Easy Link connectors to allow an external monitor or other accessory to be fitted directly.
Once you've got your camera counterbalanced on top, the pan and tilt controls are obvious and easy to use, and offer adjustable resistance
The 535 tripod is a three-section, single-tube video tripod designed for stability and high loads, yet it's not too heavy. The lever leg locks are simple to operate, the legs slide very smoothly, and the feet have rubber bumpers, which can be wound back to expose spikes. Each leg features an angle selector, letting you choose between 23°, 50° and 70° angles.
In use, the tripod and head combination works perfectly together, offering a fully professional and good quality feel. Once you've got your camera counterbalanced on top, the pan and tilt controls are obvious and easy to use, and offer adjustable resistance so you can get all the movements just right. The only gripe is that it can be a bit of a squeeze getting to the pan lock knob, as you have to reach around the front. But once you've got used to it, it's not really a problem.
The kit is well built, not too heavy, with top-quality engineering oozing out of every part. If you can't get decent footage out of this tripod set-up, it's not the equipment that's at fault…
Specifications:
Legs: Carbon fibre single tube
Leg sections: 3
Payload: 7kg/14.43lb
Minimum height: 41cm/16.1in
Maximum height: 185cm/72.8in

 

Weight: 4.3kg/9.48lb
How it rates:
 

Features: 8/10 No adjustable counterbalance, but has everything else

 

Performance: 9/10 Smooth pans and tilts, and solid as a rock 

 

Handling: 9/10 If you don't like a spreader, it's fast and easy

 

Value for money: 8/10 This is well built kit that should last for decades
Overall Rating: 9/10
A solid and dependable pro-level tripod system.
+ Pros: Performance, ease of use, light to carry
– Cons: No adjustable counterbalance, not the cheapest
Libec TH-Z T – £369/$349
Many traditional filmmakers swear by a twin-tube leg tripod with a spreader, for super-fast set-up. This is the sort of kit that's been around for years, and continues to give great service to a large number of video shooters.
The Libec TH-Z tripod system includes the TH-Z H fluid head, TH-Z T legs and a case to carry it all around in, all at a staggeringly affordable price of £396/$349. That's a lot of kit for your money. And although the Libec kit might not offer the most high-end technical features or jewel-like build quality, it still comprises great performers that do what they're supposed to very well indeed. 
The lightweight TH-Z H head features an illuminated LED bubble spirit level and sliding plate, equipped with a one-touch quick-release mechanism. It just snaps into place, then you tighten it with  a locking knob. You'll be glad of that if you're in a hurry and just want to get the camera on and off the sticks quickly. The plate is compatible with Manfrotto and Sachtler heads, and has a sliding range of 3cm/1.2in once secured, so you can move it around a little to tweak the counterbalance. It comes with a 1/4in -20 mounting screw and an anti-twist video pin beside it. A long rosette-mount pan bar is included, and an optional second one is also supported.
The TH-Z tripod is very rigid and avoids twisting, thanks to its leg configuration
The system features a 75mm half-ball/flat base fluid head, which supports up to 4.99kg/11lb but features fixed counterbalance and drag. There is no adjustment – what you get is what's there. Initially this comes as a bit of a shock to anyone used to adjustable pan and tilt but you soon get used to it, and it's a decently-damped system. It's still nice to be able to adjust the resistance for slow or fast pans, for example, but some compromises had to be made to get the kit down to this price point – and this was it.
The head can be attached directly to the tripod or mounted on sliders and other support gear via the flat base, which has a 3/8in -16 mounting thread on the bottom. 
The tripod legs are relatively light, coming in at just 2.4kg/5.3lb, yet offering a payload of 25kg/55lb. It's the head that is the limiting factor for payload, as is the case with most tripods.
The TH-Z tripod is very rigid and avoids twisting, thanks to its leg configuration, and features a built-in telescopic mid-level spreader. The leg height is adjusted by a simple locking knob on each leg, and the spreader can be adjusted for different lengths, too, with a separate adjuster on each of the three arms of the spreader. 
The feet of the tripod have solid rubber covers to avoid damage to floors, and the height range for the head and tripod combined is a very respectable 71cm/28in, up to 161cm/63.5in.
Above The Libec is a traditional-style video tripod with twin-tube legs and a mid-level spreader
Specifications:
Legs: Aluminium twin tube
Leg sections: 2
Payload: 4.99kg/11lb

 

Minimum height: 71cm/28in
Maximum height: 161cm/63.5in

 

Weight: 3.49kg/7.7lb
How it rates:
 

Features: 7/10 No adjustable pan or tilt is a drag

 

Performance: 8/10 Fluid drag is well controlled

 

 

Handling: 7/10 Lack of any fluid adjustment is a real issue for users

 

Value for money: 8/10 A great price for a solid performer
Overall Rating: 8/10
If you want an affordable twin-tube tripod, look no further.
 +Pros: Traditional style and not too expensive
 -Cons: No counterbalance, pan or tilt adjustment
Benro A373FBA6PRO – £429/$449
Above The Benro head not only looks good but performs very well, and has adjustable counterbalance, pan and tilt
Benro is quickly becoming one of the most sought-after tripod ranges, with a choice of well-built, feature-packed systems at a good price. And the A373FBS6PRO kit shows why this brand is gaining popularity, mating the S6Pro head with A373F aluminium single-tube tripod.
The tripod features a 75mm bowl and includes a 75mm half-ball adapter, as it's paired with the S6Pro Fluid Video Head, which has a 65mm flat base. The head supports up to 6kg/13.2lb, and thanks to the flat base design with a 3/8in -16 thread underneath, it can be moved from the tripod directly to sliders, jibs and other support gear. 
The S6Pro head offers a five-step counterbalance knob on the right side of the head, so you can dial in just the level of balance you need to keep your kit in equilibrium. It's easy to do, and beats just a sliding plate system. Like the Manfrotto, there is a large anodised aluminium dial to adjust the fluid drag on the pan axis, and a large knob on the left side to adjust the tilt. Benro has taken its styling cues from the Italian market leader, but changed the red dials for blue. There are also independent pan and tilt locks, which are easy to get to and very obvious. The tilt range is +90/-75°, and the pan range is a full 360°. 
Some parts of the head are made of magnesium and other parts aluminium, all of which are designed to achieve a light weight. A pan bar is included, which can be attached to a rosette adapter on the left or right side of the head, for left- or right-handed users (this can be adjusted for length using a locking knob). The movements are pleasingly smooth and well controlled.
The camera plate can be adjusted forward and backward to let you find the optimal balance. A safety lock ensures that once mounted, the plate won't slip out if you move it in either direction too much. Two camera screws are supplied (1/4in -20 and 3/8in -16), which can be stored underneath the camera plate on the head itself, in dedicated slots. For attaching accessories, there's a 1/4in -20 threaded hole on each side of the head, to which you can secure articulating arms.
A real benefit is the minimum height – at just 31cm/12.2in it offers a real advantage over many others that often don't go down as low
The legs are aluminium and have a rubber grip on one leg for more comfortable carrying. The two-stage, three-section, single-tube legs have rubber feet and spiked feet are included, which just screw into the bottom of the legs. Each leg of the tripod is independently adjustable into three positions, allowing you to set up quickly and efficiently.
With the head attached, the tripod reaches a maximum height of 163cm/ 64.2in, which is more than enough for most uses. But a real benefit is the minimum height – at just 31cm/12.2in, it offers a real advantage over many other full-size tripods that often don't go down anywhere near as low.
Specifications:
Legs: Aluminium single tube
Leg sections: 3
Payload: 6kg/13.2lb
Minimum height: 31cm/12.2in
Maximum height: 163cm/64.2in

 

Weight: 4.25kg/9.37lb
How it rates:
 

Features: 9/10 All the bells and whistles, but no carbon legs

 

Performance: 9/10 Very smooth pan and tilt movements

 

 

Handling: 9/10 Easy to set up and use. Benro have produced a winner!

 

Value for money: 9/10 All the latest tech at an affordable price
Overall Rating: 9/10
For the price, you get a stunning bit of kit.
 +Pros: Value for money, good looks
 –Cons: Carbon legs would save weight
Vanguard VEO 2X 265CBP – £249/$280
Images The most compact tripod on test, the Vanguard is ideal for mirrorless camera users
This is not a dedicated video tripod like all the others on test, but it can be used for video as well as lots of stills-based applications. With many video shooters coming from a stills background, or being hybrid image makers doing both stills and video, it's an interesting option.
It's a four-in-one lightweight and compact travel tripod with an Arca Swiss-compatible ball head and five-section carbon fibre legs that clamps down with a twist-lock mechanism. 
The more leg sections you have, the smaller you can fold the tripod and this one really is very portable – it packs down to just 46.5cm/18.25in. But the pay-off is lack of stability when it's at full extension. The payload may state an incredible 12kg/26.5lb but remember – this is on a standard, non-fluid stills ball head.
Vanguard says the tripod can be used as a conventional stills tripod, of course. That's why it has the Arca Swiss fitting, which is relatively common in stills but pretty much unheard of for video use. It is a quick-release system, but there is no fore and aft counterbalance adjustment for video use.
The centre column can be used as a monopod by attaching it to one of the legs. And by removing the centre column, you can hold it out as a stabilising vlogging stick, if that's your schtik. 
The knobs are ergonomic and a joy to use, and the leg locks are smooth and solid
For video use, the tripod comes with an extending pan handle that you insert into the back of the head, and secure it with a grub screw. We had a hard time fitting this screw, and needed a screwdriver to get it to tighten. It could have been because the tripod was brand new, but it was a faff.
Once this is in place, you level up the ball head using the spirit level then lock it off. That leaves the tripod free to pan around, and you adjust the friction using the ball head's friction knob. It's simple, and turns the tripod into something that's useable for video with a small camera at a push. With no fluid damping, this is not a particularly well-controlled motion, and of course there is no tilt control. So, it's not really a tripod designed for video, but can get you out of a hole if you're a hybrid shooter who wants to do the odd pan.
The tripod itself oozes robust quality, with well-finished components and that glorious carbon fibre weave effect on the legs. The knobs are ergonomic and a joy to use, and the leg locks are smooth and solid. If you put more focus on stills than video performance, it could be a great travel tripod for you.
Specifications:
Legs: Carbon fibre single tube
Leg sections: 5
Payload: 12kg/26.5lb

 

Minimum height: 19.3cm/7.6in
Maximum height: 151cm/59.5in

 

Weight: 1.59kg/3.5lb
How it rates:
Features: 6/10 Lots of photo features but not for video
Performance: 6/10 For motion use it's limited

 

Handling: 7/10 It's tricky to set up for moviemaking
Value for money: 8/10 You can't go wrong at that price
Overall Rating: 7/10
For some users, it could be just what they need.
 +Pros: A four in one tripod, and a jack of all trades
 –Cons: Certainly not master of shooting video
Velbon DV-7000N – £178/$210
If you ever studied photography or filmmaking at college in the past 30 years, chances are you will have come into contact with a Velbon tripod. With its unmistakeable cork top plate and geared centre column, Velbons have long been the tripods of choice for many educational establishments – they are solid, workhorse bits of kit that are certainly at the affordable end.
The DV-7000N is typical of Velbon, which mixes some of the old-school technology with what a modern, cash-conscious filmmaker needs nowadays – and nothing more.
For just £178/$210 you can become the owner of a full-size, solid video tripod. It's potentially even cheaper if you shop around. We found a short-term deal on one, with around 33% extra discount off the usual, low street price.
Тhе Vеlbоn DV-7000N іѕ from the brand's рrоfеѕѕіоnаl range, so it has lots of adjustments that filmmakers need.
The Vеl-Flо 9 fluіd hеаd has a decently smooth pan and tilt movement, which can be adjusted by two separate, serrated dials. These can be a bit fiddly to get hold of and move but they do work. You could say that being a bit tricky to grasp makes them less likely to be adjusted by mistake. There are large pan and tilt locks on the head for when you don't want things to move, аnd а ѕріrіt lеvеl аllоws fаѕt, ассurаtе ѕеt-uр. 
Most unusual is the geared centre column – you crank a handle to move it up and down
Тhе quісk rеlеаѕе рlаtfоrm has the legendary cork top to snug it up against your camera. It then clicks into place on the head. This sounds easy, and it is once you get the hang of angling the plate in before pushing it down. It took a few tries for us to get it right, but then it was second nature. The plate attachment is made of plastic, which just doesn't feel like it would last, but we had no reliability problems with it during the test.
Images The Velbon has a distinct old-school look and feel but is a great performer for the money
The legs are where this tripod differs from its rivals. There are ѕturdу, 29mm aluminium uрреr legs and a central brace that can be adjusted with a locking knob. This does give extra rigidity when compared to non-braced tripods.
Most unusual is the gеаrеd сеntrе соlumn. You crank a side handle and the centre column moves up or down in a controlled way. Many stills photo tripods have had this for years but it's not particularly popular any more. It adds weight and complexity, but does give an extra bit of height, and you can adjust the head height far more precisely. This may be important to you for close-up work.
There are hеаvу dutу rubbеr fееt for grір аnd ѕtаbіlіtу оn vіrtuаllу аnу ѕurfасе, and they shouldn't mark expensive floors. 
Although the official payload is 6kg/13.2lb, chances are you wouldn't want to put your ten grand cinema camera combo on top of the  £178/$210 Velbon.
However, for smaller cameras, it's a very affordable system that smacks of old-school charm.
Specifications
Legs: Aluminium single tube
Leg sections: 3
Payload: 6kg/13.2lb

 

Minimum height: 57cm/22.4in
Maximum height: 162cm/63.8in

 

Weight: 3.49kg/7.7lb
How it rates:
Features: 8/10 Adjustable pan and tilt, geared head
Performance: 7/10 Good, but that quick release is
rather worrying

 

Handling: 7/10 It's quirky, with a plastic feel in places
Value for money: 8/10 You can't go wrong at that price
Overall rating: 8/10
A decent but different tripod, and it's cheap.
 +Pros: Price, decent adjustment, strong legs
 –Cons: Geared centre column isn't for all
The verdict
Two tripods stand out as stunning performers in our test, and both have remarkably similar specs and even look like clones. The Manfrotto and the Benro are fantastic performers and offer great performance, reliability and should last for many years.
The Benro has aluminium legs and adjustable counterbalance. The Manfrotto has no adjustable counterbalance but has carbon fibre legs, and a slight edge in the pan and tilt performance… but not by much.
The crucial part is that the Manfrotto costs significantly more than the Benro, and this might affect your buying choice. But you can't go wrong with either of them.
If you want a traditional, twin-tube leg tripod, the Libec is a solid performer at a good price. It's well built but doesn't have adjustable damping, so you have to like it or lump it. Conversely, the Velbon does have adjustments and a traditional (if different) look. It doesn't have the ultimate build quality of the Libec, but it is significantly cheaper.
The oddball is the carbon fibre Vanguard. It's not really a video tripod, but can be used for video as one of its features. If you are an all-rounder who shoots stills and some video, it could be the tripod that meets all your needs, in an affordable and smart package.