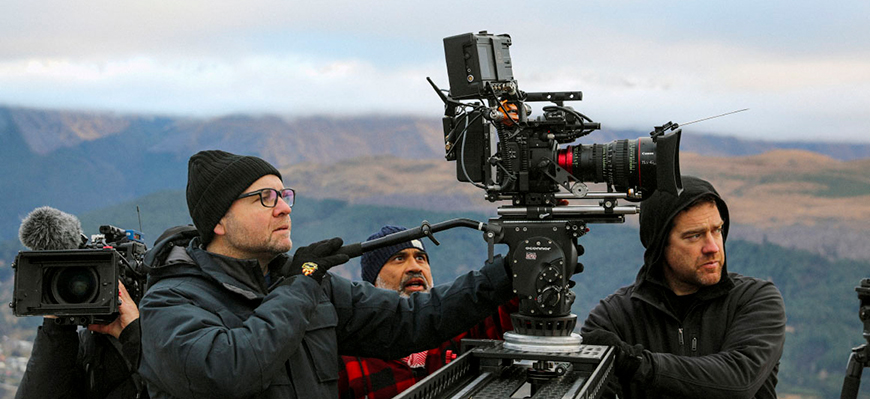 Meet the Canon Cinema EOS system
Posted on May 11, 2020 by Pro Moviemaker
Advertisement feature
Find your next level with Canon's world-class system of cinema cameras and lenses. No matter what type of films you're making, from big features to TV production, events to documentaries, there's something in the Canon range that will fulfil your needs. Here, we look at some of the standout cinema bodies and lenses, as well as reveal how you could win your very own Canon EOS C200, worth more than £6000.
Compact without compromise: EOS C200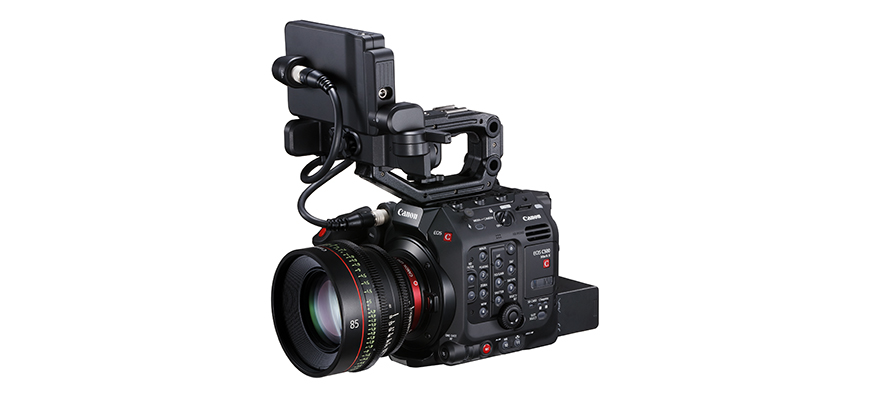 The Canon EOS C200 packs pro-level features into a small, light and mobile body. As it's compatible with the full range of Canon EF and EF cinema lenses, it opens up all sorts of creative possibilities for your production.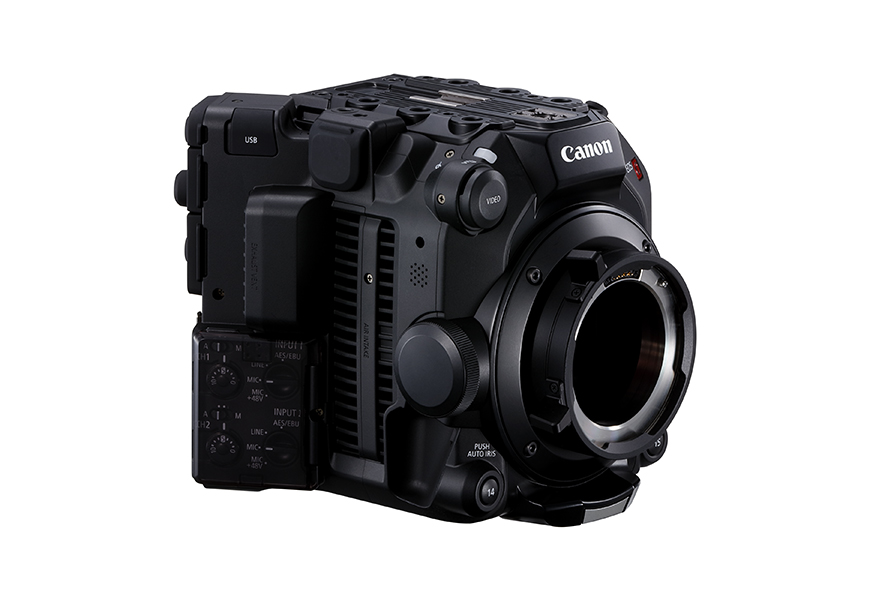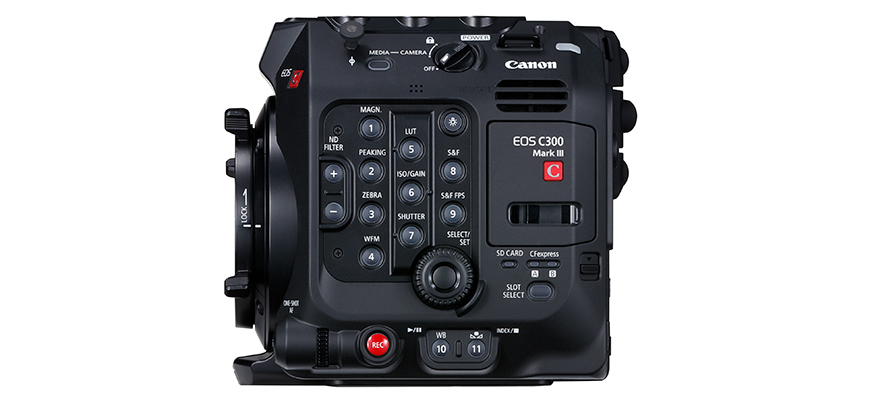 Harnessing its dual DIGIC DV6 processors, recording options are impressive with internal 4K recording at 10-bit 50p and 12-bit 25p using the Cinema Raw Light codec, which offers the flexibility of Cinema Raw, but at smaller file sizes. You can also shoot Full HD 120p without crop for dramatic slow motion and, combined with its wide built-in NDs, 100 to 102,400 ISO range and Dual Pixel CMOS AF, this camera is ready for whatever you're shooting.
Highly versatile: EOS C300 Mark III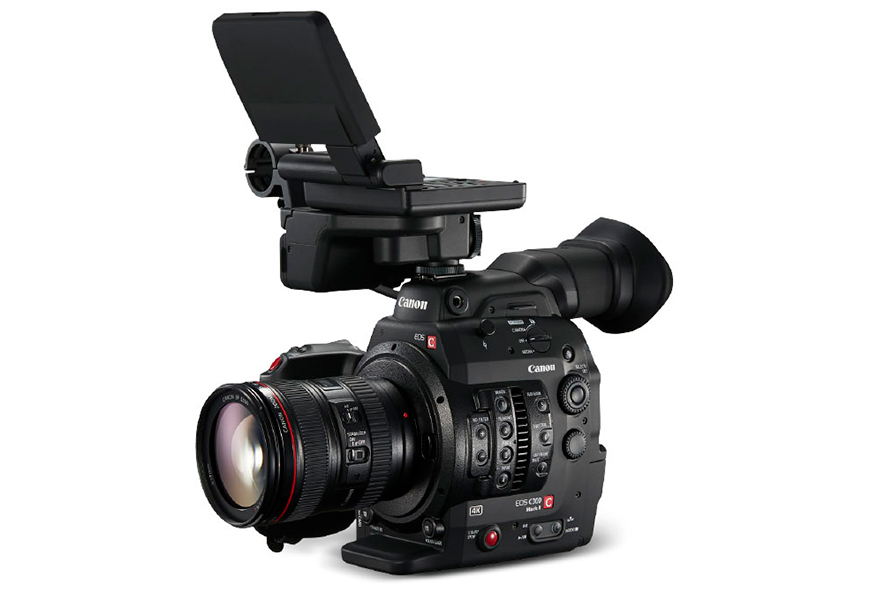 With the EOS C300 Mark II, Canon took the best parts of its hugely successful C300 cinema camera and introduced new features that filmmakers were crying out for, like a more rugged build and greater shooting flexibility. The next-generation EOS C300 Mark III builds on this and incorporates Canon's newly developed 4K Super 35 Dual Gain Output (DGO) sensor, with 4K 120p slow motion, High Dynamic Range and Dual Pixel CMOS AF.
With a new sensor that enhances HDR output exceeding 16 stops of dynamic range, a configurable design similar to the EOS C500 Mark II and the ability to record up to 120fps in 4K Cinema Raw Light or XF-AVC, this camera is well suited to various productions, from documentaries and commercials to corporate videos and dramas.
Quality and versatility: EOS C500 Mark II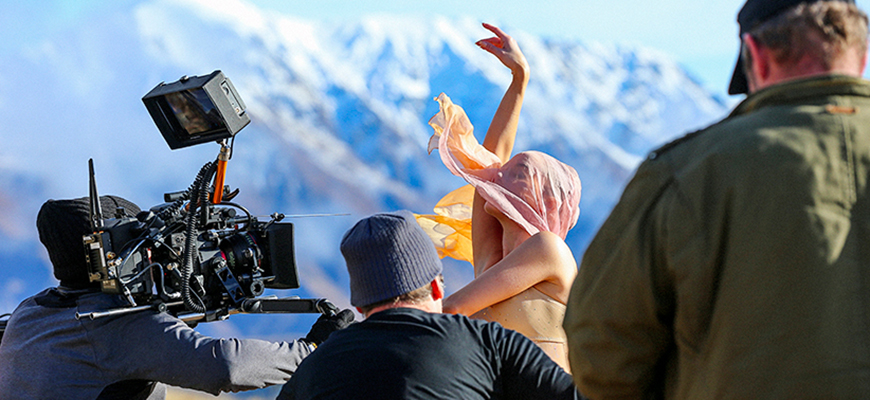 With a new sensor that enhances HDR output exceeding 16 stops of dynamic range, a configurable design similar to the EOS C500 Mark II and the ability to record up to 120fps in 4K Cinema Raw Light or XF-AVC, this camera is well suited to various productions, from documentaries and commercials to corporate videos and dramas.
The EOS C500 Mark II is a compact and versatile 5.9K full-frame camera. Its impressive sensor, developed and built by Canon, is powered by the DIGIC DV 7 processor, which supports internal processing of 5.9K Cinema Raw Light and 4K 4:2:2 10-bit XF-AVC recording. This makes it an excellent choice for filmmakers looking to create top-quality 4K footage.
This camera enables professionals to creatively explore full-frame capture, with features including five-axis Electronic Image Stabilization and Dual Pixel CMOS AF offering great versatility. Additional flexibility is offered by the availability of two viewfinders and two different expansion units. The EU-V1 expansion unit offers a Genlock/Sync BNC interface, Remote B interface for the optional RC-V100 Remote Controller and an Ethernet interface, while the EU-V2 unit additionally provides two further XLR inputs, a 12-pin lens interface and a V-Lock battery mount with D-Tap and 24V power output.
Primed for production: EOS C700 Full Frame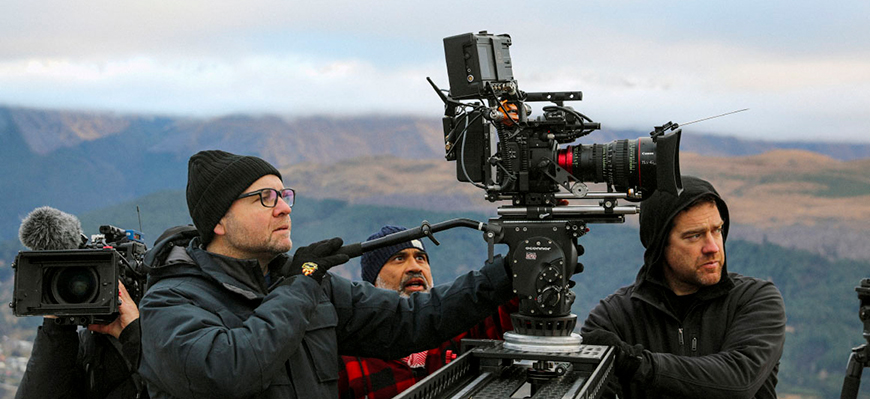 Built to withstand the rigours of broadcast and film production, and deliver the ultimate quality demanded by the industry's best cinematographers, the C700 FF is Canon's flagship cinema camera. At its heart is a 5.9K full-frame sensor that can also be used in Super 35 and Super 16 modes, which provides an incredible 15 stops of dynamic range for exceptional tonality.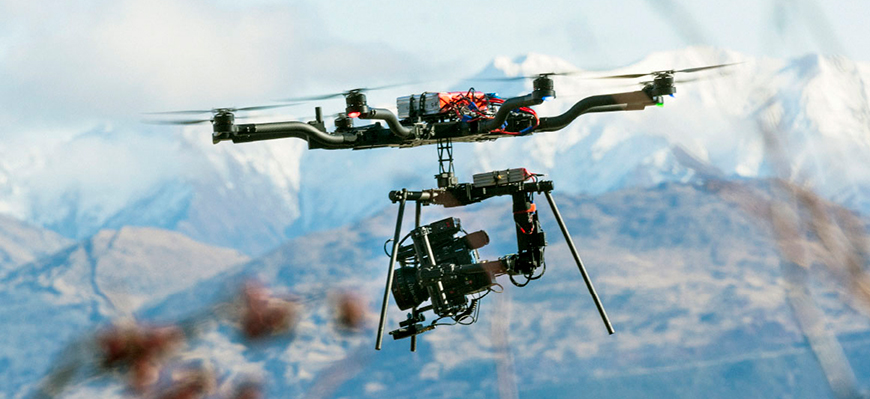 Footage can be recorded in industry-leading formats including Canon Cinema Raw, ProRes and XF-AVC, as well as three different Canon Log types for maximum grading flexibility. The C700's Dual Pixel CMOS AF system allows unrivalled AF speed and accuracy, and it's available in PL and EF mounts, allowing a massive range of Canon zoom and prime cine lenses to be used.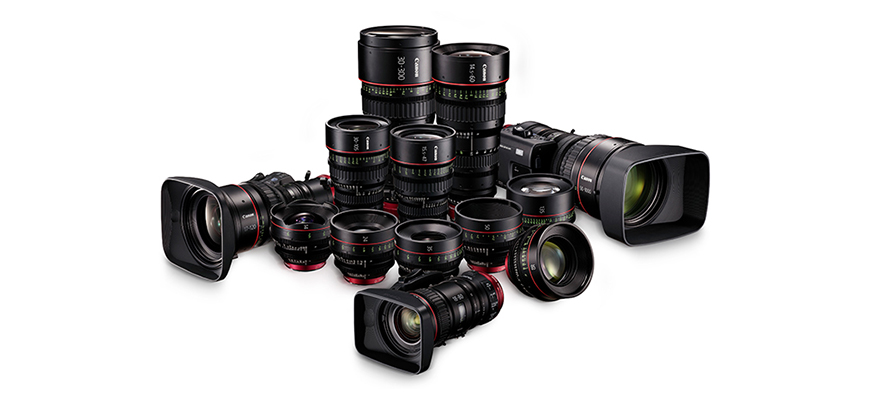 Lens choices
Whether you're using a Canon EF or PL mount, Canon boasts a complete range of cinema lenses. So no matter what kind of filmmaker you are, there's something to improve the way you shoot.
Find your vision: the stunning Sumire Prime series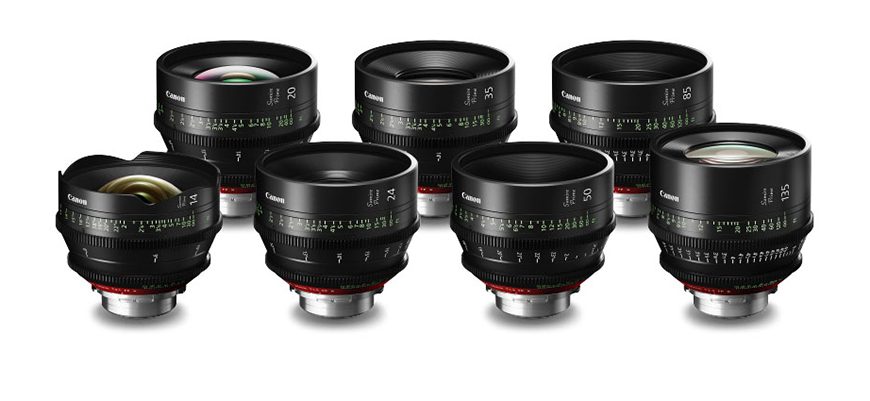 Building on Canon's vast experience in EF mount cinema lenses, the Sumire Prime range takes cinematic image quality and handling to a higher plane. Coming in a PL mount (though convertible to EF at any authorised service facility), the lenses' large image circle makes them compatible with 35mm and Super 35 formats, including the Canon EOS C700 FF, Arri Alexa 65 and Red Monstro 8K.
The range, which spans seven models across vital focal lengths, from 14mm to 135mm, boasts super-wide maximum apertures as fast as T1.3, combined with an 11-blade iris for perfectly smooth and round bokeh and stunning subject separation. It also inherits the subtle warm colour tone from the Canon Cinema lens range, making it easy to change lenses without affecting colour balance. Manual focusing is super accurate and responsive thanks to a 300° rotation angle and significantly reduced focus breathing. And for vital consistency in handling, all the lenses use 105mm screw-on filters, have a 114mm diameter lens front and consistently positioned gears.
Compact Cine Servo lenses: the CN-E18-80mm and CN-E70-200mm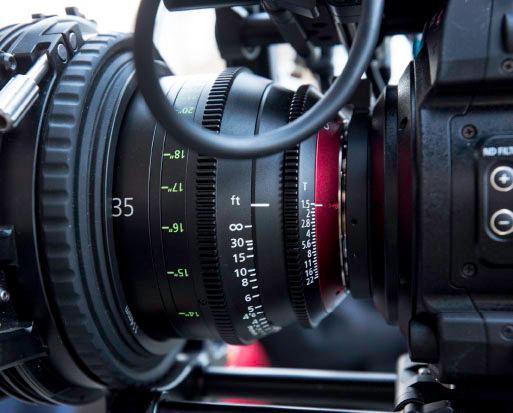 Discover the perfect mix of quality and versatility with one of Canon's purpose-built Compact Cine Servo lenses. These large format lenses bring super-smooth zoom control and whisper-quiet autofocus to cinematographers, but at an affordable price point. Combined, the pair offer a groundbreaking 11x zoom range in a streamlined kit, with a constant brightness of T4.4 and a rounded aperture for outstanding bokeh – all weighing just over 1.2kg. Focus breathing is greatly reduced and the three image stabilisation modes on the CN-E18-80mm provide crisp, clear footage, no matter the situation.
The hybrid: CN10X25 IAS S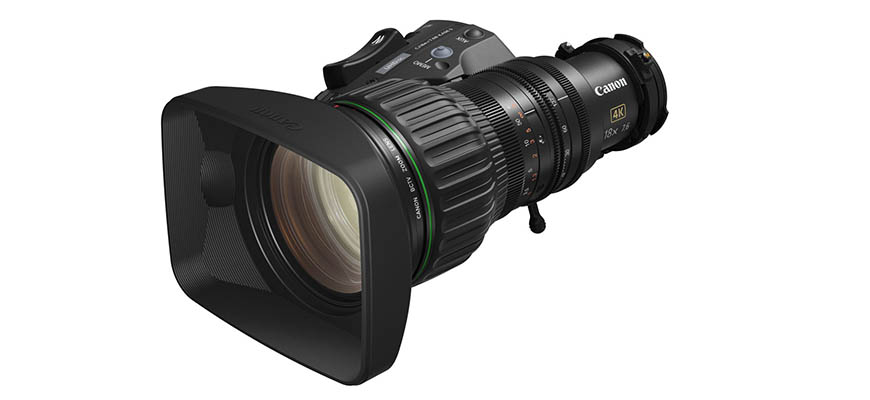 Canon also recently revealed the CN10X25 IAS S – a versatile, 8K-capable, 25mm-250mm, 10x power zoom Cine Servo lens, with broad focal length range and capabilities to extend up to 375mm using its built-in 1.5x optical extender.
Thanks to its wide focal length range, ability to be configured for both broadcast and cinema productions, and compatibility with Super 35 and full-frame cameras, it's ideal for professionals looking to film high-quality productions across a wide range of genres such as drama, commercials, sport and documentary. For these reasons, the lens makes a great pairing with the likes of the new EOS C300 Mark III.
Competition time!
Want to win your very own Canon C200? All you have to do is click here and fill in your details to be entered into a prize drawn. The closing date is 9 June. Terms and conditions apply.