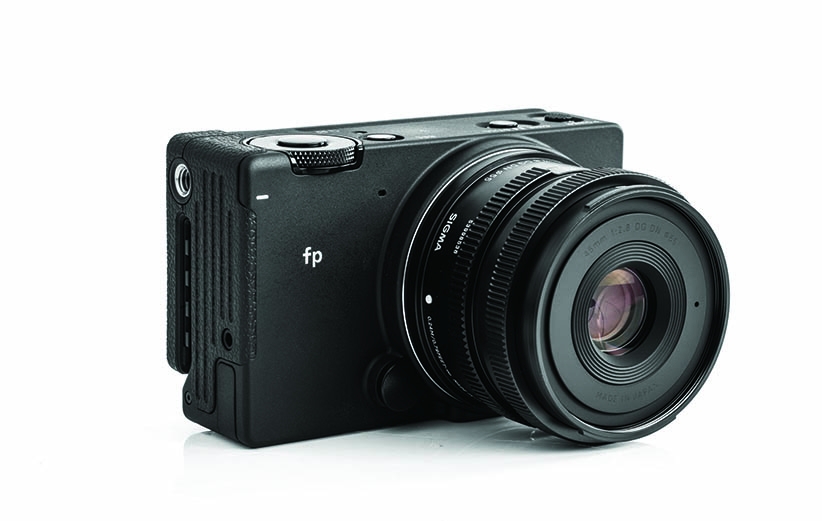 The surprise offspring
The world's smallest full-frame mirrorless camera that shoots Raw video internally is the shockingly capable product of the L-Mount alliance
When Panasonic got together with Leica and Sigma to announce the alliance to share the full-frame L-Mount, most presumed Leica and Panasonic would continue their relationship and make high-end cameras while Sigma would produce independent L-Mount lenses to fit. That way, it would give buyers of the new Panasonic S series or Leica's SL mirrorless cameras instant access to a whole range of top-quality primes and zooms at more affordable prices than the existing Leica glass.
But Sigma also makes cameras, although its range of unusual SD Quattro and DP Quattro mirrorless compacts have a very different type of sensor called a Foveon and haven't had any real impact on the filmmaking market. It means the Japanese company has the know-how and production capabilities to build modern cameras, and a love of doing things a little bit differently.
All this converged to produce the new Sigma FP, the world's smallest full-frame mirrorless camera and the only one to shoot CinemaDNG Raw files internally. And to an SD card, no less, rather than pricey CFast, CFexpress or XQD media.
It's certainly a quirky camera, one that's designed for switching between stills and cine use – a choice hammered home by the large and obvious button on the top plate marked 'Cine' and 'Still'. Choose whichever you are shooting, and the menus and configuration change totally, making it easy to switch between the two.
While many mirrorless cameras definitely feel like a stills camera with added video functionality, the Sigma actually feels like it's the other way around. Instead of the body being tailored towards stills shooters (with the more conventional PASM mode dial and flash hotshoe), it prioritises video Raw, a screen with cooling vents to stop the sensor overheating during extended video shooting and buttons under the rear screen that allow you to set colour modes and tones. That's not to say it's not a good stills camera, but it's an even better filmmaking camera.
Even the strap eyelets aren't the normal lugs for a camera strap. Instead, they are standard ¼-20 threaded holes into which you screw the included strap lugs, if you want them. Or use them to bolt on standard video accessories like rigs and cages. If you do want to use flash, the included Sigma HU-11 hotshoe adapter screws into the left side of the camera and has a clamp to firmly fasten a mini HDMI lead. This clamp can be a bit small for certain leads, so you may end up buying a more slender version if you want to link it up to an external monitor.
To use the hotshoe adapter, you need to take off a rubber cover from the side of the body. This is totally removed to allow the electronic connections to be made and, unfortunately, it's easy to lose. The other connectors for the USB-C socket and mic input are hinged, so there is no chance of losing them. They are a fiddly fit, though.
The rest of the camera is small and minimalist, with few external controls. But this can work well for filming as, for example, you can set the shutter speed to 180° shutter angle so it always sets a speed of twice the frame rate, using the age-old formula that has stood the test of time. Then all you need to do is set the ISO and aperture. We used the compact Sigma 45mm f/2.8 DG DN lens, which has an aperture ring, so it all felt old school and natural. This is a mid-range lens from Sigma's Contemporary range rather than the flagship Art range of DSLR lenses or even cine primes, but its small size made the camera truly pocketable.
The back of the camera has a button labelled QS for the Quick Select menu, which is a great way to set all the most-used settings. Hit QS, move the thumb pad wheel to change between settings, then spin it to alter those settings. In Cine mode, you can change the video format, frame rate, time code, shutter angle, aperture, ISO, colour and white-balance. If you want more options, the AEL button takes you deeper into the right menu. It's simple and easy to get to grips with. You can also customise the QS menu with whichever settings you want.
If you dig into the main menu system, it's relatively easy to navigate. Better than some manufacturers, not as good as others as lots of functions are buried inside sub-menus. Once you get used to it, it's intuitive and pretty simple.
On the subject of controls, the top plate has the standard red Rec button, but in Cine mode, the larger shutter release button does the same job. The body itself feels rugged and solidly made, and is weather resistant. It's also compact – when you remove the L-Mount lens, it's almost a shock to see the full-frame sensor. Only then do you realise how much tech Sigma has packed into a tiny body. It's ideal for use on gimbals and drones, or anywhere that a larger camera won't fit.
The metal body acts as a heat sink for the heat generated by such a big sensor recording Raw files. And the cooling vents around the 3.12-inch rear touchscreen also help cooling. At no point did the camera overheat at all. But the screen is totally fixed, which is not great for a video camera. Shoot from a slightly lower or higher angle and it's impossible to see, especially outside in daylight. In that case, you need an external monitor. We tried it with an Atmos Ninja V and it transformed the handling, although obviously increased the size significantly. The Sigma has helpful guides such as waveforms, zebras and focus peaking – as do many external monitors. It's just hard to see them on the Sigma unless it's at eye level. And there is no viewfinder, although Sigma offers one as an optional extra.
The camera has built-in image stabilisation and contrast-detect autofocus. This is decent for most static or slow-moving subjects and is precise. It does have face and eye detection, which you can set it to track moving subjects and alter the focusing area. However, it doesn't have the same high-speed tracking capabilities and seemingly endless customisation options of hybrid phase-detect systems such as on Sony or Olympus mirrorless cameras.
What it does offer is a Director's Viewfinder option. This allows you to fix the lens of your choice and set the camera to give the view as you would record on other cameras from Arri, Sony and Red in a variety of different settings. This is a nice option for DOPs on big movie shoots, but in reality is not of huge use to independent filmmakers. The camera will also soon offer the hybrid still/movie cinemagraphs, but this will come via a firmware update.
Aside from the spec and handling, the real beauty of this camera is the images it produces. We tested a version of the camera without its final firmware, but the quality shone through anyway. Especially if you go for the ultimate quality and shoot CinemaDNG Raw in any of the bit depth options available.
However, not all options are available in all settings, and many depend on whether you are shooting to the internal SD card, an SSD drive via the USB-C port or externally via HDMI to one of the two monitors that currently work with the Sigma FP: the Atomos Ninja Inferno or Blackmagic Video Assist 4K.
The camera shoots in MOV All-I in 4:2:0 8-bit up to 440 Mbps, or GOP in the lower-spec 4:2:0 8-bit at up to 120Mbps. Then there's CinemaDNG Raw at up to 2500Mbps. Depending on which of these settings you go for, it unlocks various different frame rates and resolutions.

Above: The metal body of the Sigma fp acts as a heat sink and there are cooling vents around the 3.12-inch rear touchscreen
For example, if shooting Raw to an internal SD card, you can only record in 8-bit at up to 2000Mbps, but if you record it to an SSD, then you can choose 8-, 10- or 12-bit. If you want the ultimate in quality and 12.5+ stops of dynamic range, 12-bit Raw is incredible, as it offers you the chance to maximise dynamic range, pull detail from shadows and highlights and change white-balance to perfection. Add your own level of sharpening, grade it to your heart's content and even use stills grabbed from the Raw video for amazing-quality photos. With no anti-aliasing filter, you might encounter moiré, so you'll need to apply some measures to control that, too. The FP also produces quite contrasty Raw files, so you need to work out your colours. But for quality, there is nothing better. However, it does come at a cost in several ways. For example, if you record in 12-bit CinemaDNG, the only frame rate supported is 23.97 fps. So that's a pain if you want to film in the more normal 25 fps. For that, you need to drop to 10-bit.
Another cost of Raw is in complexity, as you have to process the Raw files in a programme like DaVinci Resolve. Fine if you edit in Resolve, but if you use other NLEs like Final Cut Pro X, then it adds time and a learning curve to get the best out of each file. But the big one is the file sizes and space you need to record them, store them and computing power to edit them.
CinemaDNG has never been a hugely popular Raw format as it gives very big files. That's the price you pay for ultimate quality – however, more efficient Raw files like Canon Raw Light, Blackmagic Raw or ProRes Raw offer most of the advantages of full Raw files in smaller and more manageable sizes. 
When shooting Raw to the SD card, you can't review the footage on the camera as it can't read CinemaDNG, although Sigma says a forthcoming firmware update will make it possible. There is also no headphone socket, so you can't hear the sound you are recording.
If you don't use Raw, but go for the highest quality MOV All-I, it can record in up to 440Mbps, but once you have seen the incredible quality and flexibility you get from Raw files, it's difficult to accept anything less. The dynamic range is reduced in MOV, too. But the rolling shutter is well controlled, and certainly comparable to any full-frame rivals. The colours are still bright, but neutral. There is lots of detail – especially in 4K, of course – and noise is incredibly well controlled.
If you want to record internally, or even externally to a USB-C drive, then the lowest spec 8-bit Raw gives you all the benefits of Raw files, but with more manageable sizes. However, MOV gives you image stabilisation while Raw doesn't.
The amazingly low noise at high ISO is partly due to the large sensor, but also to Sigma's processing of the signal. Like the Panasonic S1, it can pretty much see in the dark, making it an incredible night-time camera.
The Sigma FP has different colour options, chosen via the button on the rear. This includes the fashionable teal and orange colour grade, as well as vivid and natural. But there is no Log, although the Flat profile gives an increase in dynamic range.
However, one of the bugbears is battery life. The camera has a 1200mAh battery, but doesn't come with a charger, so you have to charge the camera via USB-C. The relatively small battery is down to the compact size of the camera, but it runs down soon and you'd need a bagful for a full day's shooting. We never managed more than an hour on a charge. And, to charge the batteries, you need to put them in the camera, so it's not ideal. A separate £99/$99 charger is available and a worthwhile buy, as are spare batteries.
Of course, the flexibility of USB-C means you can use a portable power bank to charge up the camera. These are now affordable and relatively easy to come by, although you can't charge the camera up while using it. For that, it has to be switched off. That means when the camera is on, the USB-C socket can be used for an SSD hard drive to record to. Sigma does offers AC adapters for use when you have mains power and want to shoot for extended times.
In fact, there are already a range of accessories, like the £290/$292 LVF-11 LCD viewfinder, different handgrips for more comfortable shooting and a base grip. Sigma's FP may be new, but it definitely seems like the start of a whole new super-compact system that will only grow and get better with time.
Specifications:
Price: £1999/$1899
Sensor: 24.6 megapixels, full-frame, BSI Bayer CMOS, 3:2
Image stabiliser: Electronic

 

ISO range: 100-25,600. Expandable 6-102,400
Dynamic range: 12.5+ stops
Lens mount: L-Mount
LCD: 3.15in, 2.1 million dots touchscreen

 

Viewfinder: None
Auto focus: Contrast detect,
49 points
Recording format: CinemaDNG 8/10/12-bit, MOV H.264 All-I/ GOP. 4K 3840×2160 29.97p/ 25p/23.98p, FHD 1920×1080 119.98p/100p/59.94p/29.97p/ 25p/23.98p. 4K 8-bit under 25fps, FHD 12-bit under 60fps to SD card. 4K 12-bit 24fps, FHD 12-bit under 60fps, 8-bit under 120fps to portable SSD
4K 3840×2160 29.97p/25p/ 23.98p, FHD 1920×1080 119.98p/100p/59.94p/
29.97p/25p/23.98p 4:2:2 8-bit via HDMI
Connectivity: USB-C, Type D HDMI, 3.5mm stereo mic input
Storage: SD/ SDHC/ SDXC UHS-II slot
Battery: 1200mAh BP-51 Li-ion
Dimensions (WxHxD): 112.6×69.9×45.3mm/ 4.43×2.75×1.78in
Weight: 422g/0.93lb with battery and card
The Verdict:
The two huge advantages with the new Sigma FP are worth coming back to again and again: it's the smallest full-frame mirrorless camera you can buy, and it shoots Raw internally to SD cards. For some people, those factors along with the relatively affordable £1999/$1899 price tag will have them reaching for the credit card immediately.
If you are an L-mount user invested in the Panasonic or Leica systems, having a super-compact camera that takes your lenses, can be squeezed into small places and records Raw for the ultimate quality make it a no-brainer. Especially with its clean Raw files and low-noise performance.
As a stand-alone camera, it still makes sense. The Raw recording and small size are still big deals for any filmmaker, and you can use Canon or PL mount lenses on it via one of Sigma's adapters. And no doubt more adapters will follow.
It has lots of specs specifically aimed at filmmaking, such as waveforms and easy access to picture profiles. But equally, there are some things it lacks, like a tilting or folding screen, audio monitoring via headphones and phase-detect autofocus. To add features like these, the camera would have been bigger and might have used up computing power that is used for Raw video.
But as a super-compact, full-frame mirrorless camera that shoots Raw video internally, it's clearly out there on its own and offers great value for money. 
How it rates:
Features:
8

Shoots Raw to an SD memory card, but lacks some useful features

Performance:
8
The Raw files are just flawless but the MOV files are decent, too
Handling:
8
The screen doesn't tilt and there's no headphone socket
Value for money:
9
The specs are just incredible – Raw video from a small camera
Overall rating:
8/10
It's compact, shoots Raw, but the screen and AF are not ideal

 
Pros: 12-bit Raw shooting, compact and rugged body
Cons: Poor battery life, no audio monitoring, fixed screen

Click here to visit the Sigma website.