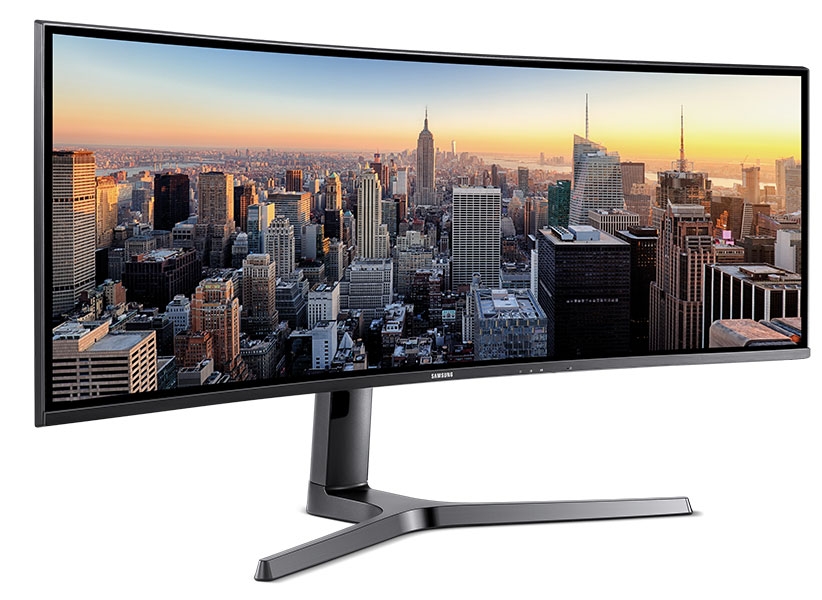 Samsung C43J890 43" Curved Monitor
Samsung's new curved monitors are scientifically proven to be better for you but it's the cool factor that will get you first. Apart from the looks, there is some science behind the new curved screens. Research by Seoul National University Hospital found that Samsung's curved monitors were more effective in reducing eyestrain than its flat monitors. Interestingly the greater the curvature of the monitor's screen, the more effective it proved in reducing eyestrain.
Samsung's C43J890 is a 43-inch LCD monitor with LED backlight with an aspect ratio of 32:10 and a resolution of 3840×1200. The LCD screen is a VA type as opposed to IPS. VA screens are optimised for looking at head-on, where IPS screens can still be seen at high angles of view. VA screens also have better contrast and black uniformity.
An aspect ratio like this with a resolution like this doesn't ring any format bells (4K is 4160×2160 at 16:9 generally) so with so much real estate, it's all about what you do with the space. The C43J890 provides features like its Picture by Picture (PBP) and Picture in Picture (PIP). And you can choose between your device's native aspect ratio or use the whole 3840×1200. Multiple inputs encourage you to have your viewing window and timeline on the same screen at the same size as you're used to when editing, for example.
Inputs are dominated by USB Type-C with three ports just for Type-C connections – one just for PC connection. These give you data and power and also with the right adapters access to DP and HDMI devices. Other USB ports can talk to USB A-C devices. Others include HDMI, DP and audio.
There are four buttons on the front panel which will shortcut your way around and also present a menu with the options. Three buttons together are shortcuts to finding a signal source, initiating PIP and PBP and switching which USB connectors you want. The solitary button is more of a jog wheel where you can access setting, PIP/PBP, source and the off button. 
The picture menu is your standard deep dive in to brightness, contrast, sharpness and colour changes with what Samsung call Magic Bright. There's also an Eye Saver Mode which will lessen blue light levels. Flat screens will soon look so uncool once we all migrate to something curvier like this great Samsung screen. The curvature of the new monitors means users are less likely to suffer eyestrain.
"Curved monitors are scientifically proven to be better for you, but it's the looks that will get you first"
Specifications:
Screen: 110.2cm/43.4in curved, 1052x328mm active display
Aspect ratio: 32:10
Brightness: 250cd/m2
Refresh rate: 120Hz
Connections: 2x EA USB-C, 3x USB, 2x HDMI, display port, headphone socket
Dimension (WxHxD): 1063x525x314mm/
41.85×20.67×12.36in
Weight: 13g/28.66lb
PRO MOVIEMAKER RATING: 8/10
It's not HDR but offers lots of real estate for a decent price
+ Pros: Curved screens are better for you, large size
– Cons: No support for HDR, needs a lot of room
PRICE: £980/$899