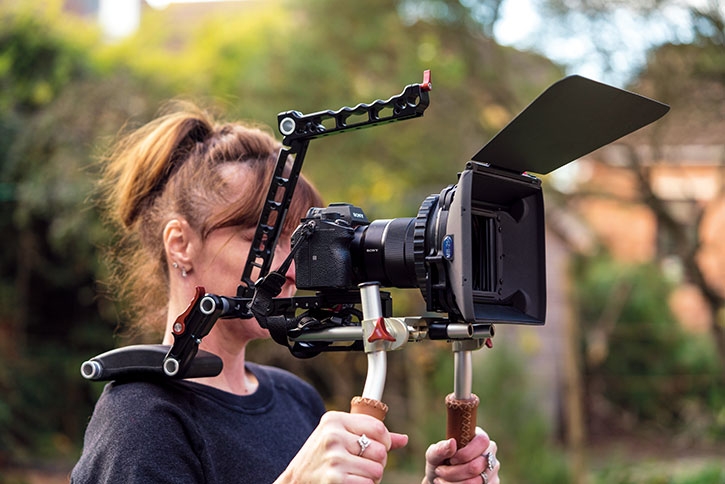 Vocas Flexible Camera Rig FCR-15 Pro kit
When kit is labelled 'universal' or 'one size fits all', often it should come with a warning that it'll be  a compromise, won't actually fit properly or do a good job. That's definitely not the case with the Vocas Flexible Camera Rig Pro Kit. Designed to fit cameras from DSLRs and mirrorless right up to cinema cameras, the new Vocas FCR-15 Pro kit is intelligently designed and easy to adjust.
You can change the position of the shoulder pad using a parallelogram-style system of joints, there's an Arca-compatible sliding camera plate, moveable and optional counterbalance weight and lots of options for mounting the top handle, viewfinder or mounting any accessories. You can customise the rig for most cameras, and how you want to use or hold them.
The Pro kit consists of Vocas' standard Flexible Camera Rig FCR-15, a top handle, rear rails bracket, a 1kg/2.2lb counterweight for 15mm rails and the leather handgrip kit. It can be stripped down for smaller cameras, or fully rigged up with the counterweight on the back for shooting in an offset position. The clamps hold everything in place solidly without any slippage. And there's even a nice Allen key included that has its own slot and is held in place by a couple of magnets. So you're never left hunting around for an Allen key.

The kit comes with a follow focus and a counterweight.
Many of the connectors have beautifully-machined quick-lock levers, such as the ones that help you adjust the shoulder pad which is attached to the rig via an extender to a vertical 19mm tube. Just opening the quick lock lets you set the shoulder pad in lots of different positions. It can be used directly underneath the rig for a comfortable shoulder set-up, or as a chest support. It can also be set around 100mm further back for larger cameras with viewfinders, and its angle can be altered too.
If you're using an external monitor or EVF, the shoulder pad can be set in an offset position, too.  And these quick lock levers enable you to expand and collapse the rig really quickly. There's an optional 15mm clamping block that can be mounted to the back of rig, so you can mount any standard 15mm rail accessory such as a battery, recorder, monitor or counterweight.
The Vocas rig might not be at the bargain end of the market but will last for years, and is adjustable for filmmakers who not only swop between different cameras now but will still be good for future camera purchases.
Specifications:
Components as tested:
Vocas Flexible Camera Rig
FCR-15 Pro kit
Material: Aluminium, cork, rubber, stainless steel
Camera mounting points:
2, ¼" and ⅜"
Bar system: 15mm
Weight: 2.92kg/6.43lb
PRO MOVIEMAKER RATING: 8/10
Truly great kit that fits many different types of cameras
+ Pros: Quality build, ease of adjustability for different cameras
– Cons: Not the cheapest, weight can be an issue
PRICE: £1694/$2180