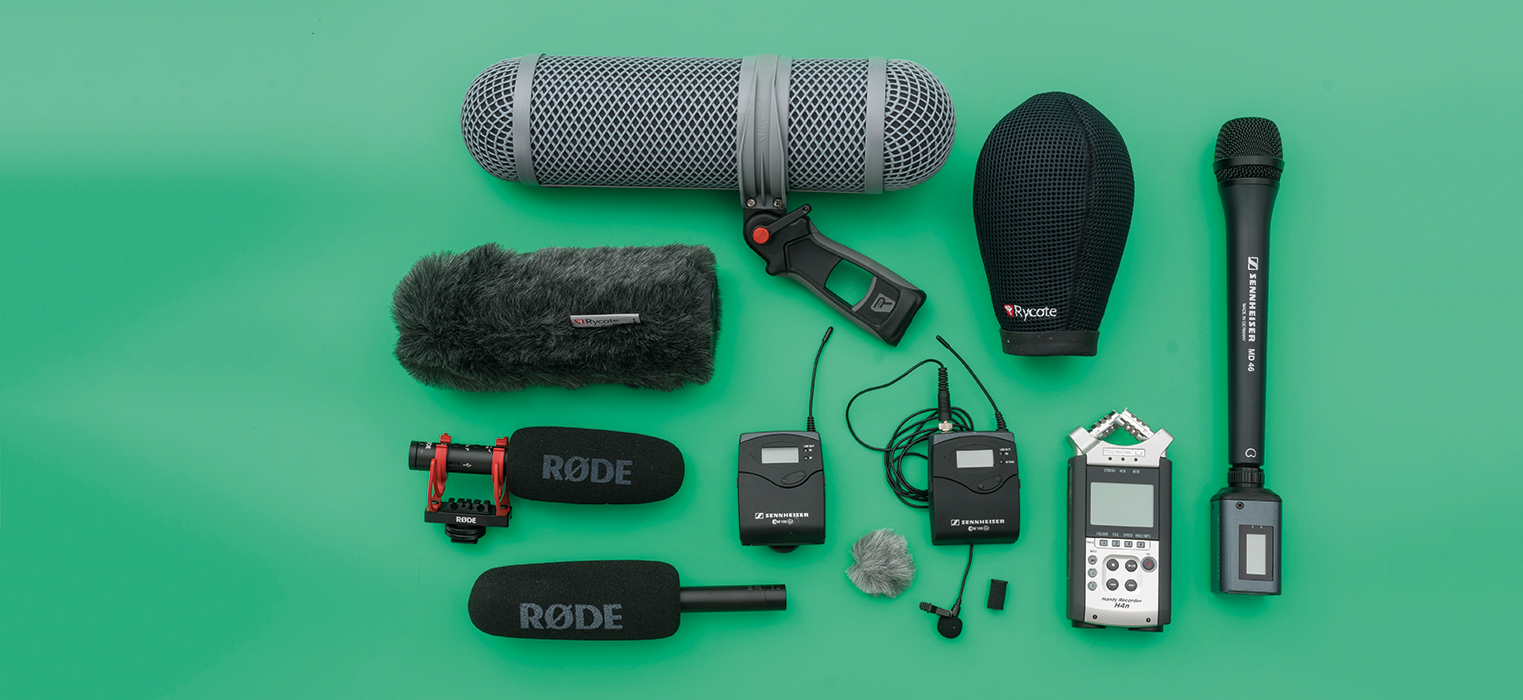 Audio special: Gear up for super sound
Posted on Jul 28, 2020 by Adam Duckworth
Just a single mic won't cut it in the world of professional filmmaking
Everyone knows audio is key in making professional-quality films, and many beginning filmmakers splash out on an external mic once they realise the audio from their DSLR or mirrorless camera has a tinny built-in mic that's pretty much useless. And these cameras often have rudimentary amps inside that make the audio even worse.
For many, that first purchase is a camera-top DSLR mic that plugs into the camera, which is a huge improvement, especially as it records high-quality audio alongside the video footage to make editing easy. As the output from an external plug-in mic is more powerful and adjustable, you can turn down the audio level on the camera to reduce the in-camera gain. A win all round.
But a DSLR-type mic isn't all that you need. An external recorder, wireless lavalier mics, a reporter mic, an advanced XLR shotgun mic and some way of cutting down wind noise is crucial on the journey to flawless sound. We take a look at some of the things worth investing in and how to use them.
Get the right mic
External mics are mostly shotgun type, where there is a long tube that the noise travels down, which is pointed towards the subject. This makes them more directional and cuts down the noise from around the camera.
Your kit should at least include a shotgun mic, which typically has an elongated polar pick-up pattern, called supercardioid, hypercardioid or lobar, depending on how narrow its shape is. This means it needs to be aimed accurately, but shotgun mics are often the best option, as they're highly versatile and able to be mounted on the camera, handheld by you or the subject, or mounted on a boom.
A camera-top mic, usually designated a DSLR mic, has a standard input jack and many manufacturers make them, including Rode, Sennheiser, Shure, Saramonic and Deity.
Basic units, like the Rode VideoMic Go, sit on the hotshoe and plugs into the mic socket – and that's it. There is nothing to adjust, and it doesn't even take batteries.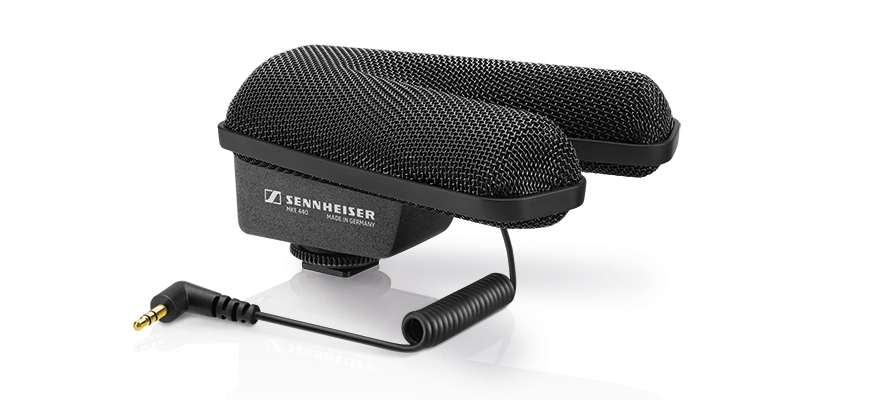 It's far better to invest in something of higher quality with battery power, adjustable gain, a shock mounting and a foam rubber windshield to cut down on wind noise. Some, like the Shure VP83 series, even have a built-in recorder. And the new Rode VideoMic NTG even has USB-C connections so can be used as a mic plugged directly into your computer. And Tascam offers a hotshoe-fitted recorder with its own shotgun mic.
It's better to invest in something of higher quality with battery power and a foam rubber windshield
There are also different types of hotshoe mics out there, such as stereo units that are great for recording large concert performances, for example. These kind of mics are also good for sport and loud gigs as they are made not to peak too highly, to stop the nasty clipping of audio due to excessive volume.
But a step up to a professional-quality XLR mic and you have an industry-standard bit of kit. Again, many manufacturers make these at a range to suit all budgets and sizes. Sennheiser and Rode are the two most popular with filmmakers, and companies like these continue to push the boundaries of what technology can do.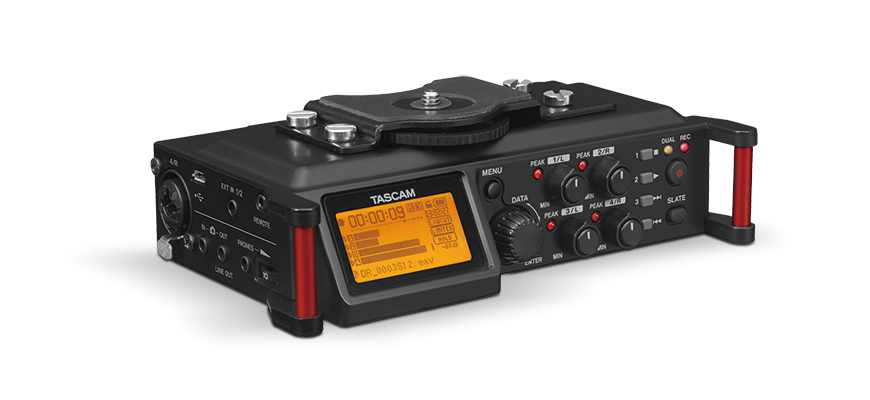 If your camera is a traditional camcorder or cinema camera, it will have XLR inputs and very robust audio controls and amps for incredible sound.
If not, you may wish to record to an external recorder, such as one from Olympus, the Zoom range or Tascam, which offers a variety of options. An alternative is to use a pro-style unit that takes XLR inputs and outputs them directly to your camera, such as the award-winning Tascam DR-701D or one from the Saramonic range. These can include mixer functions so you can mix together the inputs from two wireless mics, for example.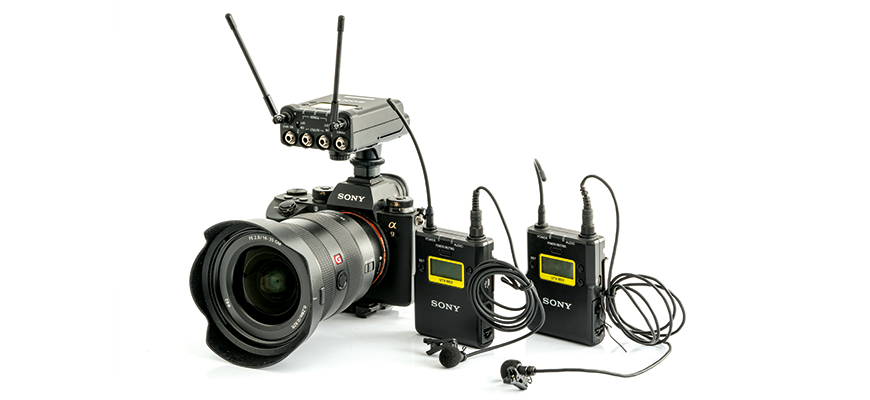 And if you're a Sony shooter, the Sony range also includes UWP-D wireless units that go into the camera's hotshoe and communicate with the camera via the MI contacts – so you don't even need to plug in a separate cable. Sony also offers a duel input receiver, allowing you to connect two external wireless mics to one receiver. The camera then records them to two different audio channels, so you can mix later in the edit. It's a neat solution.
Don't forget the memory mic!
The innovative Sennheiser Memory Mic is a plastic clip-on box that can fit on to a lapel or pocket. It features an omnidirectional condenser capsule mic that's designed to record the subject's voice and sound around them. It's designed to communicate with a smartphone via Bluetooth, but it comes with the ability to internally store up to four hours of audio.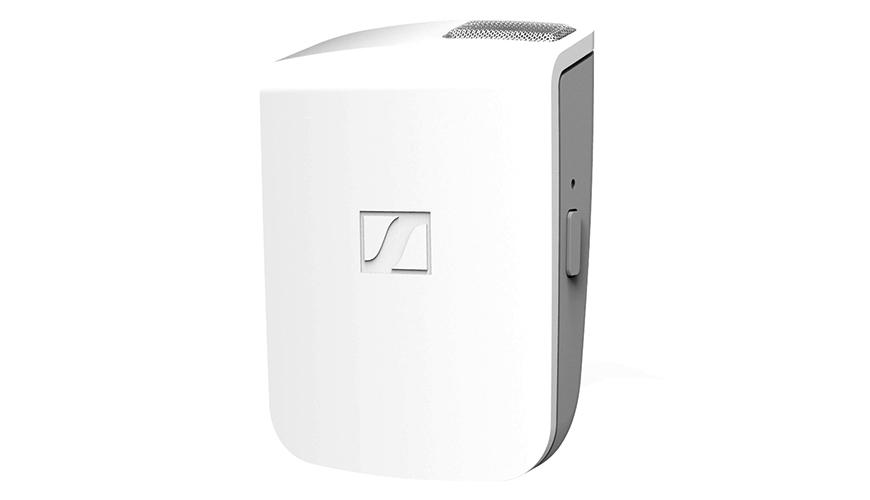 Once you've used the app to start recording video on your smartphone and audio on the memory mic, you don't need to maintain the Bluetooth connection between the mic and the phone. What this means is that your subject could literally be way off in the distance while you're filming them, and yet the mic would still be picking up their voice. When paired again with the smartphone, the memory mic downloads its audio.
The Sennheiser Memory Mic is internally powered and so will need to be charged up. This is done via a USB cable. The device records 48 kHz/16-bit audio and, despite its diminutive size, features up to four hours of battery life.
Get the best from your mic
However much you spend on a mic, it's best to get it as close to the subject as possible. TV and film crews often have a dedicated boom operator with a shotgun mic at the end of a boom arm, held just out of shot. Or for interviews, it's suspended above a subject's head.
Alternatively, you could invest in a lapel mic – also called a lavalier or lav mic – and fasten it to the subject's clothing. Lapel mics can be plugged into the camera if you have a long lead, but are usually linked to a wireless transmitter box, which the subject has in a pocket or on a belt, and talks to a receiver on top of the camera. Many companies, such as Sennheiser, Saramonic, Sony, Rode and Kenro make lav mics. It's a definite must-have.
For recording interviews, it's best to invest in a dedicated reporter's mic, such as those made by Rode and Shure
Lavalier mics can be omnidirectional and cardioid in their pattern. Omni mics don't need to be pointed at the sound source for the clearest pickup, but will pick up other sources, though their range is small so shouldn't do so too much. Directional lav mics need a little more setting up, as you'll want them pointing to the subject's mouth.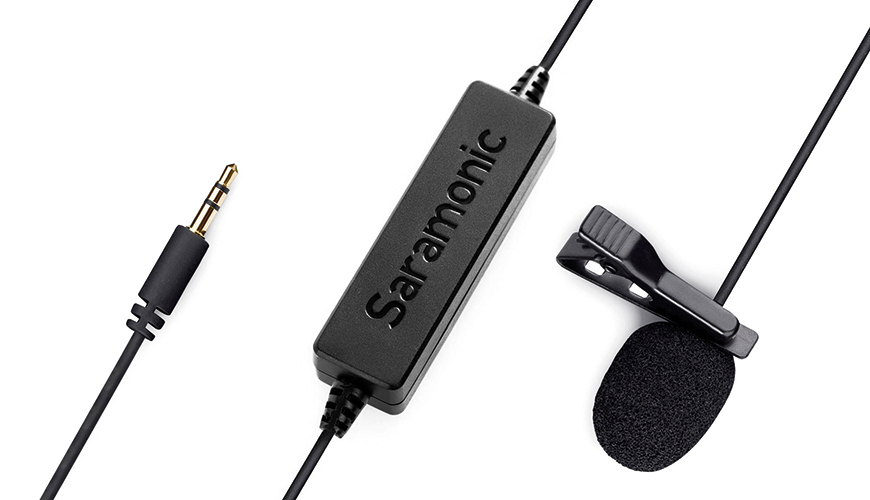 For recording interviews, especially ENG-style on the street, it's best to invest in a dedicated reporter's mic, such as those made by Sennheiser, Rode and Shure. If you have a powered XLR mic and plug in a dedicated XLR wireless unit, it then sends the audio to a wireless receiver on the camera for a clean solution.
Go wireless the Rode way
Rode's Wireless Go is a diminutive wireless mic system that has an integrated mic, or you can plug in an external mic and use it like a conventional wireless system.
The Wireless Go kit consists of a transmitter (TX) and a receiver (RX), and comes with a 3.5mm lead for connecting to your camera or recorder, two USB-C cables for charging the units, two furry windshields and a neoprene slip case. At well under £200, it's good value.
The units are tiny, weighing in at 31g each, so are easily carried in a pocket, or clipped inside a shirt collar. Both units have a broad integrated clip for mounting, which on the receiver doubles as a coldshoe mount.
Operation is very simple, as the units come already paired. If you do need to re-sync them, it's just a case of pressing the sync button on the RX unit for three seconds and tapping the 'on' button on the TX for the same time to tie them up. The only other button is 'gain', which cycles through 0db, -12dB and -24dB output settings. Nothing else is required, and even without an external mic you can be off and running in seconds and tapping the 'on' button on the TX for the same time to tie them up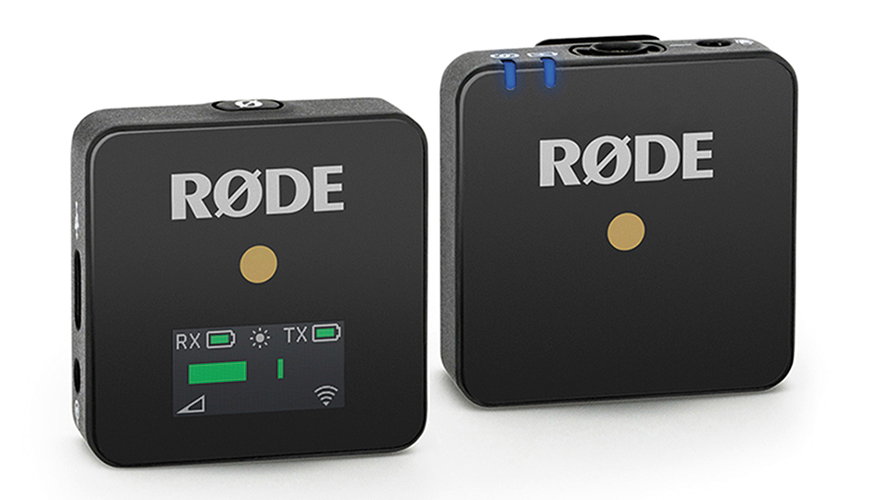 The only other button is 'gain', which cycles through 0db, -12dB and -24dB output settings. Nothing else is required, and even without an external mic you can be off and running in seconds. The small LCD displays levels and peaks, which turn from green to red as you get to peaking, as well as battery life of the two units, and link status. On the TX unit, two blue LEDs show power and connection. Sound quality from the built-in mic is very good – rich and clear with solid low- and high-end tones. As an omnidirectional mic, it's difficult to lose tone, even as you turn your head, and background noise is quite well suppressed.
The fluffy windjammers that come with the Wireless Go are a little fiddly to fit and don't lock on the TX unit, so while they won't fall off by themselves, it only takes a little pressure or an accidental knock to remove them. They do a good job of removing wind noise though and something as simple as a rubber band fixes the issue.
The Wireless Go has a quoted range of up to 70m/230ft with line of sight. But one drawback is that you can only pair one TX unit to one receiver, so it's not possible to have multiple inputs unless you use separate pairs through a mixer. Up to eight pairs can be used in a location.
Cut down the wind
Wind noise is the bane of every filmmakers life so you should at least buy a fluffy windjammer that goes on top of your mic's own foam rubber windshield. Also called a dead cat, blimp, windmuff or windshield, these simple covers cut down on wind noise. Spend a little more and you can get even more effective solutions, such as high-tech fabrics. Or go the whole hog and get a proper TV-style blimp that has your mic held in a suspension unit, with a windjammer on, inside a large blimp shell. These really are designed for use on a boom pole or separate stand. Rycote is the market leader in wind protection, but other companies offer solutions for their own mics.
You should buy a fluffy windjammer that goes on top of your mic's own foam rubber windshield
And it's worth remembering that your lav mic needs wind protection too. When outdoors, always use the foam rubber cover and if it's windy then go for a fluffy windjammer, too. It might not look too good, but anything beats audio ruined
by noise.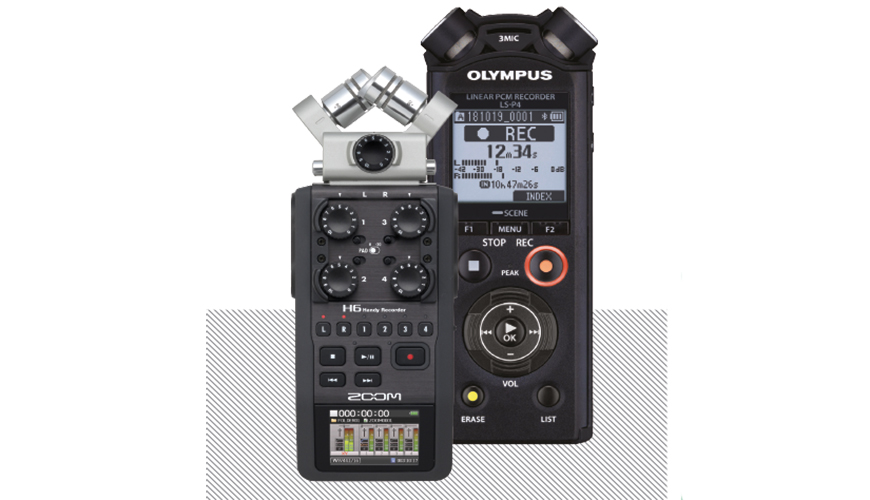 Wire-free on a budget
Wireless radio mic systems can cost hundreds as they offer lots of advanced features, but as a bargain option, the Saramonic SR-WM4C wireless kit works and is incredible value for money.
It comes with a lavalier mic and transmitter unit, which beams its signal wirelessly to the receiver plugged directly into the camera.
It's a four-channel unit with flexible antennas that can beam a signal for up to 60m/65 yards. It also runs on AA batteries and volume is controlled by a simple wheel. It's not the most high-tech system, but works surprisingly well for the price of £95/$90.
This article first featured in the Summer 2020 issue of Pro Moviemaker Magazine.