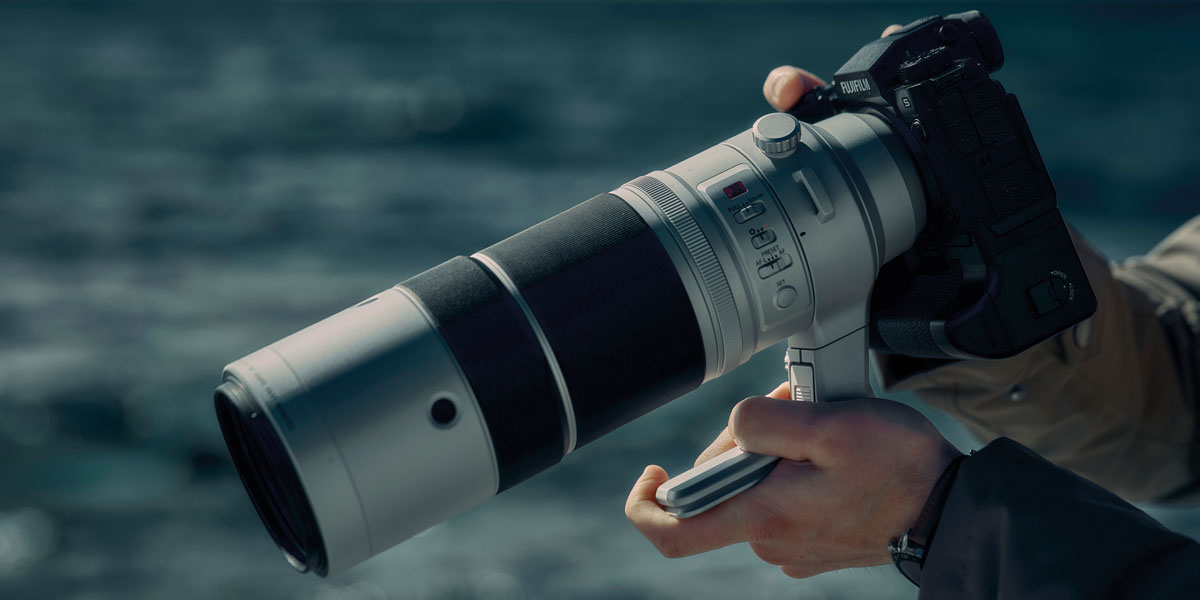 A zoom with a view
Posted on Jul 19, 2023 by Samara Husbands
Have a calling for filming wildlife or sport? Buying a used telephoto lens makes financial sense
Advertisement feature
Sometimes the only thing to do is go large. Certainly, that's the case if you want to film two of the most popular outdoor summer subjects – wildlife and sport. For both, you can't get up close to the action, so you need lenses with a much longer focal length. It's an area where 200 and 300mm can be considered entry level, 400 up to 600mm are what most aspire to, and 800 and 1200mm lenses are for the super serious – as long as heat haze or other atmospheric conditions do not get in the way.
As the focal length increases, so does the size, weight and price, while choice drops significantly. Go hunting for a fast 400mm prime for a Sony E-mount, and you are left with limited choice – Sony's own G Master. 
In an arena where fast autofocus that tracks quick-moving subjects can be a real boost, it makes sense to buy lenses with a native mount rather than using a converter. Some lenses retain AF if you pick the right one, such as high-end Canon EF glass used on RF-mount EOS cameras. 
With the choice of lenses being limited and prices stratospheric, it makes sense to look for a used version. Although many of the latest lenses in the current mirrorless mounts – such as RF and Z – can be hard to find used, it's surprising how many are on the market if you know where to look. With such a high-ticket item, you want to buy from a reputable dealer with a team of expert staff to check out your buy properly. 
With bases in the UK, Germany and US, the leader in used kit is MPB. It has a slick website where you can buy a range of fully tested and guaranteed gear, and sell or part-exchange old equipment. MPB has one of the biggest stocks of used cameras and lenses with a six-month guarantee, and it's usually around 30% cheaper than new. But what should you buy?
Mirrorless zooms: the starting point
Zoom lenses that offer at least 400mm at the long end are available for the latest mirrorless cameras and are plentiful, not too expensive and almost always in stock at MPB. Even the Nikon Z 100-400mm f/4.5-5.6 VR S is available at time of press. 
There are also stocks of Canon's RF 100-500mm f/4.5-7.1L IS USM, Sony's FE 100-400mm f/4.5-5.6 GM OSS and the Sony FE 200-600mm f/5.6-6.3 G OSS – incredible workhorses providing great image quality, a wide focal length range and compatibility with the latest cameras. 
A relative newcomer to own-brand zooms is Fujifilm's XF150-600mm f/5.6-8 R, which covers focal lengths ranging from the equivalent of 229-914mm in the 35mm format when used on the brand's crop-sensor cameras. This supports teleconverters and, if fitted with the XF2X TC WR, its range extends to the equivalent of 1828mm. That's ideal for capturing wildlife or tracking athletes in a vast stadium. Fujifilm also has the XF100-400mm f/4.5-5.6 R lens in good supply.
Zoom lenses are also where third-party brands come in, offering amazing optics you can't buy anywhere else – and often cheaper. Take Sigma, for example, with its 10x superzoom, the 60-600mm f/4.5-6.3. It's part of the firm's Sports line of lenses and has magnesium components to keep the weight low. On the L-Mount version, the Sigma USB dock can be used to set stabilisation operation or focus limiter range. Sigma also offers the 150-600mm f/5-6.3 Sports lens and a 100-400mm f/5-6.3 from its Contemporary range.
Tamron also seems to relish in focal lengths that many don't offer, such as the 50-400mm f/4.5-6.3 zoom that stands alone as an 8x superzoom, starting at the 50mm standard and going up to 400mm super-telephoto. It is surprisingly sharp
for a lens with such a huge focal range.
Tamron also has its 150-500mm f/5-6.7 ultra-telephoto zoom lens available in most popular mounts including Fujifilm X. It covers a full-frame equivalent focal length range of 225-750mm on an APS-C camera like the Fujifilm X Series. 
Prime movers
All these zooms have a variable maximum aperture and are relatively slow. There are no 400mm or longer zooms for mirrorless with a constant aperture. 
For a fast maximum aperture so they excel in low light, improved image quality and smoother bokeh, a fast telephoto prime is top of the tree. These can be expensive, bulky and heavy, but make fantastic used buys and will give decades of service. You have to sniff them out as they are quite rare; many have not been on the market long, but MPB often has stock where others don't so it's worth looking.
If you want the longest AF lenses for mirrorless cameras, Canon has the super-telephoto RF 800mm f/5.6L IS USM and the RF 1200mm f/8L IS USM. These premium L-series RF lenses have built-in IS and if you need something more powerful, the RF 1.4x or RF 2x extenders are compatible and both retain AF and IS function.
For conventional super-telephotos, Canon has the RF 400mm f/2.8L and RF 600mm f/4L; both designed to be optically identical to the older EF versions and bitingly sharp.
Nikon has also been quick to the party with professional sports lenses to fit its latest mirrorless cameras, as there is a Nikkor Z 400mm f/2.8 TC VR S and 600mm f/4 TC VR S – which both have a built-in 1.4x teleconverter. The brand also offers the cheaper Z 800mm f/6.3 VR S, which is also lighter thanks to use of a Phase Fresnel lens element. 
Sony's full-frame E-mount has been around longer, so its 400mm f/2.8 and 600mm f/4 telephotos are available used at a big reduction. If you want a dreamy fast lens like this, used is the best way to buy as there are currently no independent-brand manufacturers making fast primes.
Go for legacy glass
If you want a fast prime or zoom and don't mind using lens mount converters, there is a massive choice of optics built to fit DSLRs. Canon is the king of DSLR glass used with a converter on RF lenses to keep AF, or on a mirrorless in manual focus.
Currently in stock at MPB in EF mount are the Canon EF 400mm f/2.8, 500mm f/4, 600mm f/4 and 200-400mm f/4 lenses.With many iterations over the years, there is a big choice to suit all budgets.
It's the same with Nikon F mount long lenses, including the 400mm f/2.8, 500mm f/4, 600mm f/4 and 800mm f/5.6, as well as the 180-400mm f/4. MPB also has fast Sigma lenses in F mount, like the 500mm f/4.5 and 120-300mm f/2.8. 
If you don't mind lenses designed for DSLRs, MPB is the place to bag a bargain.
Vote for MPB in the Gear of the Year Awards here.
Originally published in the July/August issue of Pro Moviemaker.