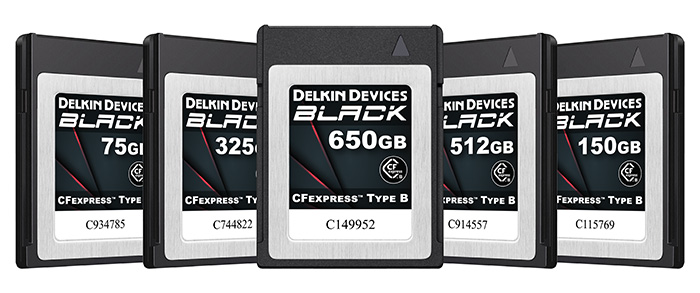 Delkin BLACK CFexpress™ to demolish memory limits
Posted on May 13, 2022 by Samara Husbands
The BLACK CFexpress™ Type B Memory Cards by Delkin surpasses Nikon Z9 Limits. Ideal for career photographers and videographers.
Manufacturers of flash storage for decades, Delkin have transcended the limits of memory with the release of the BLACK CFexpress ™ Type B Memory Cards. Designed to meet data-intensive demands of today's broadcast, cinema and photography industries, BLACK cards are a safe pair of hands for professional photographers and videographers
Boasting improved speeds, higher capacity, Delkin guarantee their compatibility with the latest Nikon Z9 firmware (V2.0). When used in the Nikon Z9 the cards enable the shooter to surpass the maximums stated in the camera manual, capturing an unlimited amount of high-resolution RAW photos in a single press. This impressive feat is underlined by maddening minimum sustained sequential write speeds, which exceed 1240MB/s, and secure flawless cinema-quality video recording, including (surpassing) 8K RAW 12-bit @60fps (2.6 Gbps) in the Nikon Z9.
Through extensive testing, Delkin established spectacular offload data speeds of up to 1725MB/s – its quickest, most efficient data transfer from card to computer to date. BLACK cards are perfect for immediate file access and sooner post-production start time. Delkin also manufactured them to work in perfect harmony with today's high-end cinematic hosts, including Canon, Nikon, Panasonic and Phase One. However, it is important to note that these cards are not backwards compatible with either CFexpress Type A, CFast 2.0 of CompactFlash hosts.
In addition to its "Lifetime Warranty" policy, Delkin continues to offer a unique built-in insurance policy for their BLACK memory cards ­– 48-Hour Replacement Guarantee. Delkin will replace any non-working BLACK card within 48 hours or less (excluding weekends), prior to receiving the non-working cards. Cards can also be exchanged over the counter at any authorised Delkin BLACK reseller.
For more information on Delkin's Black cards, head over to their website.