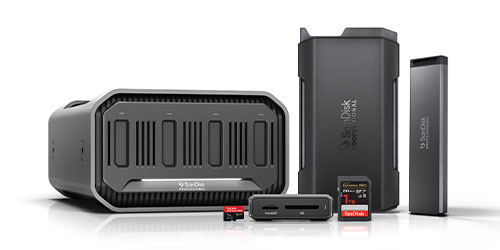 Western Digital break records with new SanDisk Ecosystem
Posted on May 13, 2022 by Samara Husbands
Inspired by creators, Western Digital brings high-performance, scalable, and reliable solutions in the form of SanDisk Professional PRO- BLADE™ Modular SSD Ecosystem.
Harnessing the power of data, the SanDisk solution delivers record-breaking UHS-I SD and microSD memory cards. Featuring three elements, the modular SSD ecosystem is engineered to transform the entire workflow with scalable capacity and time-saving convenience on location and back in the studio. These new products harmonise workflow and deliver unprecedented time saving and efficiency.
The PRO-BLADE SSD mag powers the ecosystem. It allows users to scale storage by simply loading it into the portable PRO-BLADE TRANSPORT enclosure to create a powerful and portable SSD, and with it, you can build your most versatile workflow yet. The PRO-BLADE TRANSPORT enclosure brings with it read and write speeds of up to 2000MB/s when paired with the TRANSPORT portable USB-C™ enclosure. For high-res recording, attach a TRANSPORT enclosure to a USB-C compatible camera rig, and have it loaded directly onto the SSD mag. This means you can keep rolling without interruption. The final piece of the puzzle, the PRO-BLADE STATION desktop SSD enclosure is a ground-breaking solution that lets pros load up to four PRO-BLADE SSD mags at one time, thus creating a powerhouse Thunderbolt ™ SSD device. To tackle even the most demanding workflows, it utilises a Thunderbolt 3 (40Gbps) interface for simultaneous offloading, real-time 4K, 8K and 12K editing, as well as super-fast copies. "With the SanDisk Professional portfolio, I have a technology partner that designs products for all my production workflows, and deeply understands the needs of today's filmmaker," said Michael Coleman, SanDisk Professional PRO-TEAM ambassador and award-winning director and cinematographer.
It seems that Western Digital is continuing its legacy of innovation. Underpinned by rapid advancements in memory technologies, they continue to break barriers and deliver powerful data storage solutions that enable to the world to actualise its aspirations. Designed to meet the need to multiple, super-fast portable storage devices to quickly ingest, edit and copy large volumes of high-resolution content, the powerful PRO-BLADE ecosystem lets users swap out lightweight, high-capacity PRO-BLADE SSD mags with ease – they can carry terabytes of storage without the excess bulk. Impressively, Western Digital also Recognise the urgency to combat climate change and have committed to ambitious carbon reduction goals approved by the Science Based Targets initiative.
The PRO-BLADE SSD mag is offered in 1TB (£172.99 MSRP), 2TB (£287.99 MSRP) and 4TB (£575.99 MSRP) and is expected to begin shipping in June 2022.
The PRO-BLADE Transport portable SSD enclosure will be available in 0TB (£66.99 MSRP), 1TB (£229.99 MSRP), 2TB (£345.99 MSRP) and 4TB (£633.99 MSRP) and is expected to begin shipping in June 2022.
The PRO-BLADE STATION desktop SSD enclosure will be available late 2022 in the UK with pricing to be announced closer to product availability.
Find the PRO-BLADE Modular SSD Ecosystem products at select retailers and the Western Digital Store.
For more, visit their website.