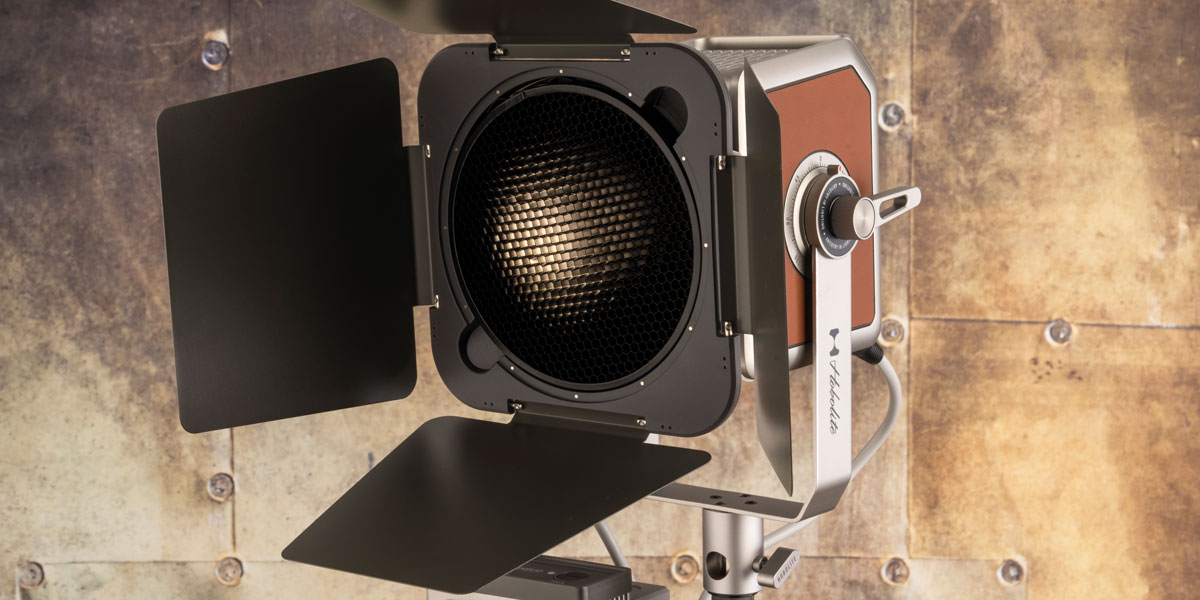 Lux Capacitor: Hobotlite Pro
Posted on Jul 26, 2023 by Samara Husbands
Go back to the future with the old-school styling but modern tech of the Hobolite Pro
Filmmakers fall into two camps whenever they first clap eyes on this brand-new, luxury lighting system. 
The first falls in love with the retro-style, leather-and-bare-metal looks – and maybe even finds the name Hobolite to be more aligned with a cool artisan or trendy hand-built aesthetic than a homeless vagrant. The leather may be faux, but the metal is body is rugged aluminium. 
On the other hand, the second quickly dismisses the Hobolites as over-designed and overpriced bling for hipsters only. But for this group, brought up on bland black or silver boxes, it's time to look beyond the styling and see the build quality and capabilities of these new LEDs.          
Part of a family of Hobolites, the flagship Pro model has lots of the latest technology and innovative features, making it far more than just a styling exercise. It uses the most advanced LEDs from parent company AEC Lighting Solutions, which has spent the last 20 years making cutting-edge fixtures out of top-quality materials. 
The Pro is a bicolour COB LED with 300W of power, can output light from 2500-7500K with a CRI and TLCI rating of 96, and has full remote control via a smartphone app. That means it has enough power to be used with very large light modifiers – and app control means you can alter settings without having to climb up a ladder. It uses the standard Bowens S mount, so accepts lots of modifiers – though Hobolite naturally makes its own range of stylish accessories to fit.
The solid build quality means the Pro kit weighs 3.7kg/8.2lb and comes in a variety of to-go set-ups. The £2299/$2299 Standard kit has the head, a Pro lens, Pro barndoors with honeycomb grid, a V-Mount clamp, a power supply with dual V-Mount plates, two 85Wh V-Mount batteries as well as a DC battery charger, all the cables and an LCD control panel – which is a good deal.
We tried the Pro Creator AC/DC kit which is £2998/$2999 and adds a cool carbon-fibre, tripod-style stand, plus a 90cm softbox with an extra removable internal diffuser and honeycomb grid. 
That might sound like quite a lot extra to pay, but the accessories match the style and build of the light and are good value when you look at the quality. The stand has precision-machined components and the carbon legs are excellent, too. It's as good as most high-end carbon-fibre tripods. It has its own case and extends to 310cm/10.17ft, yet folds up to a relatively compact 80.5cm/2.64ft. It can accept a payload of up to 8kg/17.6lb, so is within the range of the Hobolite Pro with accessories. The biggest issues we had were that the stand doesn't go very low, and when erected you need to pick it up and physically turn it to pan the light around. That's because it uses twist locks and the tubes don't twist around, unlike a C-stand where you can loosen a clamp and just pan the light around. 
Honestly, for a solid, well-built stand that goes higher than 3m/10ft, that's to be expected. It's available separately for a total of £499/$599 and Hobolite offers smaller stands that don't go as high.
The kit includes a floor-standing V-Mount battery charger as well as the main power unit, which takes both included V-Mount batteries. Everything has the Hobolite touch of class, is well made and functions flawlessly. Two V-Mount batteries and a decent charger are worth a serious chunk of change, so to get them included is a bit of a steal. 
The mains unit is mounted to the stand with a clamp made from aircraft-grade aluminium. It clamps onto the light stand with jaws that can go very wide. Then the power unit clicks firmly into place. 
There is a full set of Hobolite-branded cables and a mains pass-through, too. Plug in the power unit to the mains while using it and this also charges the batteries.
So, let's talk about the light itself. The Hobolite Pro has a conventional COB LED array that outputs a flood of light. One unique feature is that the kit comes with a 45° fresnel lens that attaches via the Bowens mount. This focuses the beam into a tighter angle, which has a very smooth fall-off. It's not adjustable, though – what you see is what you get.
Also included are a set of barndoors and a honeycomb grid that clips inside them. The doors fit into a groove around the front of the light, but are easy to  knock off. With this combo, you get a tight beam, ideal for creative effects.
Far more solid is the Bowens mount. The 90cm parabolic softbox that comes with the kit is packed in its own case and is fast to erect. Push down on the central column, guiding the rod into its keeper where it clicks solidly into place, it's done in seconds. An internal baffle fits using Velcro fasteners, and the front diffuser then secures in the same way. The kit also comes with a fabric honeycomb grid that can fit on the front to control the spread of light.
With both diffusers, the lighting is soft. And though it cuts intensity, you have 300W so it's not an issue. Removing the inner diffuser boosts output slightly – we found it doesn't hugely affect the softness. 
The well-built head comes with a high-precision 360° yoke mount for solid attachment to standard light stands or the Hobolite carbon unit. This yoke is fixed in place with a large, machined aluminium lever – which many might feel is all about cool design, but is solid and inspires confidence it won't slip, even with a large modifier on the head.
On the back of the head is a high-quality LCD control panel that's detachable, as it's held in place by magnets. This is a masterstroke, as you can remove it, then fix it to the power supply if that's more convenient – or even use it handheld for full wireless remote control. There's no need to be using your phone to connect an app – though you can if you wish. There is something nice about using the real control panel, where you can change settings like intensity and colour temperature – and access some special effects. These are OK, but with the light not being full colour they aren't incredible.
If you do wish to use an app, the head has the latest wireless tech in terms of NFC tags, which makes adding and controlling units quick and easy. Tap the side of the head with your phone, which installs the Hobolite control app so you can remotely assign and command groups of lights. And from the app, you can control the fans – which are whisper quiet but can be temporarily turned off when recording audio.
These are the sort of professional touches and design innovations that make the Hobolite Pro far more than lighting made for the style obsessed. It's innovative, powerful and made to last. Just don't let the name and couture artisan details put you off. 
Originally published in the July/August issue of Pro Moviemaker.