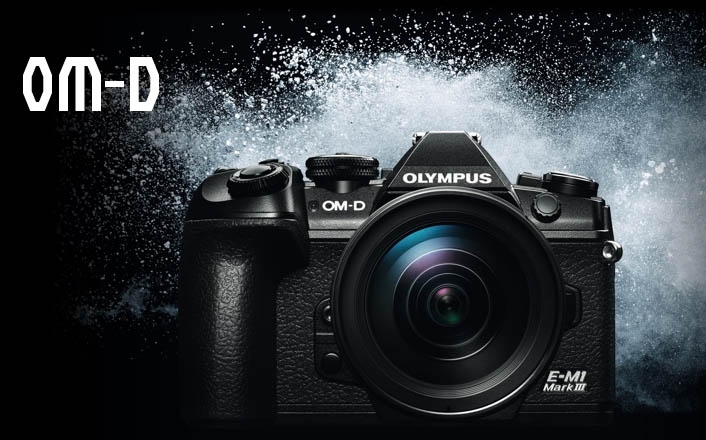 Olympus has launched a new professional camera: OM-D E-M1 Mark III
The camera has a compact and lightweight design suitable for pro-photographers in any shooting situation
Yesterday Olympus unveiled the OM-D E-M1 Mark III, boasting an advanced image stabilisation system with 7.5 shutter speed steps of compensation, a new image processor and precise autofocus capabilities. 
Image quality and stabilisation
When synchronizing the in-lens image stabilisation of supported lenses with the in-body 5-axis image stabilisation, the E-M1's stabilisation performs at 7.5 shutter speed steps of compensation with 5-axis sync IS. This level of stabilisation enables shooting in dark locations and during super-telephoto photography without a tripod, opening up new possibilities for photographers and filmmakers.
In combination with the new image processing engine TruePic IX, a 20.4 Megapixel Live MOS sensor, and a line-up of high-resolution M.Zuiko lenses, the 5-axis IS ensures minimal noise even at high-sensitivity settings and high image quality with minimal distortion up to the edges of the shot.
For users in need of higher resolutions, the 50MP Handheld High Res Shot feature makes it possible to capture approximately 50 Megapixel high-resolution images without using a tripod. The Tripod High Res Shot function allows for recording ultra high-resolution (approx. 80 Megapixel equivalent) RAW and JPEG images.
Live ND, which was popular on the OM-D E-M1X is also included in this model. Users can select the effect level from ND2 to ND32 and check the slow shutter effects in the viewfinder before capturing.

Autofocus
The E-M1 is equipped with a 121 point all cross-type On-chip Phase Detection AF sensor for focusing on various areas of the screen. It offers 75% vertical coverage and 80% horizontal coverage of the screen for a wide focusing area. Paired with an advance AF algorithm, this feature can continually focus on fast moving subjects with a high degree of precision. Unlike DSLR cameras, there is no degradation in AF precision when using a fast lens. The E-M1 Mark III offers high precision focusing that can sufficiently bring our the capabilities of large-diameter lenses.
AF/AE tracking is possible at maximum 18 fps high-speed sequential shooting for accurate tracking. A multi-selector makes it possible to quickly shift AF areas with your thumb while looking through the viewfinder. Face priority/Eye priority AF, which automatically detects and focuses on people's faces and eyes is now possible to use either the buttons or touch operation to select face when shooting still images or videos. This feature makes the camera a great tool for vloggers.
Shooting features
Pro Capture mode makes it possible to capture scenes that are difficult to time for the photographer. The E-M1 is also equipped with Live Composite, which overlaps multiple shots recorded at the same shutter speed and composites only the sections that are brighter for capturing light trails.
The camera also features an IS mode specifically designed for video recording. Electronic stabilisation combined with in-body 5-axis stabilisation deliver powerful image stabilisation particularly useful for videographers.
This model also supports OM-Log400 shooting, which enables shooting without loss of details in shadows and highlights, along with colour grading for a high degree of freedom over images.
The high-res Olympus audio recorder LS-P4 connected to an external mic/recorder enables more versatile recording of high-quality audio for videos.
Software
The OI.Share smartphone app can be used to connect to the camera via Wi-Fi, import shooting data to a smartphone for remote camera operation.
Olympus Workspace can handle professional tasks such as RAW processing and image editing, along with offering freedom over screen layout, etc. By using Olympus Workspace Version 1.3, which is being released at the same time as the E-M1, it makes it easy to replace the audio files of the recorded video to High res sound.
The OM-D E-M1 Mark III will be available from late February in black as body only at RRP of £1599.99.
It will be available with the M.Zuiko Digital ED 12-40 F2.8 Pro lens at RRP of £2199.99.
It will be available with the M.Zuiko Digital ED 12-100 F4.0 IS Pro lens at RRP of £2499.99.
Any pre-orders placed by 29th February 2020 will receive a complimentary copy of Capture One Pro 20, while stocks last.
Click here to read a hands-on review of the new camera.
Click here to get more information on the OM-D E-M1 Mark III.