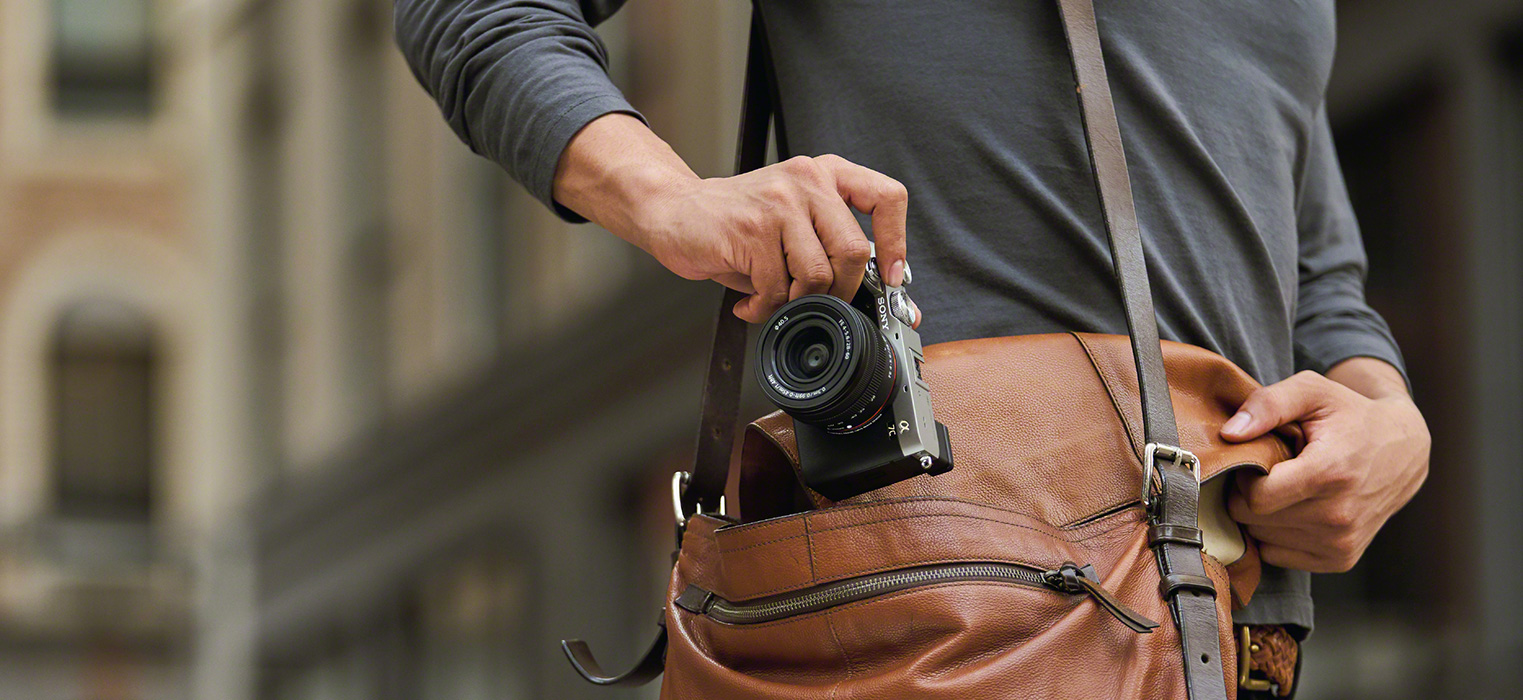 Sony introduces Alpha 7C Camera and Zoom lens
Posted on Sep 16, 2020 by Pro Moviemaker
Sony have added several additions to its line-up – the Alpha 7C full-frame camera (model ILCE-7C), the FE 28-60mm F4-5.6 (model SEL2860) zoom lens and HVL-F28RM flash
The Alpha 7C has a light, full-framed body with advanced AF, 4K video capabilities and more. The FE 28-60mm F4-5.6 standard zoom lens maximises the camera's portability and the HVL-F28RM flash has improved light intensity control, linked to the camera's face detection.
"We are committed to creating the best tools possible based on the needs of our customers," said Yann Salmon Legagneur, Director of Product Marketing, Digital Imaging, Sony Europe.
"The new Alpha 7C camera and FE 28-60mm F4-5.6 zoom lens pack many of our most advanced imaging technologies in a brand new design that is the smallest and lightest full-frame camera and lens system in the world. This opens up a new world of possibilities for creators, giving them the uncompromised power of a full-frame system in the palm of their hand."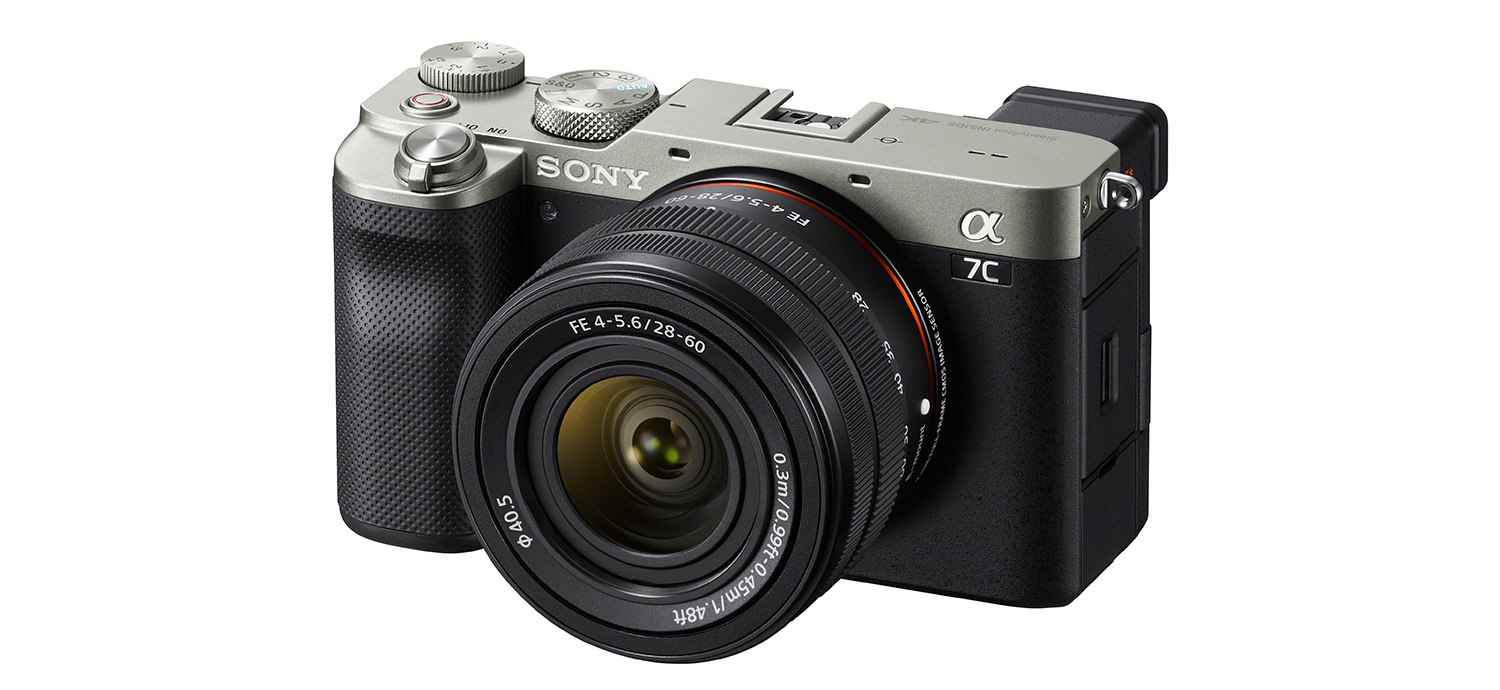 The new camera features a 24.2MP (approx. effective) 35mm full-frame back-illuminated Exmor R CMOS sensor and BIONZ X image processing engine, offering high sensitivity and resolution, 15-stop wide dynamic range and high-speed image data processing.
Measuring 124.0mm x 71.1mm x 59.7mm and weighing 509g, the Alpha 7C is a similar size and weight to an APS-C camera, weighing only 1% more than the Alpha 6600. The Alpha 7C has an upgraded 5-axis in-body stabilisation system, upgraded shutter units and the utilisation of a monocoque construction which is often used in the bodies of cars and aircrafts. Even in this compact body, the Alpha 7C offers a 5-step stabilisation effect that allows beautiful shots without the need for a tripod.
Moreover, the high capacity NP-FZ100 battery provides enough power to capture an industry-leading 740 images when using the LCD monitor, or 680 imagesxi when using the viewfinder – making it good for long shoots.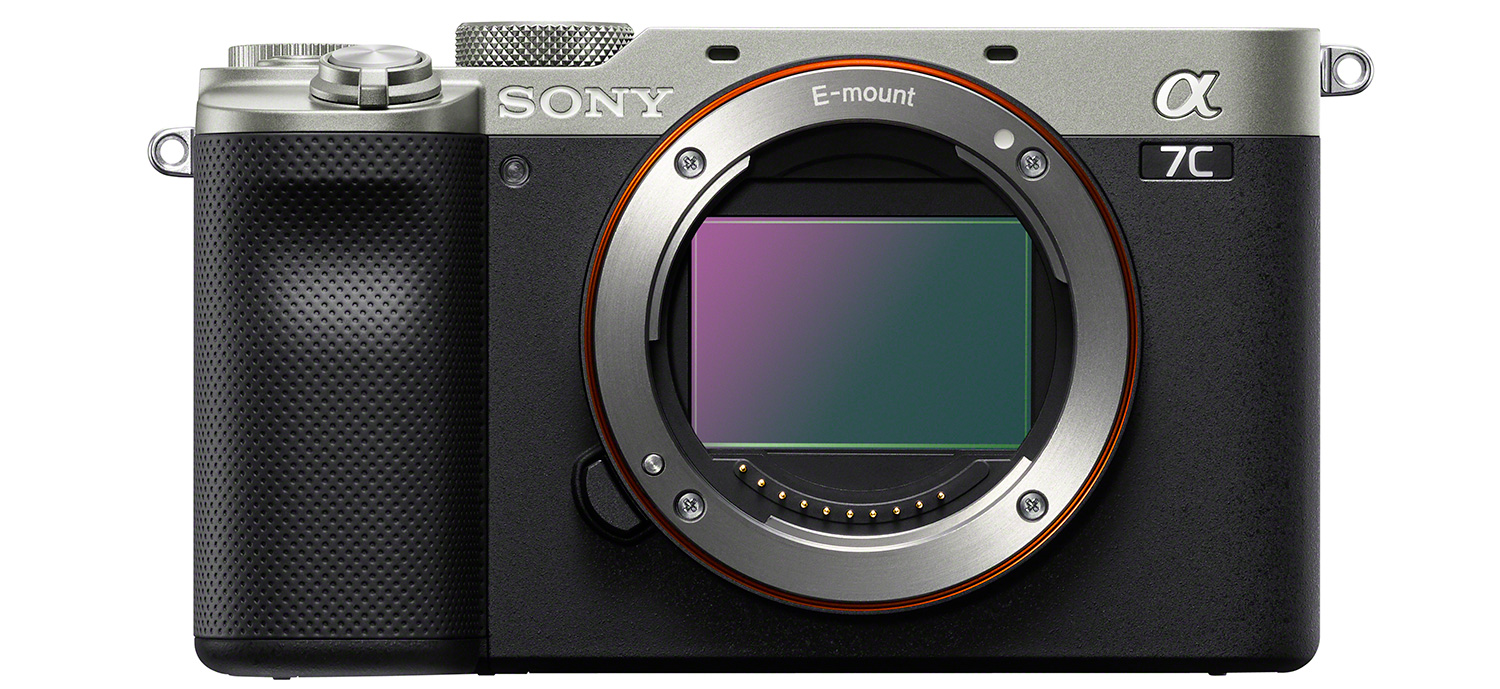 Sony's new Alpha 7C combines high resolution with low noise for excellent image quality at all sensitivities, offering the user high image quality for shooting everyday photography and movies such as nature, portraits, sports, street photography and more. Standard ISO extends up to 51,200 and is expandable to ISO 50-204,800 for low-light shoots. The Alpha 7C also supports 16-bit processing and 14-bit Raw output for natural gradations.
Using AI-driven functions, the Alpha 7C's real-time tracking maintains accurate focus automatically while the shutter button is half-pressed. In addition, "Tracking On + AF-On" now is assignable to a custom key and can now be activated at once while the AF-ON button is pressed. Moreover, the intended subject can be specified just by touching it on the monitor when "Touch Tracking" has been turned ON via the menu and is available for both stills and movies. The Alpha 7C's AF functions also feature real-time eye AF for both humans and animals[xiv] to achieve fast and accurate focus[xv]. When using real-time tracking (while "Face/Eye Priority in AF" is ON) with a human subject, the subject's eye and face is detected and locked on in real-time with extremely high precision.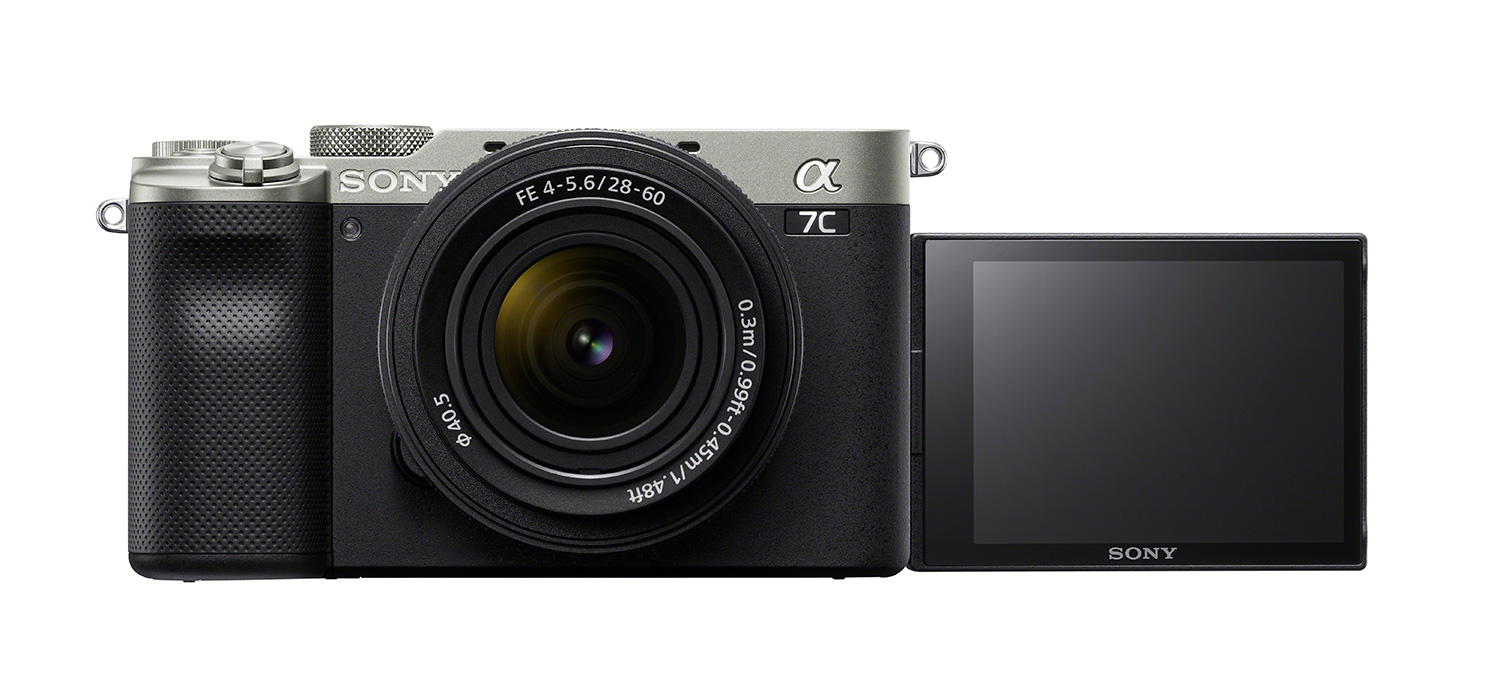 The Alpha 7C provides wide, fast, reliable AF that locks onto the intended subject without losing focus, thanks to its 693-point focal-plane phase-detection AF system covering approximately 93% of the image area, with an additional 425 contrast-detection points to ensure reliable focus, even in busy environments.
The Alpha 7C also features continuous shooting at up to 10 fps with AF/AE by using a newly developed shutter unit and refined image processing system. It is also possible to shoot continuously at up to 8 fpsxvii in live view mode, with minimal viewfinder/monitor display lag for easy, stable framing, even with intense subject motion. The Alpha 7C allows up to approximately 223 JPEG images, 115 compressed Raw images, or 45 uncompressed Raw images to be captured in one continuous burst, and achieves highly accurate and reliable AF precision in light down to EV-4. These features make it easier to capture fast moving objects with absolute precision.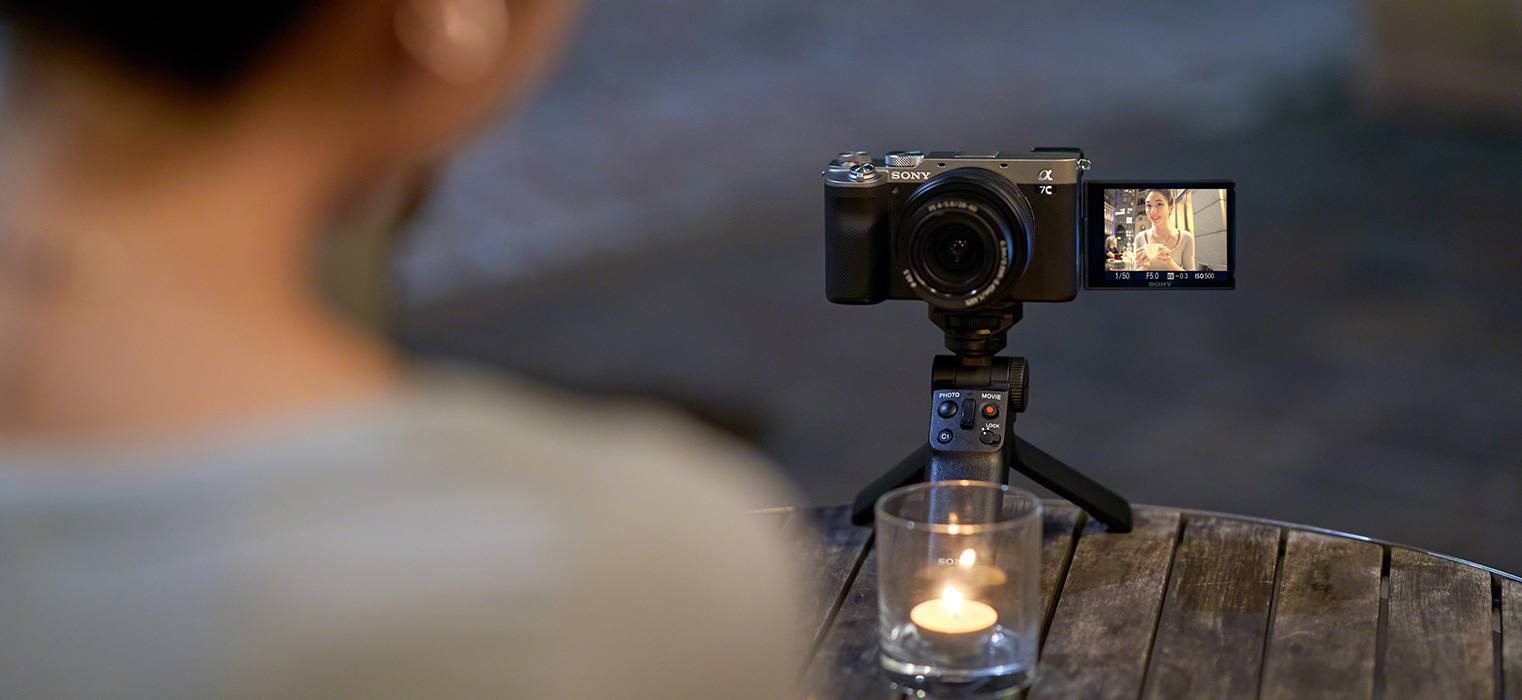 Full-frame full-pixel readout without the need for pixel binning makes it possible to capture more than twice the amount of data required for 4K video, which is then oversampled to produce high quality 4K footage with exceptional detail and depth. In addition, the Alpha 7Csupports HDR and S-Log/S-Gamut profiles, Slow & Quick motion, high-speed full HD recording at 120 fpsiii and other advanced features for exceptional, high quality video footage.
Furthermore, the Alpha 7C features Real-time Eye AF for video shooting. The eye is automatically tracked with high precision and reliability so that the operator can concentrate on the content rather than focus operation. Users can also customise AF Transition Speed in seven settings, and AF Subject Shift Sensitivity in five settings, in their preferences. Touch Tracking functionality is also available for movie shooting.
The Alpha 7C features a side-opening vari-angle LCD monitor, making it easy to record selfies, overhead shots, ground-level shots or whatever the user requires. The MOVIE button has been placed to the top of the camera making it easier to operate while recording in selfie mode. Additionally, the Alpha 7C also captures sound in high quality to match that of the image capture and deliver harmonious high-quality video. A digital audio interface has been added to the camera's Multi Interface Shoe, allowing the ECM-B1M Shotgun Microphone or XLR-K3M XLR Adaptor Kit to be connected to input digital audio signals directly to the MI shoe for cleaner, clearer audio recordings. Like other MI shoe accessories, no cables or batteries are required, providing unrestrained freedom for Alpha system moviemaking. A headphone and a microphone jack are also provided to accurately monitor recorded sound, and metadata attached to movie footage shot vertically on the camera allows the footage after transfer to a smartphone to also be replayed and edited in portrait mode.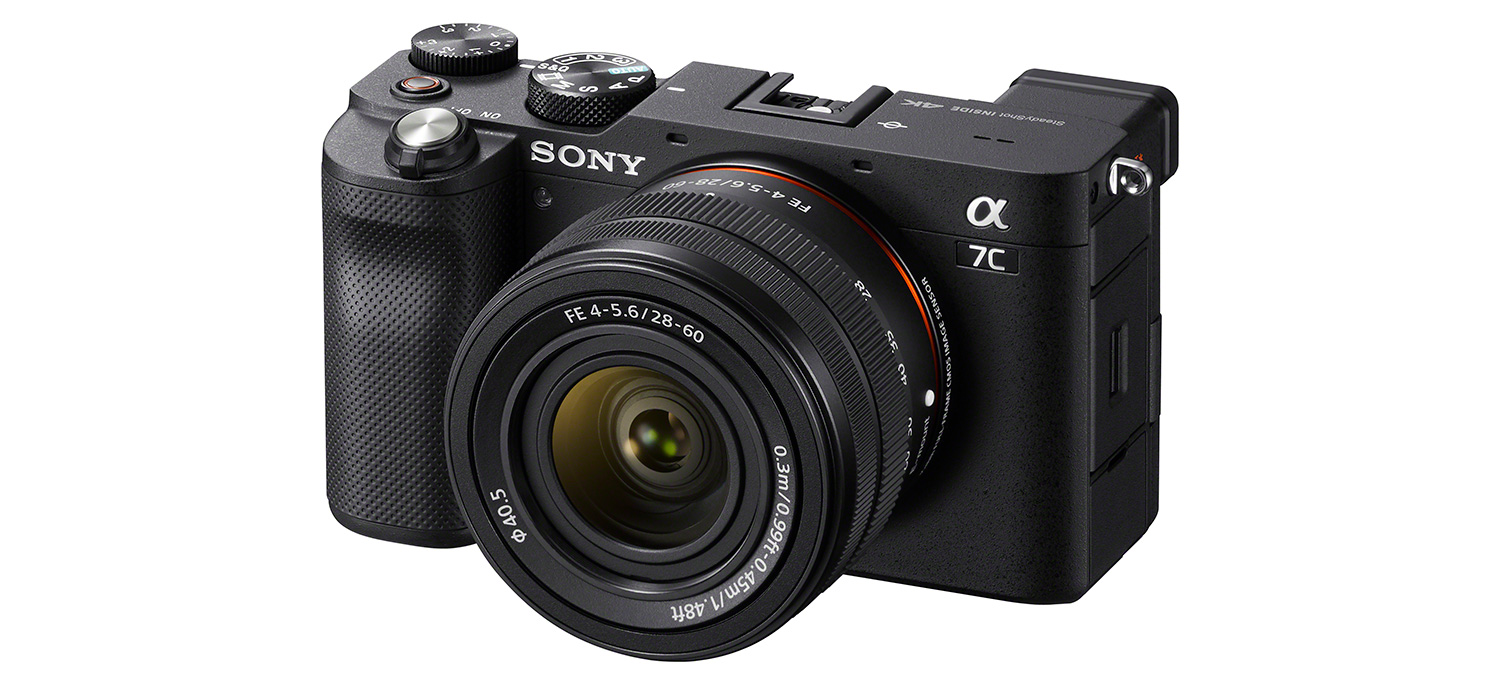 To simplify workflow needs, Wi-Fi compatible wireless-communication functions allows images and movies to be directly transferred[xxii] to a smartphone or tablet for convenient sharing, viewing or saving. In addition to the conventional 2.4GHz band, support for the 11ac standard allows transfer via 5GHz band so that users can select that stable and high-speed transfer with low interference. A USB Type-C connector that supports SuperSpeed USB 5Gbps is also provided, allowing fast transfer of images during PC remote shooting and power supply from external mobile batteries.
The new FE 28-60mm F4-5.6 offers the world's smallest and lightestiv form factor in a standard zoom lens, delivering high optical performance that achieves the high-resolution depiction of full-frame everywhere in the image. Optimal arrangement of the 3 aspherical lens elements effectively suppresses aberrations throughout the zoom range and realises high resolution from corner to corner. A minimum focus distance of 30cm to 45cm delivers close-up capability, making it perfect for everyday use or vlogging with a gimbal or grip.
At 5.9oz and 2.6 inches dia. x 1.8 inches, along with its mechanical and optimal optical design that features a retracting structure, the FE 28-60mm F4-5.6 achieves unrivalled compactness and lightness, allowing users to easily carry it all the times. From everyday shooting to scenery, portraits and travel, it's the ideal lens for any type of on-the-go shooting in a wide variety of environments. When combined with the Alpha 7C, the combination achieves uncompromising full-frame performance with the world's smallest and lightest full-frame camera and lens systemi. Even with its compact size and light weight, the FE 28-60mm F4-5.6 is dust and moisture resistantxxii and accepts a variety of 40.5mm filters.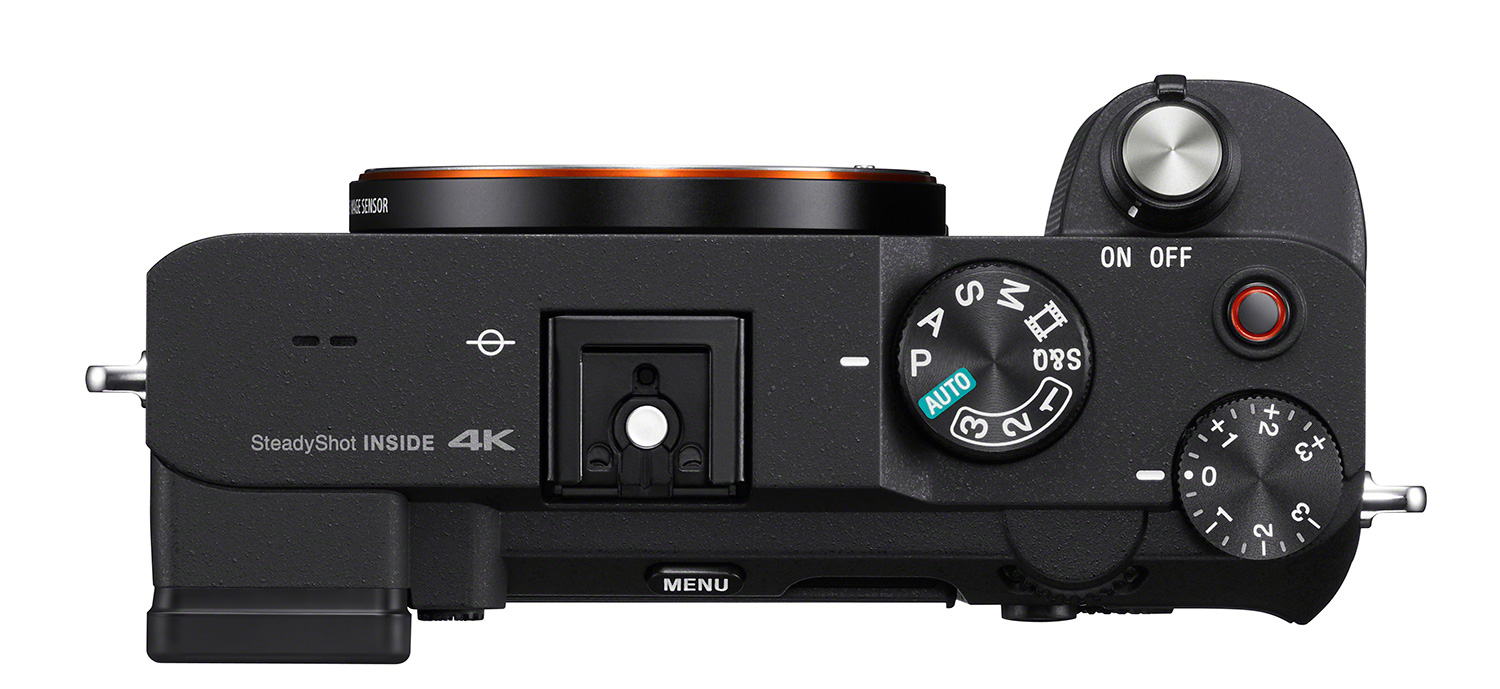 The HVL-F28RM is a compact flash designed to match Sony's mirrorless cameras for a compact, manageable system, and offers the type of reliable, stable performance that only a genuine Sony product can provide. When compared to the HVL-F32M, the HVL-F28RM features a 12% reduction in volume and 7% reduction in weight. This compact, easy-to-use flash unit delivers the capabilities and dependability to meet the needs of both professional and advanced amateur content creators.
The HVL-F28RM also features simple, intuitive operation with minimal controls including +/- light level buttons, pairing button, test button and lock lever. Plenty of light is available for bounce applications. The flash angle can also be set as required via 0, 20, 40, 60, 80, and 120 degree click stops for easy positioning. The new flash also features a built-in wireless radio trigger for reliable flash triggering when mounted on a compatible cameraxxvi and paired with an off-camera unit. When used as a transmitter, the HVL-F28RM can control up to 15 flash and/or receiver units in 5 groups at distances of up to 35 metres for extraordinary lighting control and versatility. The HVL-F28RM is powered by two AA (LR6) alkaline or NiMH batteries. A fresh pair of alkaline batteries can provide power for up to 110 continuous flashes (1/1 manual flash with alkaline batteries).
Pricing and Availability
The new Alpha 7C compact full-frame camera will be available in October 2020 for an estimated retail price of £1,900/€2,100 body only.
The FE 28-60mm F4-5.6 zoom lens will be available in early January 2021 for an estimated retail price of £450/€500.
A new kit featuring the Alpha 7C compact full-frame camera and FE 28-60mm F4-5.6 zoom lens will also be available in late October for an estimated retail price of £2,150/€2,400.
The HVL-F28RM flash will be available this winter for an estimated retail price of £250/€280.
Click here to read the latest issue of Pro Moviemaker.