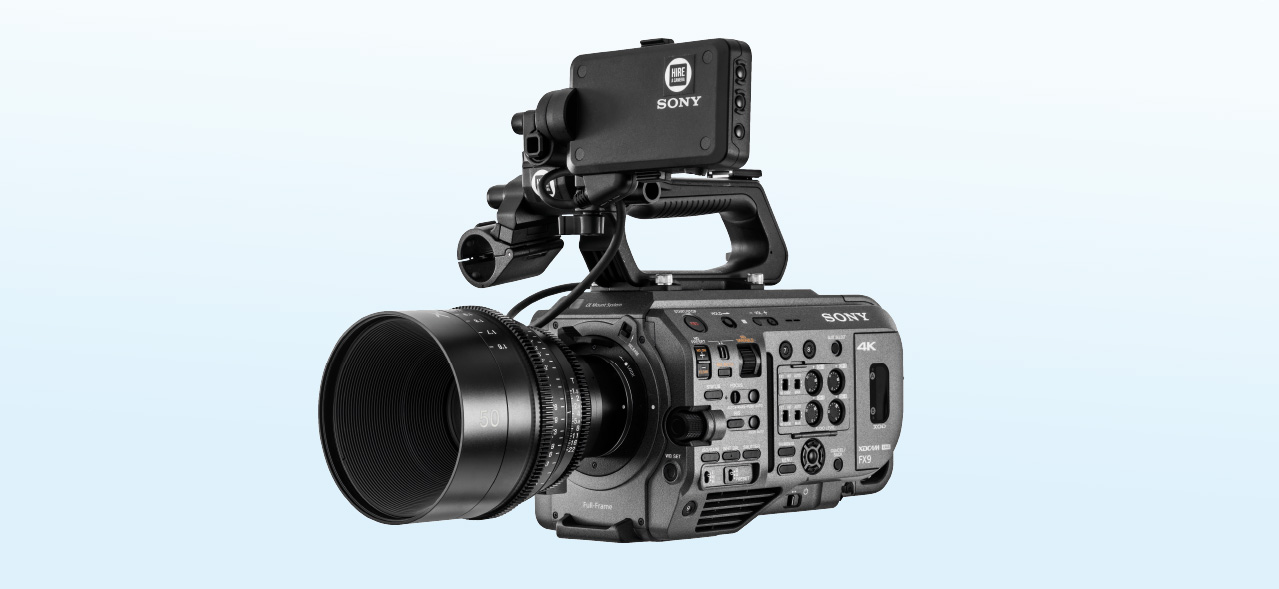 Sony FX9 test: Indie chart-topper
Posted on Aug 11, 2020 by Adam Duckworth
Sony's new full-frame FX9 is set to be the camera most independent production companies will be buying or renting
When Sony unveiled its all-new FX9 cinema camera, it's fair to say the specs made for impressive reading. In theory, it featured the best of Sony's mirrorless cameras in terms of a latest-spec, full-frame sensor ideal for high ISO performance and gloriously shallow depth-of-field. Not to mention the super-advanced hybrid autofocus system using new-school phase detection.
Then Sony put all that tech in a real cinema camera body with high bit rates for much-improved quality, plus all the usual benefits of a real video camera, like built-in ND filters, long battery life, professional connections such as SDI and XLR audio inputs, and great ergonomics. A full-frame, super-advanced version of the incredibly popular FS7, you could say, with added Dual Base ISO 800/4000 from the upmarket Venice cinema camera and its S-Cinetone colour science. All for a body-only price of £12,039/$10,998, around a third the price of Sony's Venice full-frame cinema camera. Not exactly cheap, but a bargain in comparison.
We were excited to see the camera up close and get a hands-on with it when it was unveiled to a select group of journalists in London before its official unveiling at the IBC Show in Amsterdam last September. We got to have a short test with a prototype FX9, look at some footage and we were impressed. But there's nothing like having a final production version of the camera for an extended test with final firmware before passing real judgment on this important – some might even say milestone – new camera. And after doing just that, and directly comparing it to our well-loved FS7 camera, as well as A7R III and A9 mirrorless cams we regularly use, we now know the ins and outs of the FX9 pretty well. And in many ways, it surpasses our already high expectations. If you were worried about all this new tech in a new camera body, then don't. Sony has got it very right with the FX9: a worthy successor to the industry-standard FS7 and one which should be a professional workhorse for many years to come. Is it the perfect camera? Of course not – nothing ever is.
The FX9 resolution and size is true 4K, and it produces far cleaner and more detailed files
No camera lives in a vacuum and the FX9 came out at the same time as Canon unveiled its full-frame Canon EOS C500 Mark II with a spec that's startlingly similar. The more expensive Canon offers 5.9K recording while the Sony has a 6K sensor, but records in 4K as it downsizes the footage by oversampling. If you have a glut of Super 35 lenses, you can still use them and get 4K.
Sony claims its tests show 4K is the ideal size for its 6K sensor, because downsampling the signal to 4K gives the best sensitivity, noise and dynamic range of more than 15 stops. And it means some of the pixels can be used for the advanced on-sensor phase-detection autofocus. What many people don't realise is that on a typical 4K sensor, when the signal is de-Bayered, it actually gives resolution roughly equivalent to 3K – even though the file size is 4K. The FX9 resolution and size is true 4K, and it produces far cleaner and more detailed files than, for example, 4K out of the FS7. Not all 4K is created equal.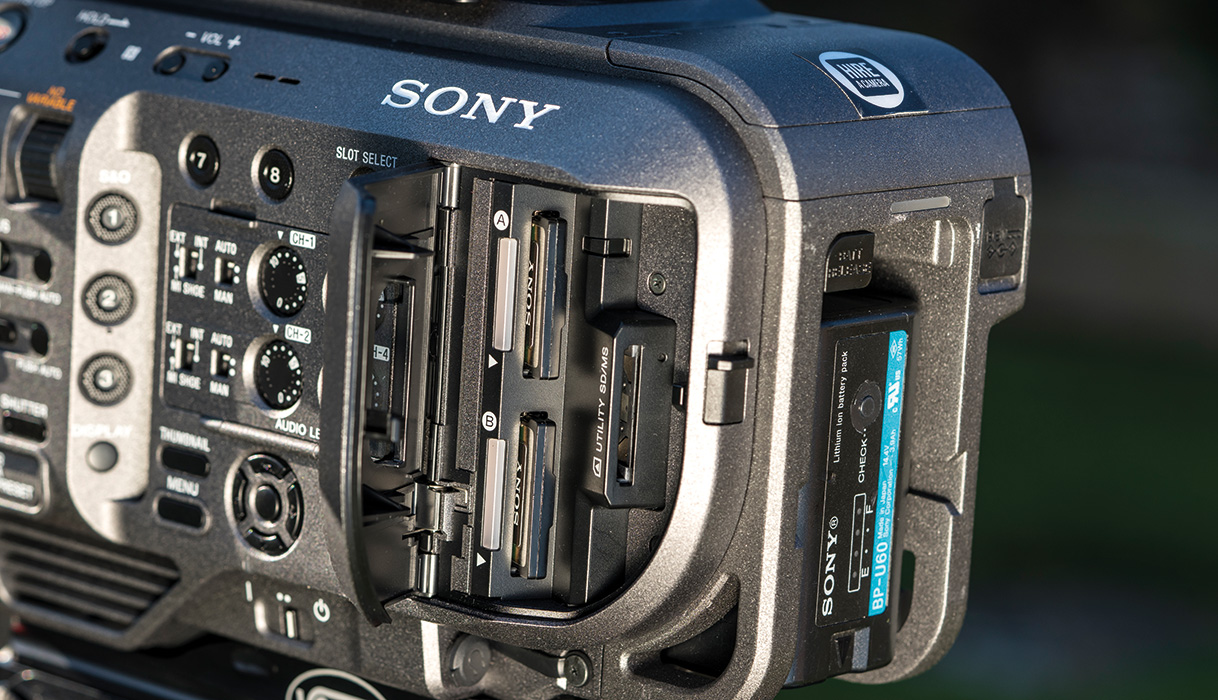 Where the Canon does ace the Sony is that it has Canon Raw Light internal recording, while the Sony doesn't record Raw internally at all. To get Raw from the Sony, it's in the full-size 16-bit flavour and you need the £2760/$2500 Sony XDCA-F9 extension pack. This pack adds bulk but also has a V-Lock battery slot, DWX digital audio for broadcast use, Ethernet and improved streaming connectivity. Unless you own an Atomos Neon, then current monitor/ recorders can't handle 16-bit Raw anyway. It's highly likely more will come on the market soon.
Unlike the FS7, which needed an extension pack to add time code and genlock, the Sony FX9 now has these on the camera body, making it far more useful for TV and multicamera productions right out of the box.
One of the benefits of the FX9 extension pack is the V-Lock battery connection, as the camera eats through power at roughly twice the rate of the older FS7. More computing power from a bigger sensor needs more juice. Sony has also unveiled a range of new BP-U fit batteries, but the older-style BP-U cells still work. We got around 90 minutes of recording with a BP-U60.
A larger sensor simply takes more power to run and the FX9 uses an all-new, 6006×4949 24.5-megapixel 6K HDR sensor, which records internally in 16:9-ratio 4K, 4:2:2 10-bit in XAVC-I at 600Mbps. There's also Long GOP XAVC-L in 8-bit 4:2:0 at 150Mbps for a smaller file size, and MPEG 8-bit 4:2:2.
However, at launch the camera can only record 4K internally at 30p full-frame or 60p with a Super 35 crop. And 120fps slow motion is in either 2K full-frame or with a firmware upgrades will enable 180fps in FHD, and 120fps in 4K with a Super 35 crop when recorded externally. And at launch, QFHD 4K 3840×2160 recording is available while 17:9 C4K 4096×2160 will come in a free firmware upgrade soon.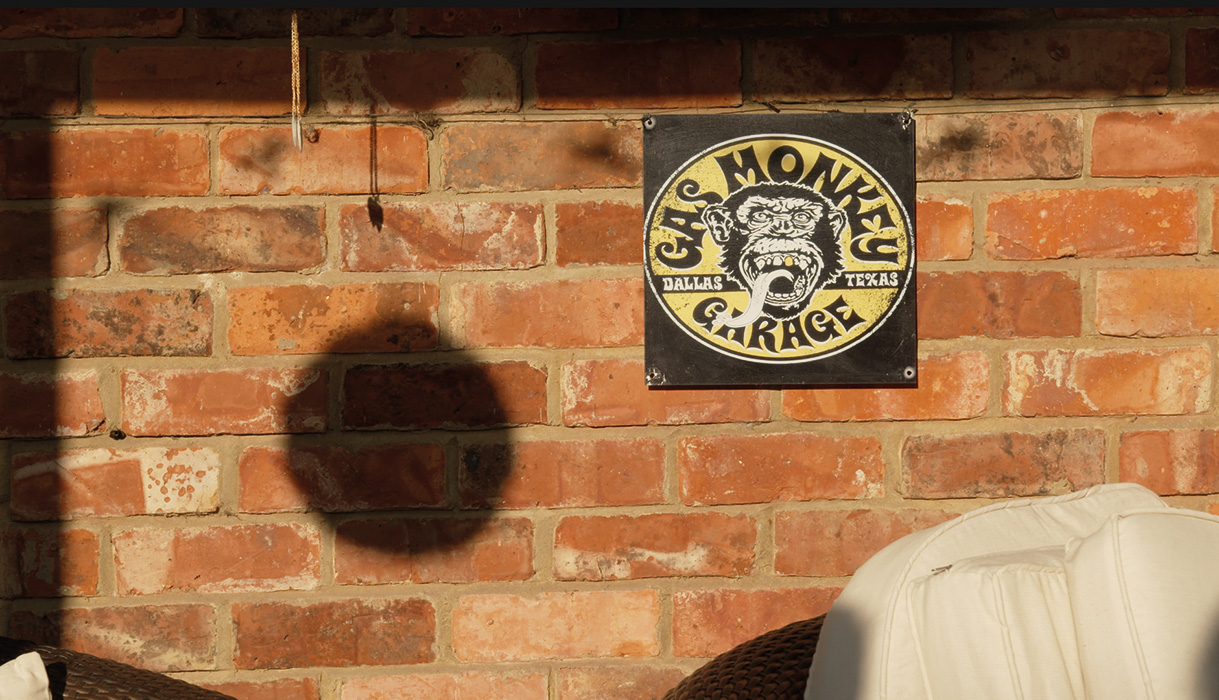 But until these upgrades come, the frame rates are pretty limited. While the FS7 and its little brother FS5 were lapped up by action sports filmmakers who loved the 180fps or 240fps capability, the FX9 is a tad disappointing in comparison. And if you use the camera's S&Q mode for slow- or fast-motion capture, the camera loses all autofocus functions. One way around this is to change to 50p or 60p as your base setting, and slow it down in post by half. It means some menu digging. And any faster frame rates than that and you're out of luck in terms of AF.
The FX9 is leagues apart in terms of low noise, thanks to the much newer full-frame sensor
The new sensor uses a Dual Base ISO system, which changes how the sensor gathers light and isn't just like cranking up the gain. It not only changes sensitivity, but also the spread of dynamic range. If you use the low base ISO 800, there are the same number of stops of range above and below a mid-grey tone to capture highlights and shadows. When you switch to the higher base ISO of 4000 for lower light, there are just five stops above mid-grey and tens tops below to retain more shadow detail. The sensor responds differently when used in each of the base ISO settings, even if the ISO you have physically set is the same.
So, for example, if you set base ISO of 800, then the actual shooting ISO of 1600, the noise in the shadow areas is worse than if you set base ISO of 4000 and actual ISO of 2500. Essentially, set the low base ISO of 800 for bright conditions, and if you need to go over 1200 then switch to the high base ISO of 4000. Compared to the FS7, which had a base ISO of 2000, the FX9 is leagues apart in terms of low noise. That's thanks to the much newer full-frame sensor producing incredibly detailed, low-noise images. It's even very good when you underexpose and then crank up the exposure in post. It's a great sensor.
However, the base ISO is different at different gamma settings. You can either try to remember these, or switch the ISO mode to Gain instead. That way, you'll know 0dB is running at base ISO whatever gamma you choose. It's a bit of an old-school videography way of thinking, rather than ISO, which has been the domain of cinematographers shooting film, or stills shooters.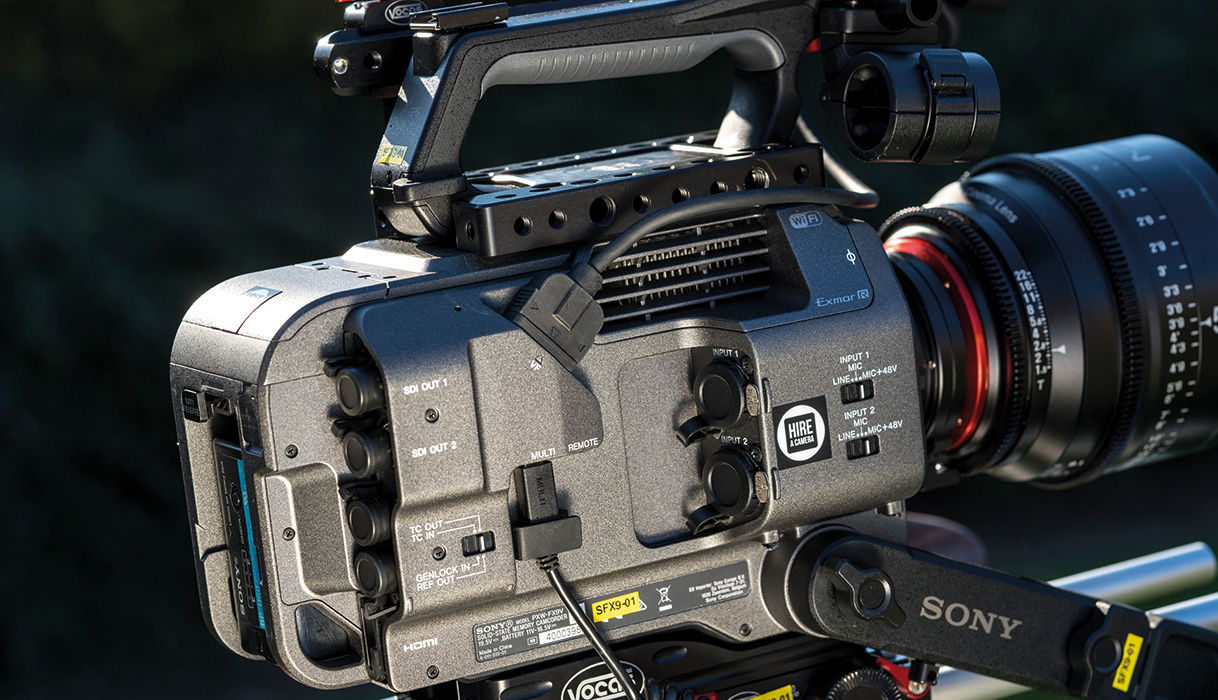 And while you're at it, if you change shutter speed to shutter angle and leave it at 180°, then the shutter speed will always be double the frame rate. Luckily, on the FX9, the shutter angle stays at 180° even if you change frame rates, unlike on the FS5, where if you change frame rates then shutter angle changes, which is a total pain. On the FX9, we left shutter angle at 180°, then, if you want to change it for creative effect, you can. Anything to avoid digging into the Sony menus – which have changed and been simplified, with many of the commonly used settings grouped together, but are still complicated.
Like the FS7, when you start using the FX9, you are faced with two different modes – Custom or CineEI. In Custom, it's a regular video camera that bakes in the look you see on screen. It offers S-Cinetone colour technology borrowed from the Venice. It's not exactly the same as the Venice, but not far off and is fast and easy to use. It offers a good balance between standard colours and something slightly more cinematic. Compared to the Standard Rec. 709 mode, it has better skin tones and retains a lot more highlight detail. It's a great do-it-all setting that's way better than any of Sony's non-Log offerings in any of its Super 35 cameras. Great colour, right out of camera.
The FX9 also offers HG for HDR workflow and S-Log3, in both CineEI and Custom modes. If you have the time and skills to grade it, S-Log3 offers the most dynamic range and slightly more realistic skin tones, with beautiful natural greens. It's the best setting for the ultimate in control and quality, but S-Cinetone is not far behind at all.
The FX9 also offers HG for HDR workflow and S-Log3, in both CineEI and Custom modes
In CineEI, you are attempting to get the maximum detail from the file for colour correction and grading in post. You use EI ratings rather than ISO or Gain, and it allows you to change the effective ISO without altering dynamic range. It's ideal in a controlled environment, and now you can set a specific white-balance and tint in CineEI, while on the FS7 you had to pick a white-balance from the dreaded menu.
When shooting CineEI and Log, you can use LUT in S&Q mode when recording 4K up to 60fps. Any faster than that and you have to go to HD, and you can't separate the LUT between monitoring and baking it in to the file. But the camera has viewfinder gamma assist so you can record Log, but monitor a corrected Rec. 709 image. Overall, Custom mode gives cleaner high-ISO files than Cine EI, which benefit from some noise reduction.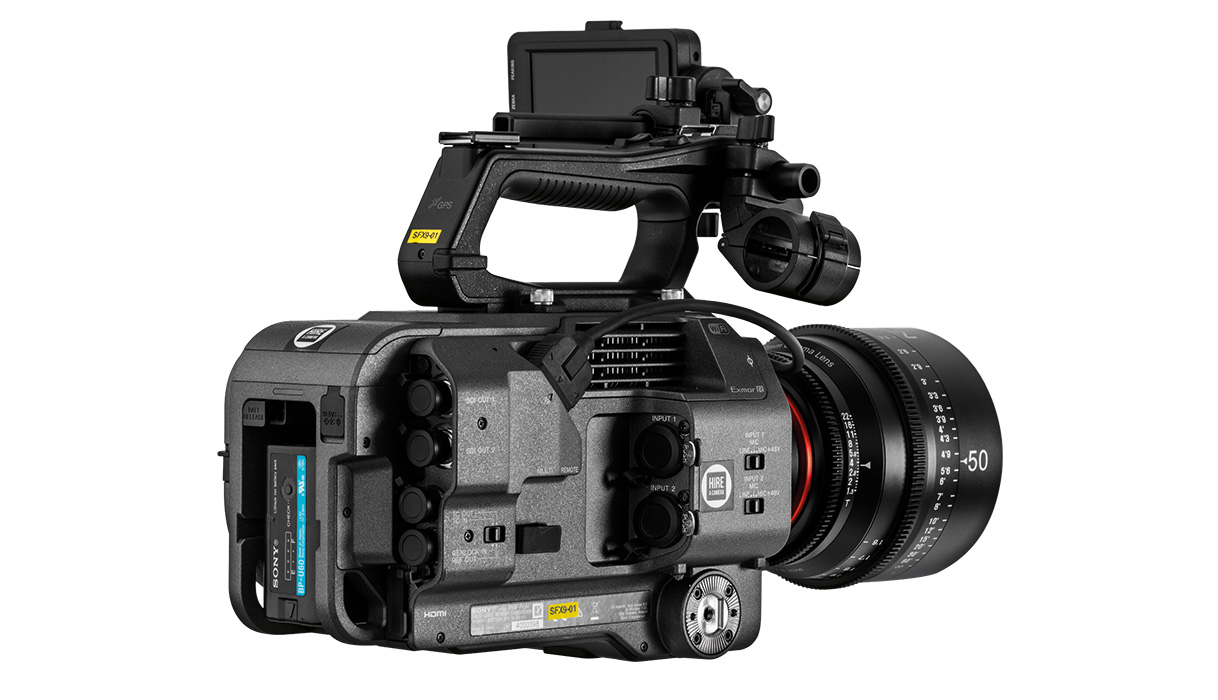 The FX9 also has some nice features, such as allowing you to shoot full-fat XAVC-I files at up to 60p while making a proxy recording in MPEG 422 HD, so you can edit the proxy then replace with the XAVC files at the end of the project. You can also bake in a LUT and output it over the 12G-SDI in 4K/60p 4:2:2 10-bit. So you can record 10-bit ProRes externally to a suitable recorder. And the camera now has a built-in intervalometer, which allows you to set an interval time between one second and 24 hours, then specify the number of frames. You can also use it with autoexposure, ideal for day-to-night time lapses.
There's also a picture cache recording function featured on the FX9, where the camera records pictures and audio before the Rec button is hit. It's ideal for nature documentaries, when you can't predict when an animal will move, for example. The amount of time pre-recorded varies due to the settings, but it is up to 28 seconds for HD and four seconds in 4K. That's a lot of useful tech. Unfortunately, there is no built-in anamorphic desqueeze, but you can use anamorphic lenses and see results with the right external monitor.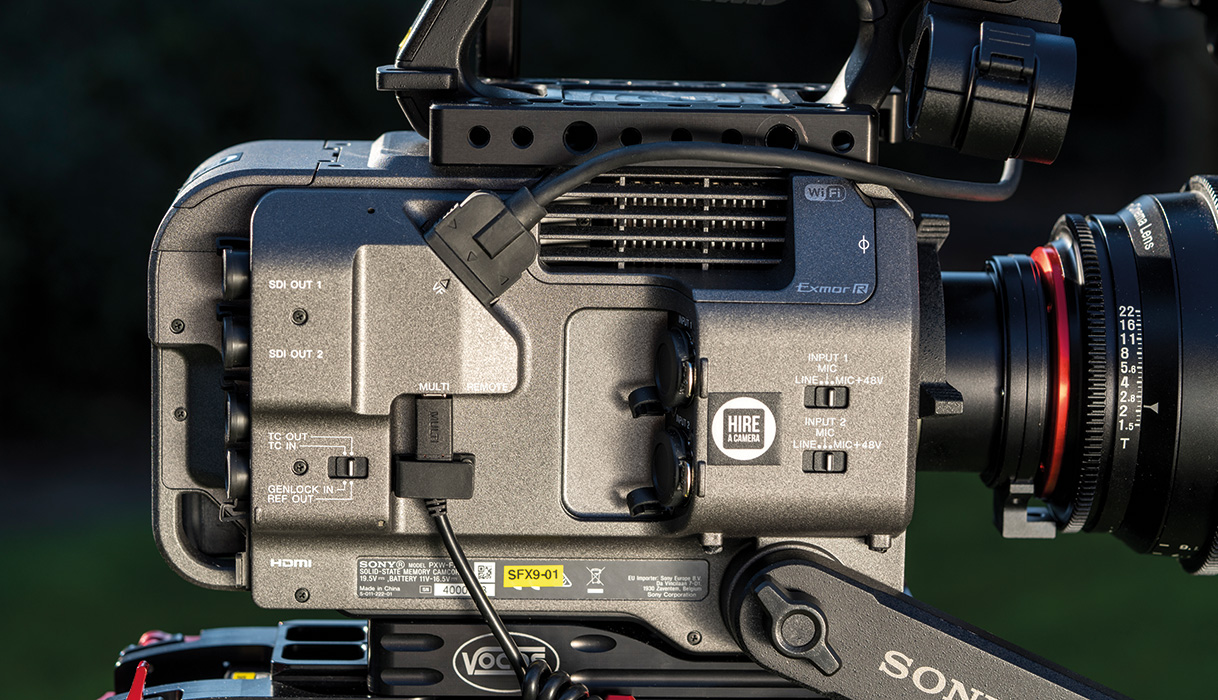 Electronic Variable ND filter and you can switch between stepped ND stops or variable ND. You can also use auto ND, too, which uses the camera's autoexposure to tweak the ND amount, allowing you to keep your shutter speed and aperture constant for a consistent look. This can work pretty well in some situations, but is not always 100% smooth – as you'd expect from any autoexposure system.
On the FS7 Mark II, the clear ND setting left the sensor totally exposed, but on the FX9 there is a clear filter. So there is no change in backfocus when changing from clear to any other ND filter.
If you're a traditional filmmaker who never uses AF, then the new Sony might be the camera to change your mind
One of the camera's biggest selling points is the advanced AF system, which uses 561 points, virtually across almost the whole frame – 94% of the width and 96% height of the imaging area. If you're a traditional filmmaker who never uses AF, then the new Sony might be the camera to change your mind. It's very advanced and works incredibly well in many shooting scenes. Once you've used fast lenses wide open while shooting 4K tracking a person perfectly, then you'd be brave to go back to manual focus only. Of course, there is a learning curve and the skill will be knowing when the AF will work and when it's best to switch to manual. It takes time and experience to know which works best, and an understanding of the menus. This isn't a simple AF system, but one that's advanced and needs to be understood to get the best out of it.
If you're coming from an A7 series Sony mirrorless, it's very similar.
You can set AF transition speed, typically fast for sport and slow for slower-moving subjects. Then there's AF subject shot sensitivity – which is how long it locks on to a subject before finding something else to focus on. Then there's the focus area, from a wide area to a tighter zone, and even flexible spot for the most precision. You move these areas around using a toggle switch, which is OK but not perfect. Unfortunately there is no touch-to-focus touchscreen.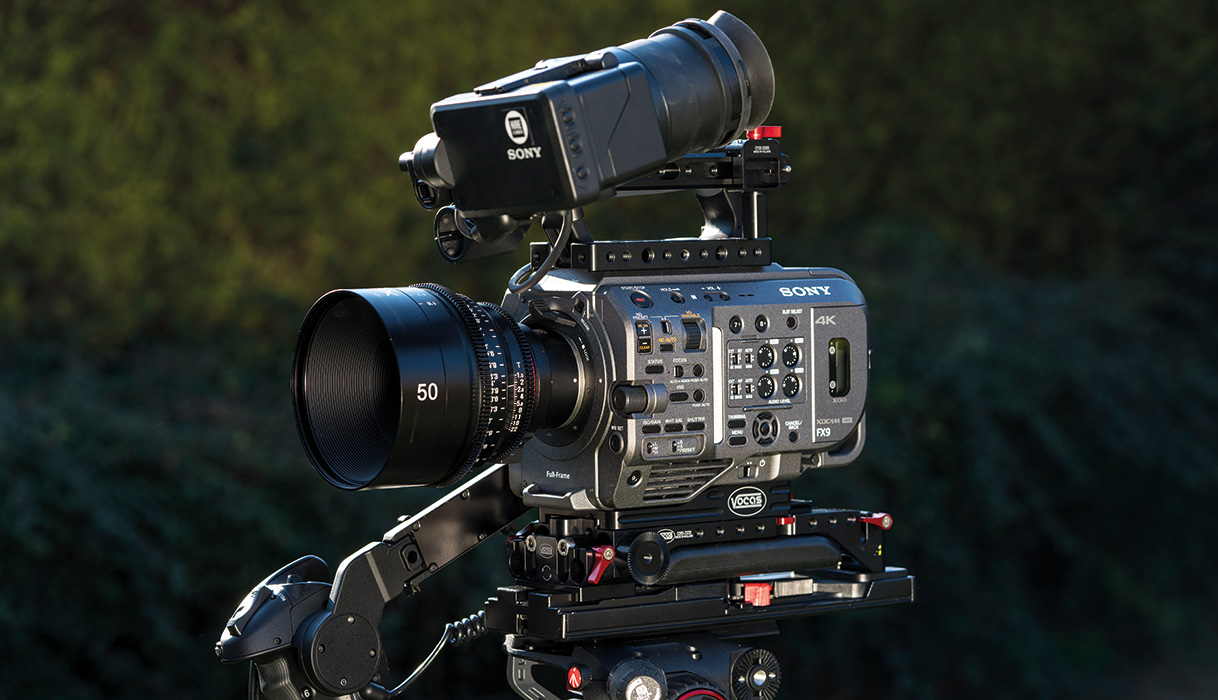 There is also Face Detection with Face Only, which only focuses when it sees a face. Face Priority focuses all the time, but gives priority to any face it detects. Up to eight faces can be detected, and you can select which one to stay with via the toggle switch. Sony promises its Intelligent Auto Focus feature is coming soon, too.
If all that sounds complicated, especially for filmers who have never used AF, then it is. But get it right and it works wonders. Shooting a talking head with a fast lens wide open? Use Face Detection and watch it chase the subject around the screen and keep them sharp, even if they lean forward or back. It's like magic, and is better than most manual focusing experts can do. Once you learn to trust it, it's amazing. And you can always switch to manual focus, where the FX9 has improved focus tools such as a 3x and 6x punch-in focus magnifier and focus peaking, which is fully customisable.
However, all this AF technology works best with native Sony E-mount lenses. Many shooters use Canon EF glass with adapters, which isn't optimal. Some adapters don't allow AF, and other work but not to the same extent as Sony glass. If you want to get the best out of the camera, invest in some native Sony lenses. And there are plenty of them on the market nowadays, many with built-in image stabilisation.
The FX9 does offer in-camera image stabilisation, but it does this using a built-in gyroscope that records metadata for every shot, then post-production takes out the shakes.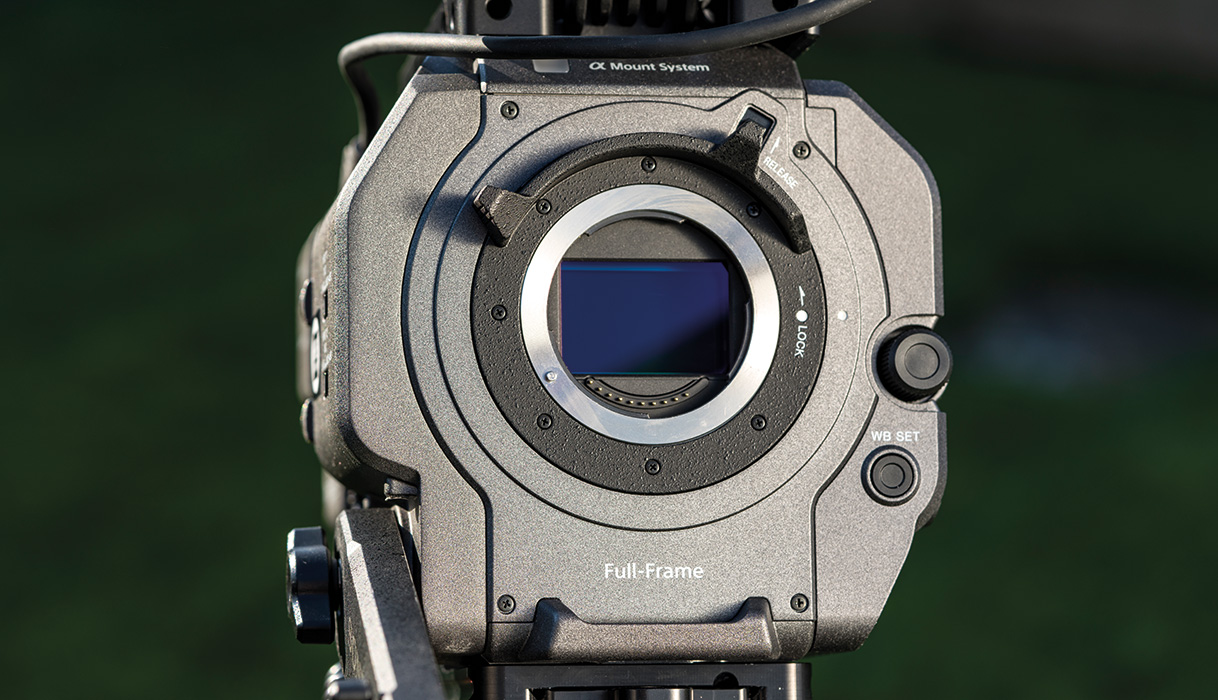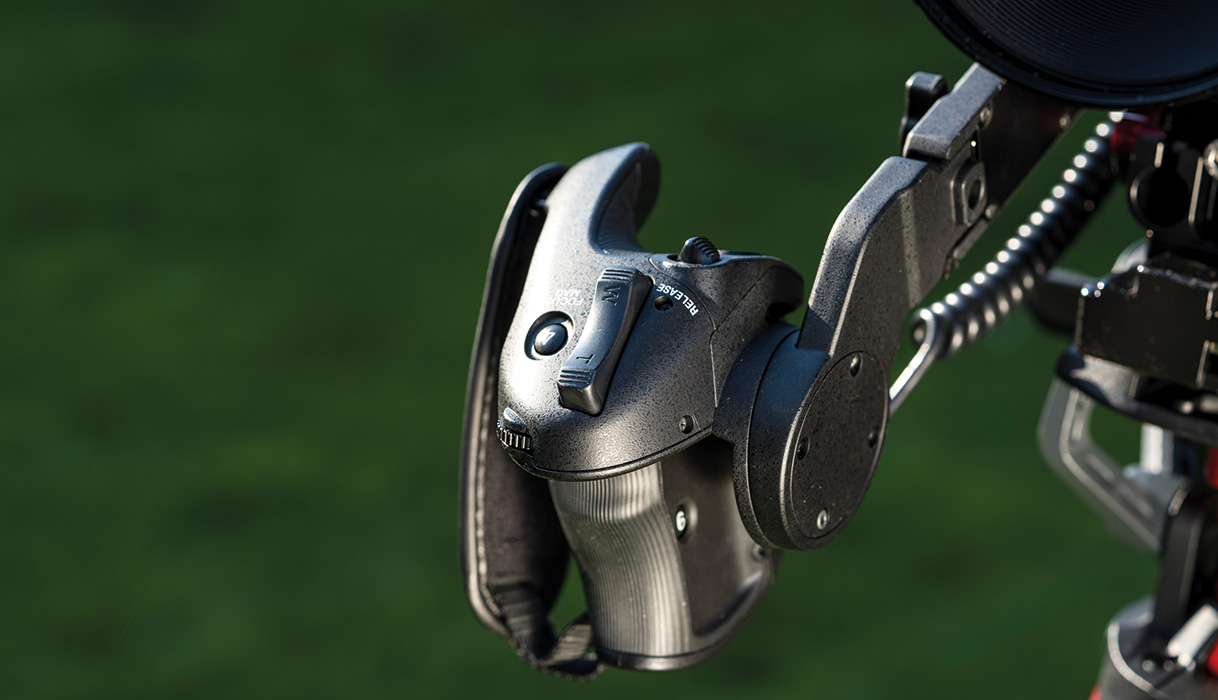 You can set how much image stabilisation you want and the resolution of cropped 4K footage, which gives incredible steadiness. However, you have to use Sony's Catalyst Browse/Prepare software to do it. Hopefully other editing programmes will offer support shortly. If you do not want to bother with this step, then image-stabilised Sony lenses are the way to go.
In terms of other high-tech innovations, the FX9 has Wi-Fi built in and can be controlled remotely via a smartphone using Sony's free Content Browser Mobile. It's easy to use, and you can alter camera settings and view what's being filmed. So it's ideal as a remote monitor or even a director's monitor – although you might want to disable the ability to alter camera settings if you hand it to a client to watch. The resolution of the footage isn't marvellous, though.
The Wi-Fi can also be used to upload files to FTP or low-resolution proxy footage for news broadcast use. There's also an Ethernet port you can use for wired streaming or FTP transfer of files.
It's little details like this that prove Sony has been listening to filmmakers who put cameras through their paces every day
In terms of hardware and the camera itself, it's solid thanks to its all-metal body that's similar to the FS7 in form and size. It uses the locking E-mount system where you don't have to twist the lens when you fit it. It's sturdy and reliable.
The viewfinder looks like the FS7 unit bit is all new, and has higher resolution of 720p, with far improved contrast and colour. And the camera has the Sony MI shoe, which communicates with Sony accessories, including the new digital audio system.
The FS7's main menu scroll wheel has been replaced by a touchpad system on the left side of the camera. It's simple to get to grips with, but a bit too easy to click at the wrong time. There is a large multifunction knob at the front of the camera for scrolling through and setting menu items. It's more obvious and easier to use, and we preferred it.
Also improved is the weatherproofing and latch for the memory card compartment, which has two slots for XQD cards and an SD card for proxies or loading up settings. And the headphone jack has been moved to the bottom of the camera. There are ten user-settable buttons for you to program in your most-used settings. All the buttons with auto modes now have little LED lights, which let you know they've been activated.
It's little details like this that prove Sony has been listening to working filmmakers who really do put cameras through their paces every day. Mixed in with the big new sensor, incredible autofocus and stunning image quality, the FX9 is the camera that many independent filmmaking production companies will rightly be taking a long, hard look at.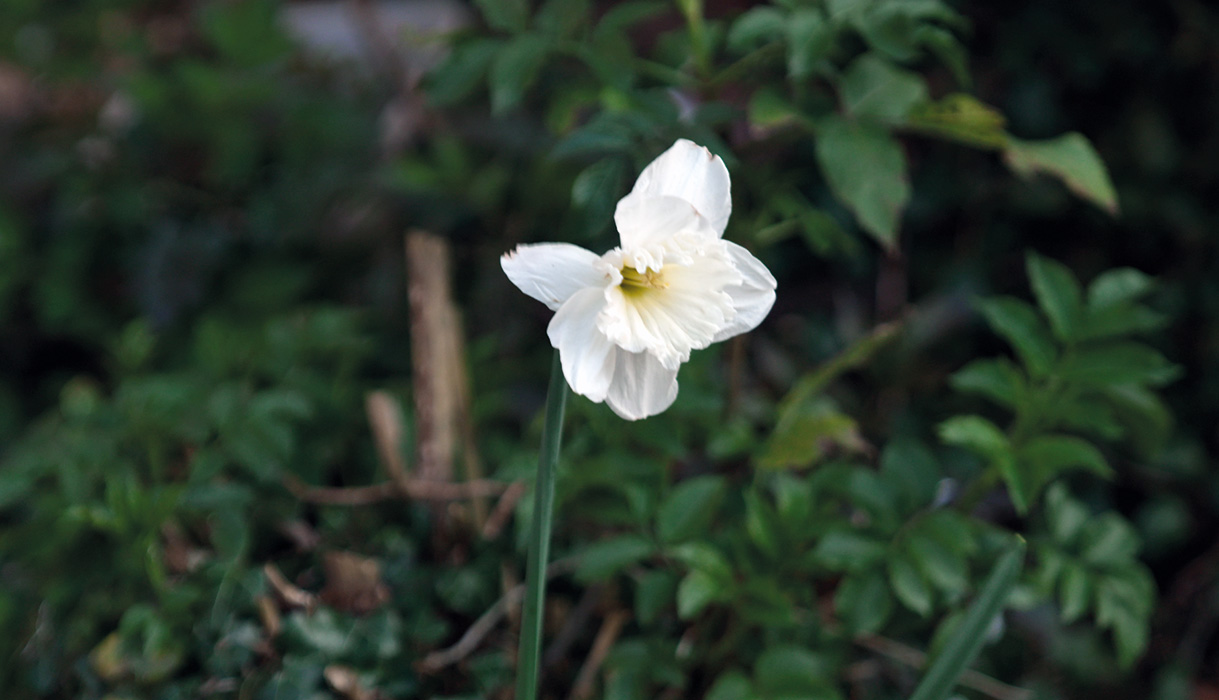 The verdict
Although Sony says the FX9 sits above the FS7 Mark II in the cinema camera range rather than replacing it, it's a natural upgrade for owners of the Super 35 camera looking to take the next step.
Compared to the FS7, the FX9 is better in virtually every way. It certainly is in terms of the important things like image quality and colour, HDR spec and high ISO performance from the back-illuminated Exmor R sensor, as well as usability. In fact, it's pretty much only the lack of superfast 180fps or 240fps frame rates that hampers it compared to the FS7 or FS5.
But the FX9 offers so much more, as it can be used for live streaming, an ENG documentary camera or cinema camera with wafer-thin depth-of-field. And that's easier than ever as the new autofocus system is excellent, although it takes some understanding to get the best out of it.
At £12,000/$11,000 body only, it's a big investment, but is cheaper than the new Canon C500 Mark II at £17,000/$16,000, although it lacks the internal Raw recording of the Canon. But with the incredibly detailed 4K footage from the XAVC-I, 10-bit, 4:2:2, 600Mbps signal, you'd have to be a real Raw convert to say it's lacking in any way. The Sony FX9 is more camera than most filmmakers would ever really need.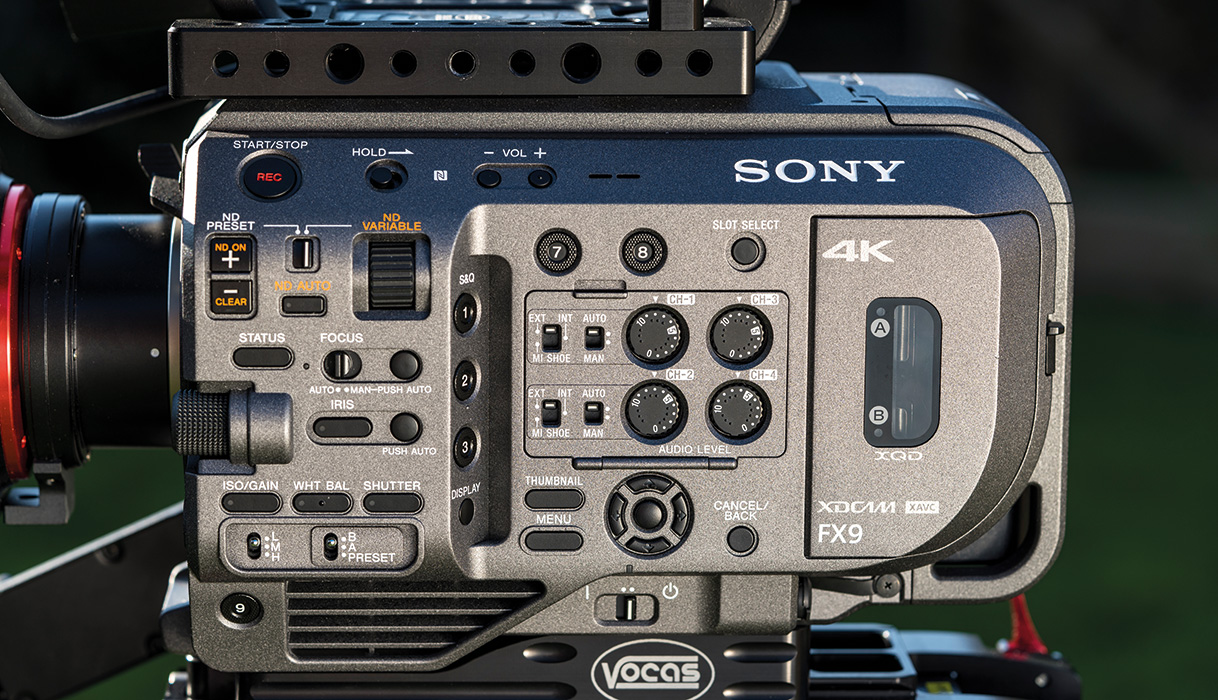 Specifications
Price: £12,039/ $10,998
Sensor size: 35mm Exmor R CMOS, 20.5 megapixels
Formats: 4096×2160 C4K to come via firmware upgrade, 3840×2160 4K, 2048×1080 2K, 1920×1080 FHD, 1280×720 HD
Codecs: XAVC-I 10-bit 4:2:2 600Mbps, XAVC-L, 8-bit 4:2:0 150Mbps, MPEG 8-bit 4:2:2, 16-bit Raw via XDCA-FX9 and external recorder
Frame rates: 59.94/50/ 29/.97/ 25/ 23.98fps for UHD/HD, 120fps HD/ 180fps and 4K/ 120 Raw to external recorder to come via firmware upgrade
ISO: Dual Base ISO 800/4000
Gamma curves: S-Cinetone, Std, HLG, S-Log3
Dynamic range: 15+ stops
Controls: peaking, waveform, zebras
Lens mount: Sony E locking
Shutter speed: 1sec – 1/8000sec
Stabilisation: Electronic Image Stabilisation
Filters: Variable ND 1/4 – 1/128
Screen: 8.8cm/3.5in LCD, 2.76m dots
Audio: 2x XLR inputs
Output: BNC 12G-SDI, BNC 3G-SDI, HDMI-A
Storage: 2x XQD slots, 1x SD data slot
Dimensions (wxhxd): 146×142.5x29mm/ 5.75×5.61×9.02in
Weight: 2kg/4.4lb
For more information on the FX9, head to the Sony website.
Read the Summer 2020 issue of Pro Moviemaker magazine here.
Try before you buy
Even if you're a committed Sony cinema camera user, there's nothing like getting to grips with a potential new purchase for a proper day or more of shooting. And more time with the camera lets you get a good idea of whether the upgrade is worth the cash investment, or you'd be better off renting for big jobs.
We got our FX9 from top UK rental firm Hireacamera, which came ready to shoot in a large Peli case with everything you'd need. It came with two 120GB XQD cards and card reader, a handful of batteries, a Canon EF-Sony E Metabones lens adapter, a Vocas Production Kit rig, Rode NTG-2 shotgun mic and a quick-release tripod plate, as well as all the leads and chargers you need. Just add a lens and you're ready to shoot – although Hireacamera has lots of Sony lenses to choose from, too.
Hireacamera has a live online stock availability check, so you can see if the kit you need is available when you want it.
For more information, head to Hireacamera.com.