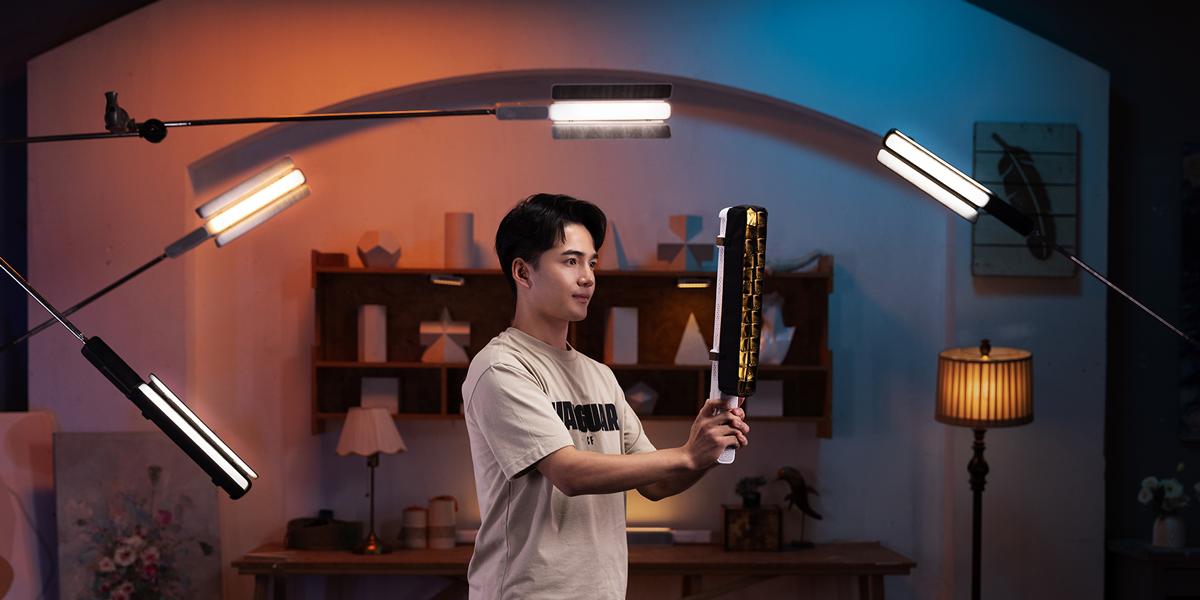 Spark creativity with FIVERAY F100 & M40
Posted on Nov 23, 2022 by Samara Husbands
Today's big news from ZHIYUN comes in the form of light two blindingly good lights, expanding its industry repertoire and pushing the limits of lightning technology
The origins of these lights are fascinating. Inspired by a panel of expert physicists, intelligent stay-cool technology applies fluid dynamics and advanced algorithms to gain control over fans and a gyroscopic modelling heat sink. In raising the cooling efficiency, the two-way system effectively prevents overheating.
The results? Well, content creators can expect silk-smooth footage with steady and soft lighting even in dark outdoor settings. Read on to find out more.
FIVERAY M40
Fitting in the palm of your hand, the M40 360° fill light epitomises simplicity and utility. Ingeniously based on the altitude-control algorithm we find on gimbals, DynaVort technology enables better heat dispersion, allowing for smaller fans, thus promoting portability.
You may be concerned that this would compromise on power, but this little fill light packs a 40W punch. Embedded with 179 LED chips, it stands up to bulkier rival lights out there with 14,000 lux at its peak. Amateurs or professionals could benefit from the lightweight 320g form and ultra-portable feel.
FIVERAY F100
Power, portability and pin-point accuracy are the words for the FIVERAY 100. Weighing just 950g, the F100 suits one-handed control without the need for complicated set-up. With accurate colour rendition, the tool reaches 20,708 lux at its 100W maximum power. But that's not all. Five times more LED chips than the standard gives ultra-bright output, while one-click operation brings richness to the setting.
A frosted coating gives a diffused and warm ambience, but there are six creative lighting effects that build the atmosphere when required. It can be mounted on a variety of ZHIYUN's holders and used with several accessories.
Pricing and availability
Available from today (23 November 2022).
The ZHIYUN FIVERAY M40 is available for £99, while the FIVERAY F100 is £249. Available for purchase direct from ZHIYUN and its Amazon store.
*DON'T MISS* From 7 – 8 December, the F100 and M40 will be available on a buy-one-get-one-free basis from selected channels including Amazon, ZHIYUN Official Store, AliExpress, B&H. Please see this link for more details.