Introducing the Canon EOS R3
Posted on Sep 14, 2021 by Alex Fice
Canon has finally announced the arrival of its powerful new camera, the EOS R3, aimed at professional press and sports filmmakers and photographers
Filmmakers looking for a powerful hybrid system capable of capturing even the fastest-paced action need look no further. The EOS R3 has been designed using feedback from professional press and sports photographers, resulting in a fast and responsive camera with streamlined workflows that transform user experience. Canon claim that the EOS R3 is a 'powerhouse for sports photography and reportage' and will give filmmakers and photographers the edge compared to everyone else.
When you make a living out of capturing the defining moments of high-adrenaline, fast-paced events – be that in nature, on the streets, or in the world of sport – you need to keep one step ahead of the competition at all times. This is why the EOS R3 has been designed with speed in mind.
The camera features a newly developed 24.1-megapixel sensor, can capture 30fps with AF/AE tracking and has a shutter speed range of 30 seconds to 1/64000 of a second when using its electric shutter. Other features include Eye Control AF point selection and AF that can track people, animals (including birds) and motorsports. It is also able to focus in light levels as low as -7.5 EV.
Its high-quality 5.76 million dot electronic viewfinder has low lag and refresh rates of up to 120 fps at full resolution – so fast you would be surprised it wasn't an optical viewfinder. Shutter lag can be reduced to 20ms, allowing you to capture high-octane moments instantly with just a press of the shutter release.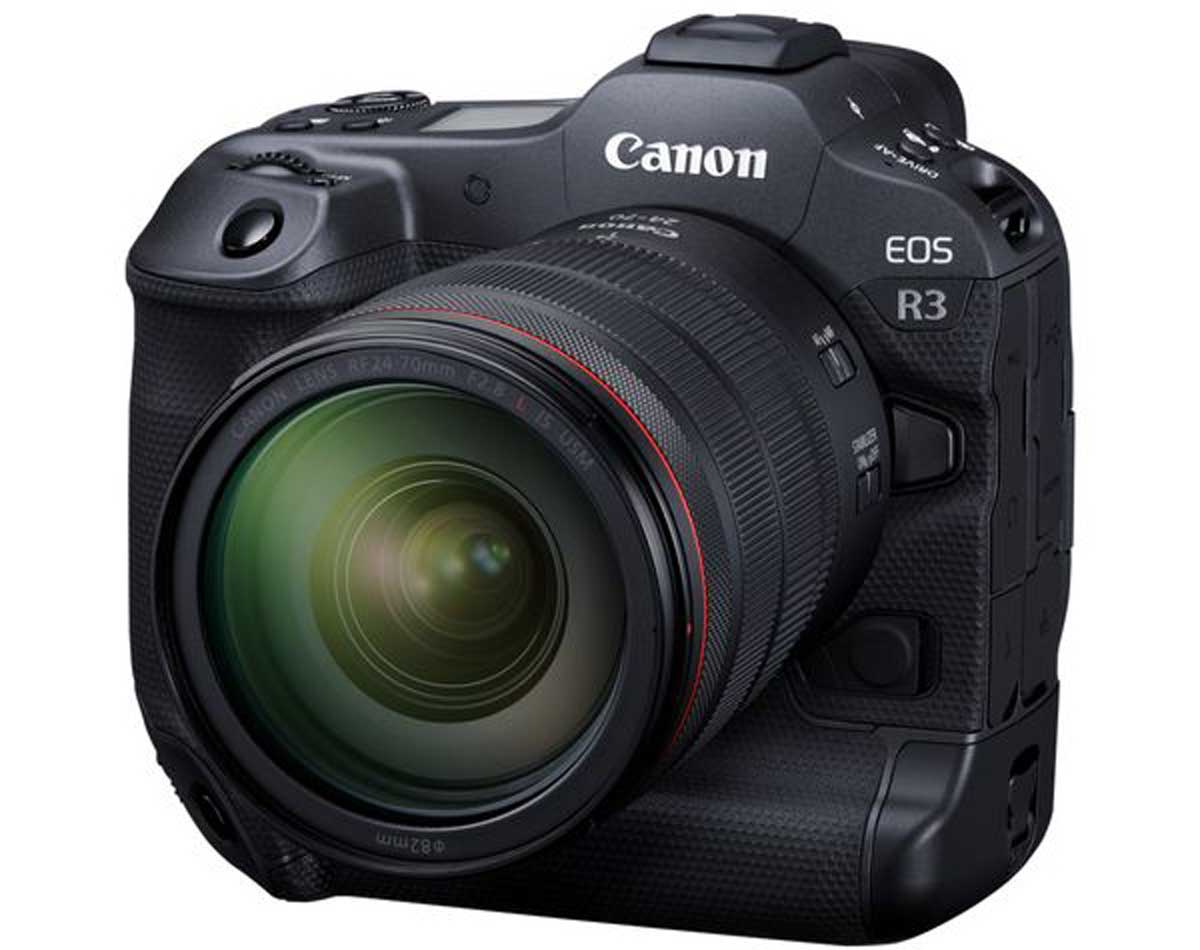 The EOS R3 is a truly powerful camera capable of recording stunning 6K 60p RAW resolution footage, which can be used to oversample 4K up to 60p to generate movie-quality 4K footage. Either way, the video captured by this camera is guaranteed to be crisp and full of definition, making it a great choice for professionals working with fast-moving, dynamic subjects.
You can also get creative with innovative shooting angles by taking advantage of the new high resolution Vari-Angle 4.1-million dot touch screen which allows you to tilt and rotate the viewfinder into different positions.
This latest camera from Canon boasts great versatility, with plenty of options to play with in post-production. Filmmakers can adjust exposure and white balance of 6K CRM RAW files, or slow their 4K 120p footage right down for those all-important slow-motion shots. With Canon LOG 3 incorporated in the system, 10-bit internal recording is possible, expanding the camera's dynamic range and allowing you to capture 10bit HDR PQ, which keeps life simple when it comes to editing or grading your footage in post-production.
As with the EOS-1D X Mark II and EOS-1D X Mark III, the EOS R3 uses an LP-E19 battery for prolonged shooting times and increased compatibility with existing DSLRs. It can offer up to six hours of recording for regular video, or 1.5hrs when shooting at high 119.88/100p frame rates.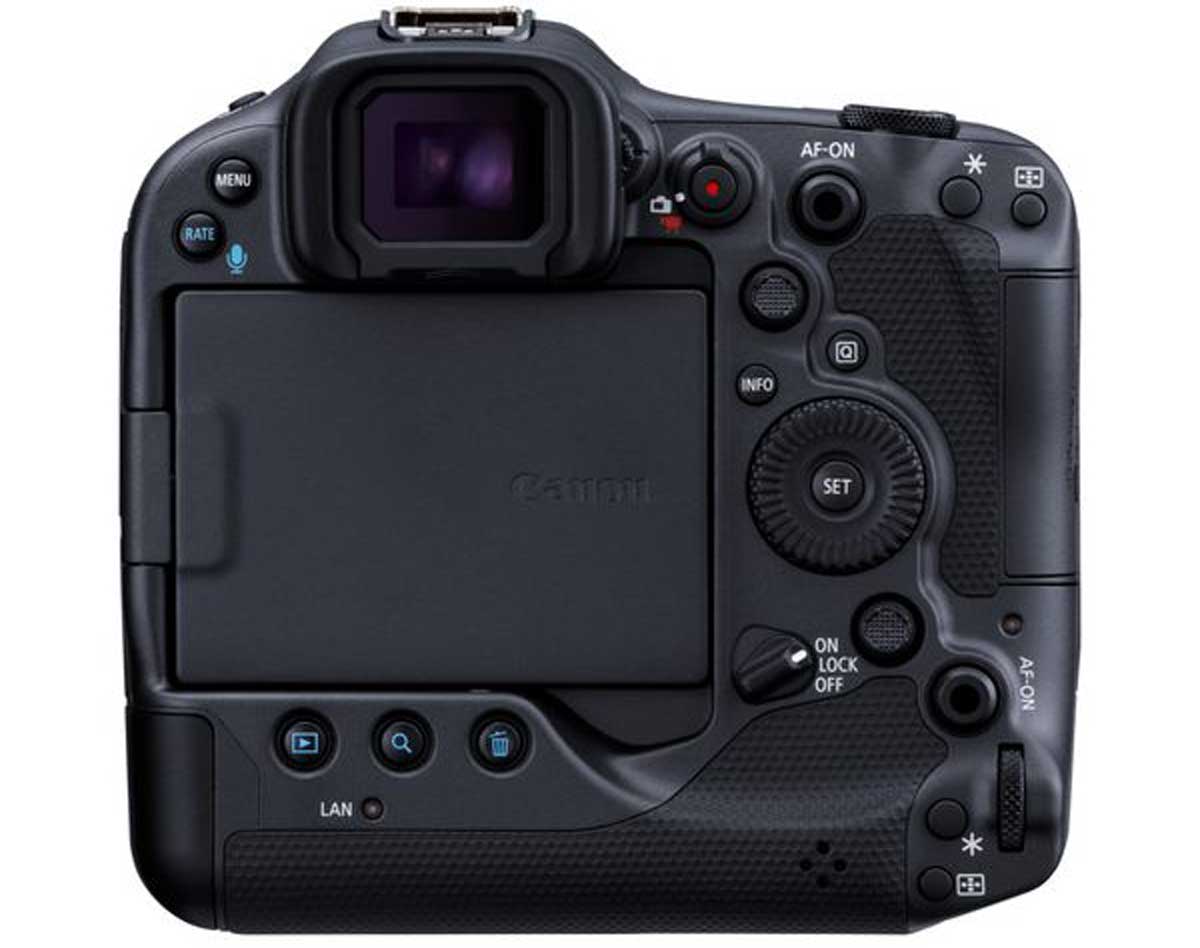 Depending on your needs and storage requirements, you can record CRM light or MP4 footage in a range of sizes including All-I, IPB and the smaller IPB light option, helping to reduce file size and speed up video workflows. Simultaneous recording to the camera's UHS-II SD card slot and ultra-high speed CFexpress enables it to capture 6K RAW video, whilst ensuring that your footage is constantly backed up.
You would expect a powerful camera like the EOS R3 to come with fair amount of armour and indeed it does; the camera is protected against the elements by a lightweight, magnesium body that keeps water and dust safely out of the system. Weather resistance can be maintained using existing Speedlites in combination with Canon's Multi-Function Shoe Adapter AD-E1, which has also been announced alongside the EOS R3.
Other exciting announcements from Canon include the RF 100-400mm F5.6-8 IS USM and RF 16mm F2.8 STM, two powerful RF lenses that expand the current range of focal lengths on offer.
The EOS R3 will retail at £5,879.99/$6,689.99. To find out what else it's capable of, visit Canon's website.