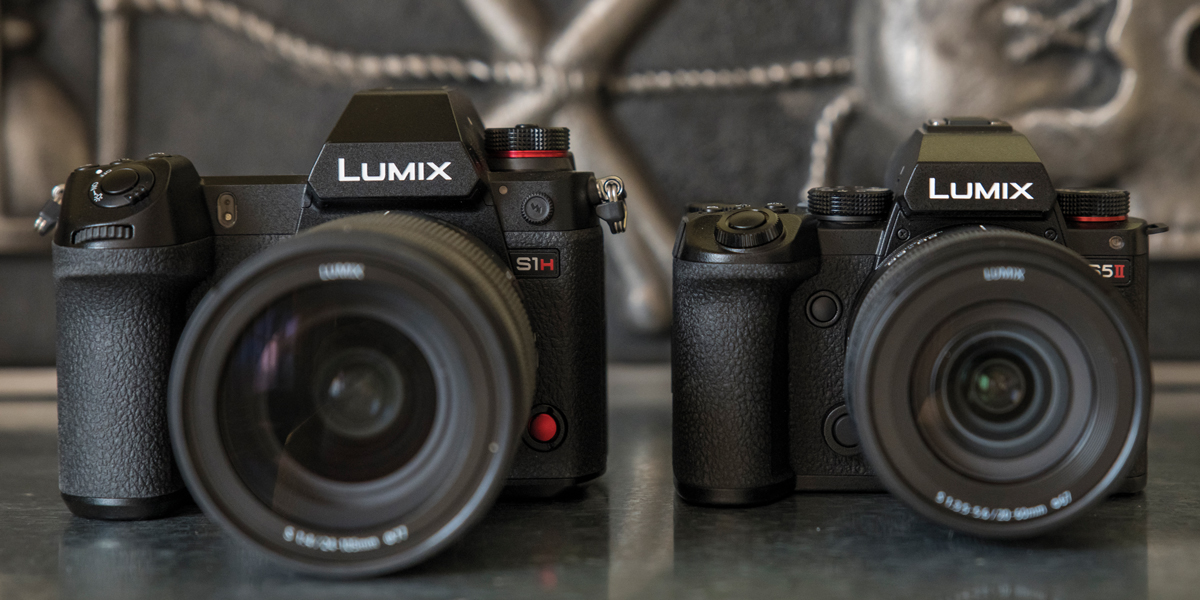 Just Leica Lumix!
Posted on Feb 21, 2023 by Samara Husbands
Panasonic's S5 II is the first camera from the renewed alliance with legendary Leica
Words and photos Adam Duckworth
Panasonic and Leica have worked together on cameras for more than a decade, but last year the pair revealed they were going to collaborate even more closely – as part of the new 'L2 alliance'. This was to go further than just sharing the full-frame L-Mount and rebranding a few Panasonic compacts as Leica models. The plan was to jointly develop cutting-edge technology.
The new Panasonic Lumix S5 II is officially the first product of the partnership, even though there's no official word on how this fact technically manifests itself in the full-frame mirrorless. What can be seen, though, is that the Lumix boasts groundbreaking spec that neither Leica nor Panasonic has had before, including the biggie – hybrid phase detection autofocus. 
Current Leica mirrorless models and the range of Lumix cameras have relied on contrast detection systems, something which has been criticised since rivals have adapted to a hybrid of phase detection and contrast detection for more speed and accuracy.
Now though, the Lumix S5 II has a 779-point phase detection AF system on its new, 24.2-megapixel full-frame sensor. 
This is not a superfast stacked sensor as seen in flagship cameras from Canon, Nikon, Sony, Fujifilm and Olympus. But it has a dual native ISO chip with bases at ISO 100 and 640 in standard gamma settings, 640 and 4000 in V-Log, plus 400 and 2500 in HLG, with a new processor to drive it all.
Other design highlights include the brand-new IBIS – claimed to be improved 200% over the current S5 model – and an unlimited recording time in ambient temperatures up to 40°C. Where the flagship S1H achieves this with a fan that sits behind the LCD, this makes the camera much fatter than its rivals. The S5 II's fan sits inside the EVF, which means it's silent and the camera much thinner – virtually identical in size to the old S5. 
That's good news, as the S5 led the swing away from Panasonic's original S series, which were very chunky cameras indeed. The S5 was closer to a full-frame version of the Micro Four Thirds GH5 in a body roughly the same size, at approximately the same price and without losing much of the filmmaking spec of the S1H. The S5 II really takes that on, and is the same price as the S5 was at launch. That camera is now cheaper, and will remain in the range.
Compared to the S5, the new mark II has a full-size HDMI socket, a more detailed OLED with 3.68m dots (compared to 2.3m) and real-time LUTs that can be baked into the photos and videos, if you wish. Both SD card slots are now UHS-II, where the S5 only had one slot of that speed.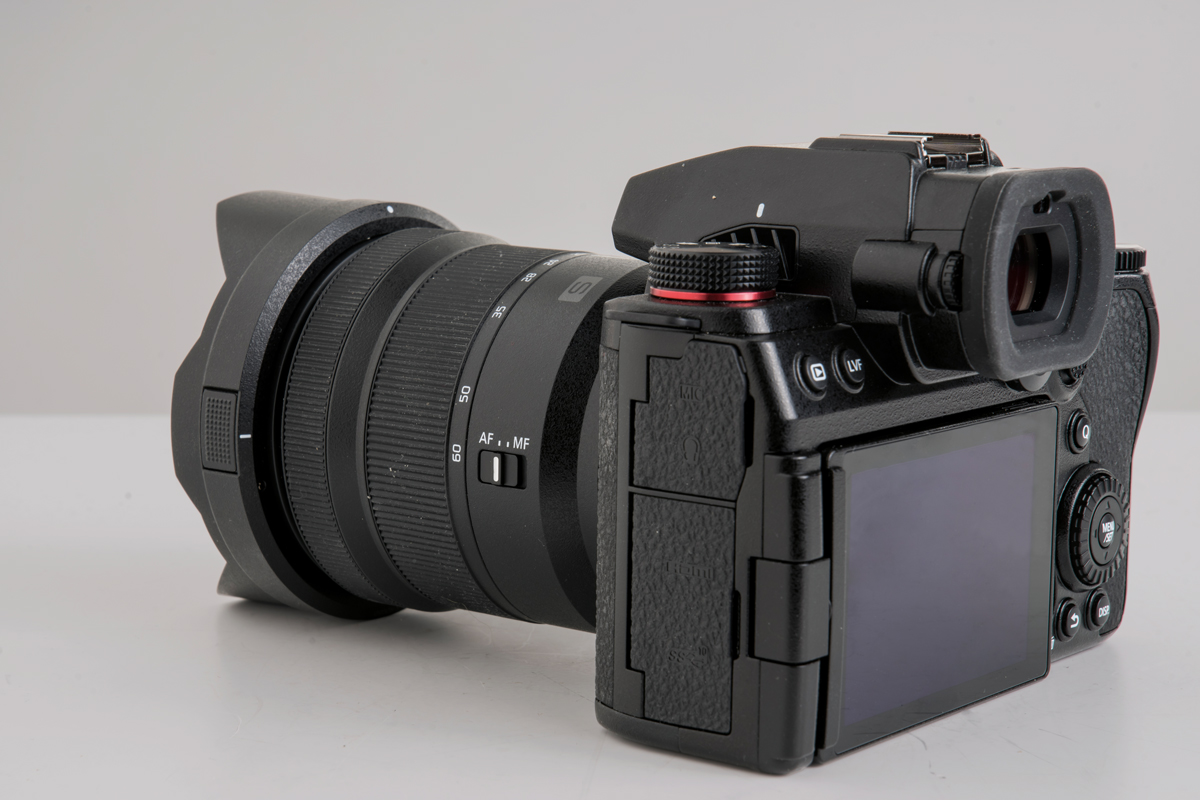 But best of all is that the video resolution has been upped from 4K to 6K open gate, which makes it ideal for shooting anamorphic. Drop to 17:9 for a more conventional widescreen view and you can shoot in 5.9K up to 30p. However, all these full-frame codecs max out at 4:2:0 10-bit Long GOP in 200Mbps, rather than the more detailed 4:2:2 10-bit All-Intra, a bit of a shame for those who just love to pore over specs. In the real world, there is not a huge amount of difference, especially for general use and in footage that is exposed well.
If you must have 4:2:2 10-bit All-Intra in up to 800Mbps – and even ProRes codecs internally – the more expensive S5 II X camera will be what you need. We detail that in our Agenda pages this issue, as it's not available for us to test yet.
In fact, the S5 II does offer C4K/60p in 4:2:2 10-bit, but this has an APS-C crop. There's C4K and 4K in 25p 4:2:2 10-bit internal with no crop though. And this also offers HLG settings if you want them. Go to 4K/25p in 4:2:0 10-bit and you can access high frame rate settings up to 60p with no crop, but there's no audio recorded. Any normal 4K frame rates have an APS-C crop when going to any slow motion settings. So you have to be really careful with the settings you choose – this certainly isn't an 'any codec at any frame rate in full-frame' scenario at all.
If you want to go faster, then switch to HD where there is 120fps that includes AF and audio, 150fps with manual focus only and 180fps where the image is cropped.
With many of the latest cameras offering full-frame 4:2:2 10-bit All-Intra, with 4K/120p and HD up to 240fps, the S5 II can look a little limited at the extremes. You need to ask yourself how often you absolutely need those settings. With a body-only price of £1999/$1999 for a full-frame camera, there are always going to be compromises somewhere against pricier rivals.
That's not to say the S5 II is lacking as a camera primarily aimed at filmmaking, because it's packed with fantastic features that make shooting video much easier. Like the S5, it has full V-Log colour gamma, full LUT support and anamorphic capture with in-camera de-squeeze – not to mention HLG colour for easy HDR recording.
There's waveform and vectorscope monitoring, and the main dial button retains a dedicated S&Q mode to quickly set fast and slow frame rates. The dial button is not lockable, sadly. There's also four-channel audio recording if you use the XLR adapter, and shutter speed can be set to shutter angle – which is always a nice feature. There's peaking, and the 2200mAh battery can be charged in use with the USB-C port. Or plug it into a USB-C power lead and it takes around four hours to fully charge from flat. The camera doesn't come with a dedicated battery charger, so you'll probably want to buy one – as well as some spare batteries in case of all-day shooting.
For stills, the electronic shutter will rattle through frames at 30fps, or 7fps with the mechanical version. And a high-resolution mode can combine four shots to produce a 96-megapixel still.
The stills produced are excellent quality, with extremely natural colours and loads of detail. However, the lack of a stacked sensor does make a difference when shooting action stills at 30fps, since there is a slight delay in the viewfinder. It's not a sports and wildlife dream for stills afficionados, but for anyone else it's a very good camera.
The real test for filmmaking comes in its actual performance – and the S5 II delivers a huge amount. For starters, image stabilisation is phenomenal. Panasonic's in-body, five-axis system works with the brand's own OIS lenses to provide really smooth footage. It's among the best we've used in a full-frame camera.
There's also a Boost IS for video, which makes it feel almost like the camera's on a tripod. This isn't for panning or moving the camera at all, as it has the typical IS jerk. Use it handheld and keep the camera still, then prepare to be amazed.
More important is the brand-new phase detection autofocus system, which finally includes all the face, body and head tracking, plus multi-zones and multi-adjustable speeds. It's far better than the old system on the S5 or pretty much any of the S series cameras.
Face detection works very well, and the human and animal detection is very good, too. It can get confused when objects come in front of a very obvious subject, and sometimes simply fails to see a very obvious target.
The system takes some getting used to, but works well once you get to grips with it. However, it still feels like it's one firmware upgrade away from being on par with Sony and Canon. The camera we used was a prototype, so it could well be tweaked on the production versions. As a first attempt, it's very good and makes the S5 II the first Panasonic Lumix where you can trust AF in most circumstances.
As our test camera was not a final production version, it can be misleading to look at the actual quality of the footage in case it's upgraded before a public launch. But in this case, the Panasonic S5 II produces such amazing-quality files that we're happy to praise it highly.
The 6K footage is highly detailed of course, but we're more interested in the C4K and 4K the majority of working filmmakers will use. And in both 4:2:2 or 4:2:0, footage is just excellent. The colours are beautifully rendered with lots of detail, loads of dynamic range and a certain look that you only get from Panasonic cameras.
Even in standard gamma settings, it is organic and not too 'digital'. And for a more filmic look, the flatter V-Log setting increases dynamic range and is easy to grade to just how you want it.
The sweet spot of resolution seems to be around 24 megapixels, since this gives low noise yet is still detailed enough for great 6K footage – with the 4K superb, too.
Control of rolling shutter is good, but you don't want to go for superfast whip pans all the time. As there's no 4K/120p and the 4K/60p is either cropped or has no audio, it's not the best camera for sports shooters. And there's no 240fps even in HD.
For everyone else, which is the majority of filmmakers, the Panasonic Lumix S5 II provides stunning performance and spec at a very attractive price. And finally, it has phase detection AF to make it a far more capable all-round camera.
The Verdict
Panasonic's Lumix S5 was a smash hit on launch, offering great spec and a small form factor at a competitive price. The new version is a much better all-round camera and still undercuts its full-frame rivals.
There's no super-fancy stuff like internal Raw or ProRes, 4K/120p or 4:2:2 All-Intra 800Mbps codecs. But the majority of professionals don't have a massive need for this.
Great-looking footage, no overheating and an effective AF system are far more important for a workhorse camera, and the Panasonic S5 II offers this and more. 
OVERALL RATING: 9/10
Full rating in the Jan/Feb issue of Pro Moviemaker.
For more information visit panasonic.co.uk.
Specifications
Price: £1999/$1999 body only
Sensor size: 35.6×23.8mm CMOS, 24.2 megapixels, dual native ISO
Formats: MOV 4:2:0 10-bit Long GOP, 6K in open gate 3:2 and 17:9, 5.9K 17:9 23.97/25/29.97p up to 200Mbps; 4K/C4K 23.97/25/29.97/50/59.94p up to 150Mbps; FHD 23.98/25/29.97/50/59.94p 100Mbps; H.264/MOV 4:2:0 8-bit 4K, 4K anamorphic FHD 23.98/25/29.97/50/59.94/100/120p 100-150Mbps
Slow motion: 4K/60fps, FHD 120fps, 150fps MF only, 180fps MF only cropped
ISO range: 100-51,200; 50 and 204,800 extended
Lens mount: L
Focusing: 779-area hybrid phase detection AF
Stabilisation: Image sensor shift, five-axis IBIS
Screen: 7.6cm/3in LCD touchscreen, 1.84m dots
Viewfinder: OLED with 3.68m dots, 120/60fps
Audio: 3.5mm input
Connectivity: HDMI, Bluetooth, Wi-Fi, USB-C 3.2, 3.5mm headphone jack
Storage: 2x SD UHS-II
Dimensions (wxhxd): 134.3×102.3×90.1mm/
5.29×4.03×3.55in
Weight: 652g/1.44lb body only